Disney-Charter deal signals next evolution of linear TV and streaming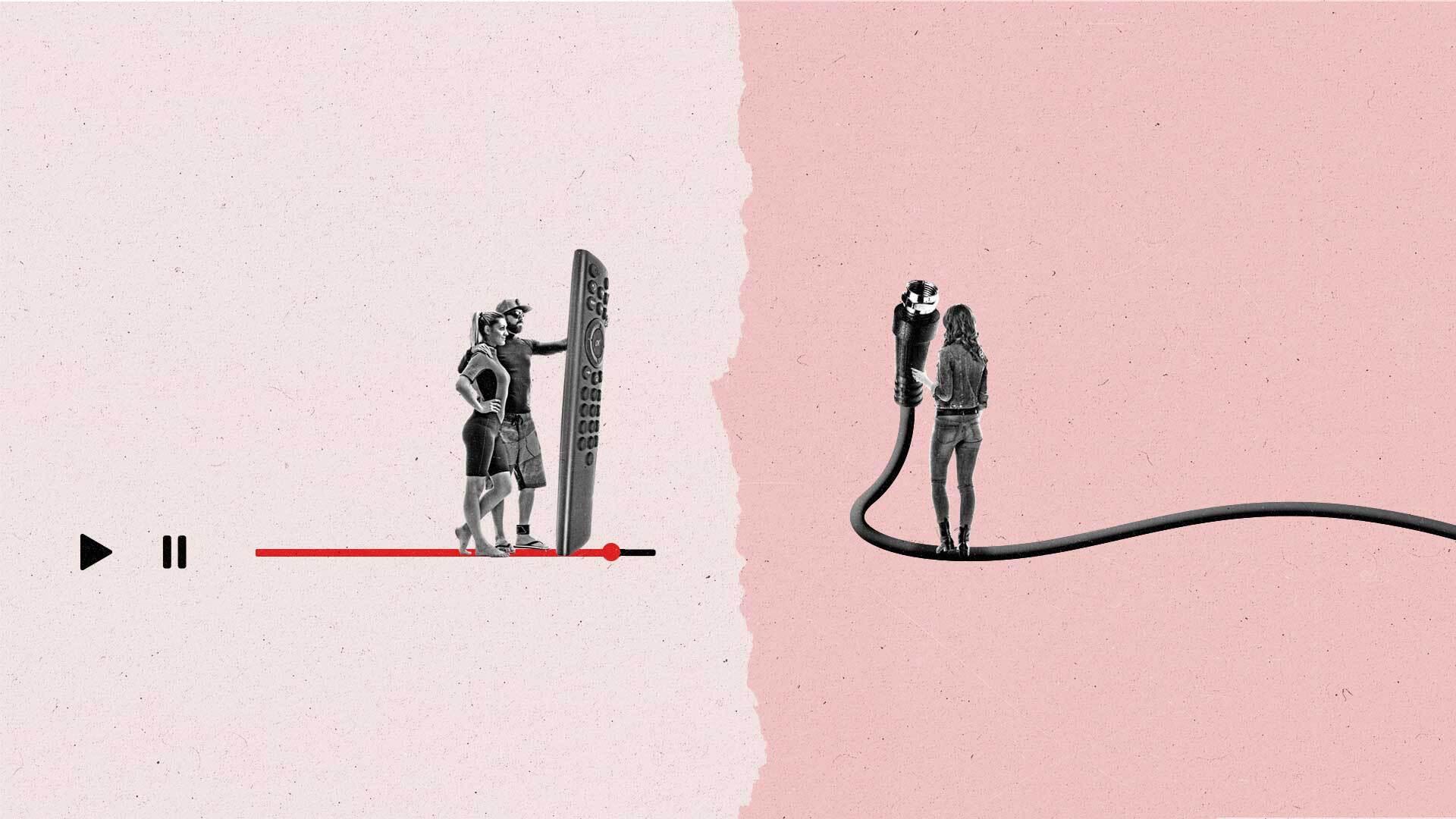 In the latest example of the upending of the traditional TV model, Charter decided if you can't beat them, join them.
As part of Charter and Disney's new carriage agreement, Charter will now offer ad-supported Disney+ and ESPN+ subscriptions in its cable plans, merging the worlds of linear TV and streaming. This hybrid model and new form of partnership shows the next evolution of TV, one that doesn't blow up traditional TV altogether but pushes us further into a streaming future.
"It's a very big moment for the video and TV space for a couple of different reasons," Blockgraph CEO Jason Manningham tells The Current. Blockgraph is a data collaboration firm owned by Comcast NBCUniversal, Charter, and Paramount. "I think what it's signified is that we are in the middle of the biggest shift in how distribution of premium video will look."
This distribution is key, with Charter now providing Disney+ to 9.5 million people on its most popular cable plan. MoffettNathanson reported the streaming platform's ad tier has 3.3 million subscribers as of June 2023.
"It does move the sticks down the field toward a fully streaming future," Macquarie Analyst Tim Nollen wrote in his report. "This agreement advances hybrid linear/direct-to-consumer bundles that better match customer demands, but doesn't upend the ecosystem."
ESPN was at the heart of the dispute between both sides, with Disney pushing for higher affiliate fees for Charter to carry the networks. In exchange for getting that bump in fees, Disney is taking a lower wholesale price on Disney+, with The Wall Street Journal reporting the Mouse House will get 40 percent to 70 percent of a normal $7.99 plan. So whether or not Charter subscribers watch Disney+, Disney is getting subscription revenue. Sound familiar? That's how the cable model with affiliate fees works as well.
On top of that, this opens up more ad revenue opportunities for Disney+'s ad plan, which is just under a year old. There's upside in taking 100 percent of the ad revenue from the Charter subscribers who are new entrants to Disney+ and ESPN+. Companies like Disney have been pushing consumers toward their streaming plans with ads because these ad plans make more revenue for the company than straight subscription plans.
"We are supercharging Disney+ Basic — our ad tier — which is great for revenue, subscriber growth, and our advertising business," Dana Walden, co-chair of Disney Entertainment, told Vulture. "Additionally, having those subs locked in means there will be significantly less churn."
Identity takes center stage
Another thing that supercharges digital advertising is authenticated data. Manningham believes all TV in the future will be addressable, whether it's coming from the linear TV or connected TV (CTV) side. The partnership between cable operators and content owners is powerful because of the data the operator can offer the content side.
"The MVPDs [multichannel video programming distributors] — cable operators like Comcast and Charter — have better identity data as it relates to those subscribers than even the publishers because they have that direct authenticated rooted in a privacy-compliant billing data relationship," Manningham says. "And that means they're going to be really at the center and the forefront of helping facilitate data-driven or ID-based advertising. So I think that there's a big opportunity, and it's a big moment as these publishers start to grow."
"This is a blueprint or a template of what ad-supported streaming app distribution will look like and the role of the operator in making that transition," Manningham adds.
Cable operators have largely been seen as limited in the viewing data they can offer to advertisers and networks. The vast audience viewing data streaming platforms have can be strengthened by operators, which Manningham says "always knew who you were. The challenge was that it was hard to insert that ad one-to-one because of the nature of the linear feed and the fact that that took time to do, and the publishers sold it as a linear schedule."
Enabling an operator's identity data with the streaming viewership data could be a boon for advertisers and publishers. Identity data is only getting stronger in the CTV realm, with tools like Unified ID 2.0 (UID2). As more first-party data comes to the plate, Forrester Senior Analyst Mo Allibhai thinks there will be more retail CTV partnerships like the ones Roku has with Walmart and Shopify.
The future economics of TV

The traditional TV model has been in flux for years, with millions of consumers cutting the cord. Charter recently wrote in an investor presentation that "the video product has been devalued and the ecosystem is broken." In that same presentation, Charter wrote it was willing to exit the traditional video business altogether.
Meanwhile, streaming hasn't proved profitable yet for platforms other than Netflix. Disney CEO Bob Iger said in February that he expected Disney+ will become a revenue generator by the end of 2024. Right now, cable operators and streaming platforms are in a middle period in the maturation of the cord-cutting era.
"They're just trying to figure out ways they can make this transition profitably," J. Walker Smith, consulting-division knowledge leader at data analytics and consulting company Kantar, tells The Current. "And I certainly think we've got a moment where this kind of streaming transition is clearly manifested in Disney and Charter, trying to figure out how to deal with the changing economic structure of this particular moment. And it's not an easy thing to figure out."
ESPN has long been a money maker for Disney, bringing in billions of dollars thanks to the traditional TV model. As more live sports move to streaming though, ESPN is at a crossroads. Iger said on the company's earnings call in August that the future of ESPN's success will come from transitioning to a direct-to-consumer business.
With ESPN balancing its linear TV profits with its streaming future, this Disney-Charter deal could be a template for future negotiations between operators and content owners, according to MoffettNathanson analysts Michael Nathanson and Robert Fishman.
"Disney should be able to have more leeway on putting more of its premium sports rights on ESPN+ going forward and avoid the perception of cheating its linear partners." Nathanson and Fishman wrote.
For now, it appears the power of partnership could be a big key to the evolution of TV and streaming.
"This deal has helped us rationalize how pay TV is going to evolve," DirecTV's Chief Content Officer Rob Thun told The Wall Street Journal.
Subscribe to The Current newsletter