The next frontier of e-commerce is our TVs, thanks to interactive ads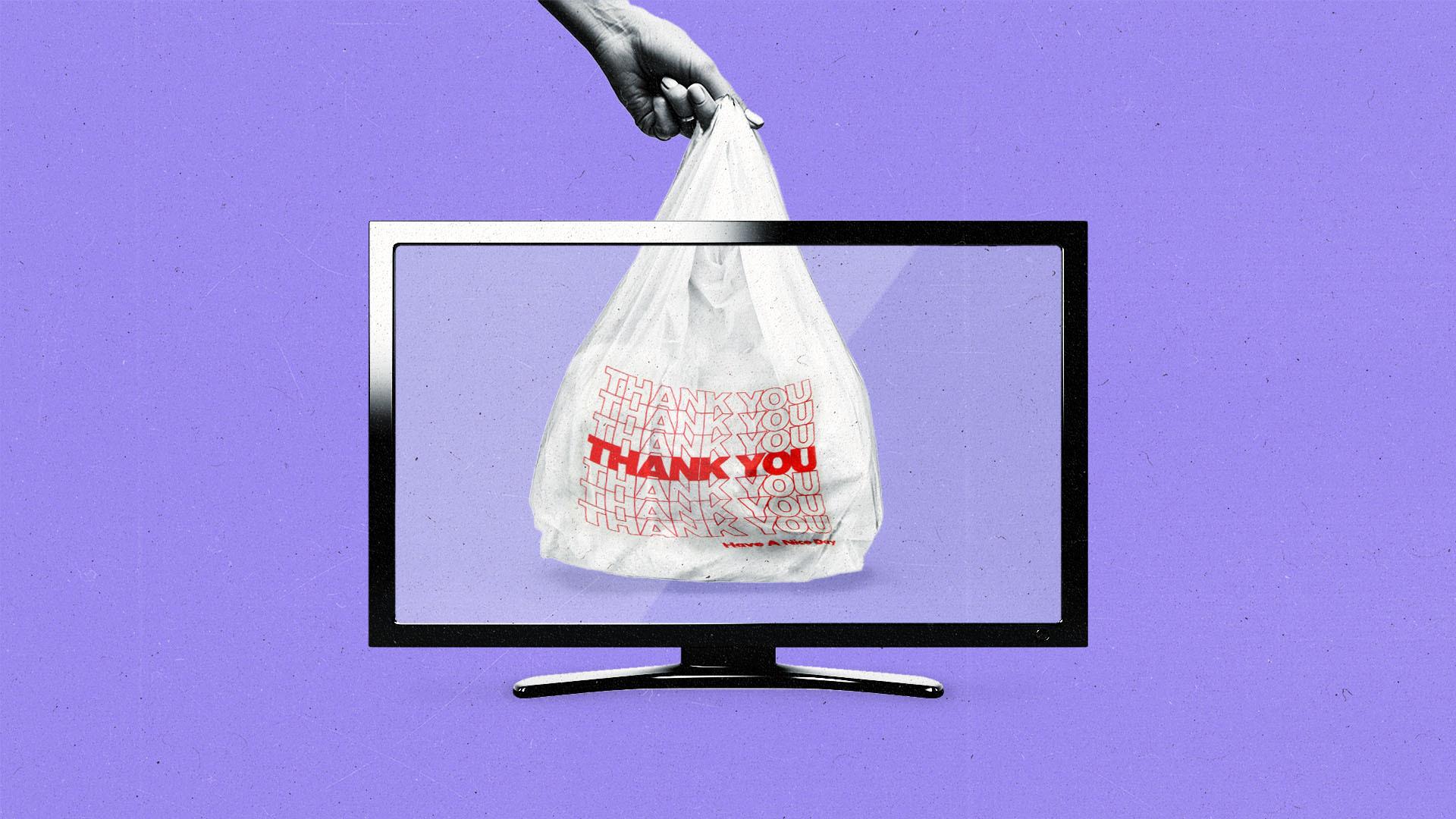 The way we watch TV has changed radically in recent years, but ads have largely stayed the same since the 1950s: Viewers see a short spot, and if they're interested in the product, they'll find it later in a store or online.
That is, until recently, with the emergence of interactive ads. Shoppable TV ads allow you to add items to an on-screen virtual shopping cart with your remote control while watching TV. From there you can either purchase them inside a streaming platform using stored credit card information or head to a retailer's website via a QR code to check out. This form of e-commerce, or "t-commerce," as some have called it (for "TV commerce"), brings instant convenience to consumers and collapses the number of steps needed to buy something.
The space is still fairly new, with around 10 million connected TV (CTV) households in the U.S., or 11 percent of device owners, saying they have used their TVs to buy physical goods, according to data from market research and consulting company Parks Associates.
Roku and NBCUniversal are two major companies innovating in the market. In the last year, Roku partnered with Walmart and Shopify to let viewers buy items from inside the Roku app. Meanwhile NBCUniversal brought shoppable items into its hit show Love Island, allowing Peacock viewers to scan QR codes and scoop up items the contestants were wearing.
Walmart's goal starting this venture last year was "shortening the distance from discovery and inspiration to purchase," the company's Chief Marketing Officer, William White, said in a statement. "No one has cracked the code around shoppability, until now. By working with Roku, we're the first-to-market retailer to bring customers a new t-commerce experience and seamless checkout on the largest screen in their homes — their TV."

A year in, the Walmart-Roku partnership is a major success, with shoppable ads receiving at least three times higher click-through rates than an average video campaign, according to Walmart. Meanwhile, NBCUniversal reported in July that brand awareness increased four times over, with 40 percent to 70 percent of viewers saying they were likely to buy items featured.
Digital advertising company VideoStorm believes the next step is extending this model to all streaming platforms and major retailers. The company enables a viewer to shop several categories and add items to their cart via interactive ads, and then it sends the consumer to the checkout line on their phone with a QR code.
"We think interactive ad executions can be an absolutely massive market for direct and programmatic buys," Jack Wagner, strategic advisor for VideoStorm, tells The Current. "In the next three years, retail media and shoppable campaigns will be enabled to an unprecedented degree, particularly for local, small, and medium-sized companies within local markets. This opens up a whole new realm of advertisers to utilize CTV in this manner. Previously this was only available across social media advertising."

Why now?

Social media was the first frontier for shoppable ads, with TikTok and Instagram leading users from posts to shopping carts. Interactive, shoppable ads are primed for TV now, as new technology breaks through, smart TVs become more accessible, and streaming and retail media reach new heights.
Sixty percent of TVs can show interactive ads, with the number expected to rise to 75 percent by the end of the year, according to Pearl TV — an organization that counts some of the biggest broadcasters in the United States as members. 
"We're at a perfect storm between the connectivity of CTV and the internet distribution of video," Wagner says. "Streaming has taken off and all of the components have come together to enable this new interactivity."
Retail media and first-party data fit in as an important part of this equation. Advertisers and publishers can typically track where consumers click, the products they're interested in, and what's in their cart, meaning first-party data can be reported in real time. This transfers over the immense attribution power many retailers have been harnessing through retail data in recent years.
As retail media is expected to climb to a $68.4 billion industry in the U.S. alone by 2025, according to Insider Intelligence, shortening the marketing funnel and making the buying process as easy as possible is crucial.
Like many new and innovative channels, shoppable CTV tech is facing the hurdle of universal standardization. The IAB Tech Lab focuses on standardizing interoperable technology and APIs needed to enable functionality, like interactive creative execution, without the need for proprietary methods and code. Such software development kits are expensive for ad tech vendors to create and for publishers to integrate and maintain.
"The IAB created the VAST 4.2/SIMID [video ad serving template/secure interactive media interface] standard in order to enable secure, fully interactive ads and seamless commerce experiences in the CTV environment," IAB Tech Lab CEO Anthony Katsur, tells The Current. "It establishes a clear and secure channel of communication between the media player and the interactive elements of audio/video ads. This intentional separation enhances user engagement through rich and interactive experiences with data security, while also ensuring that publishers retain full control over their media streams — a fundamental necessity in today's complex advertising landscape."

Social simplicity
The goal for many in the interactive ads space is to create a consumer experience as simplistic as social commerce, which is nearly a $70 billion market in the U.S. and climbing.
While the industry is relatively small right now, Parks Associates Director of Streaming Video Tracking Eric Sorenson says it has a ton of upside. For those gains to be fully achieved, the path to growth has to be done the right way.
"This is sort of a watershed moment for this shopping experience because if it's not done correctly and you start serving consumers ads that aren't relevant to their viewing habits or things that they aren't interested in, you may lose them forever and churn that consumer away," Sorenson tells The Current.
The shoppable CTV industry is in its early stages and will need to continue to build a strong foundation to grow. If the market does rise as predicted, big things could be on the horizon.
"My prediction is that within three to five years, shopping from television will be a ubiquitous experience," said Evan Moore, NBCUniversal's SVP of commerce partnerships, at the Retail Innovation Conference and Expo in July. "Our industry will optimize the purchase experience and make it as easy to buy on your television screen as it is today to purchase on your computer or your mobile device."
Subscribe to The Current newsletter