What the Tech is CTV?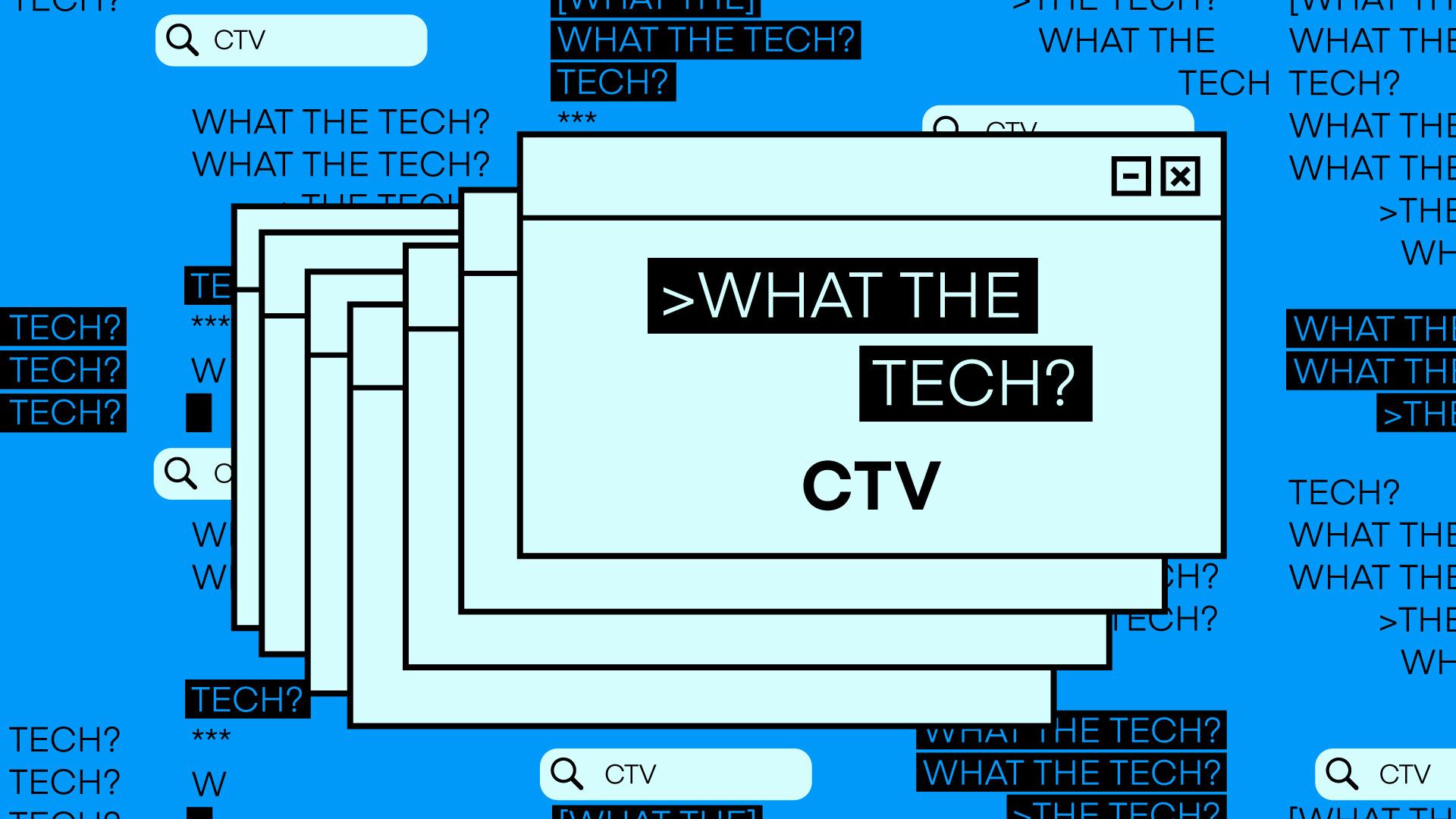 Television advertising is going through a once-in-a-lifetime transformation.
After decades as the dominant advertising medium, linear television is rapidly evolving to incorporate the brave new world of connected television. If current trends hold, connected television will soon overtake linear television in terms of audience, making it the most popular medium among consumers — and arguably the most effective marketing channel of all.
More than a third (36 percent) of the time that Americans spent watching television in 2021 was spent watching connected TV, according to a new report from the Interactive Advertising Bureau, a trade group for the digital media industry. CTV currently accounts for 18 percent of all the dollars spent on video advertising, according to the same report.
As important as connected TV is, some people might be entirely new to the concept and the technology; they may ask what it is and why exactly it's such a big deal. We address those questions, and more, below.
What is connected TV?
Connected TV, often referred to as simply CTV, is television programming that is consumed on a television set and delivered through the internet.
This contrasts with linear television, which is viewed via a cable, satellite, or traditional TV antenna.
Can you provide some examples of CTV?
Sure.
CTV includes any and all television programming you get via the internet. Watching YouTube videos on your television set via a Google Chromecast device is CTV. Watching Apple TV+ via an streaming device is CTV. Binging entire seasons of The Great British Bake Off through the Netflix app that came installed on your Samsung smart TV is CTV.
As long as it's streamed through the internet and watched on a television console, it's considered CTV.
That's pretty broad. Are there specific kinds of CTV?
Boy, are there.
There are myriad subcategories of CTV — many of them acronyms as well — with each category describing a particular way consumers access CTV content.
SVOD (subscription video on demand): streaming services that require a monthly subscription to view their content, such as Netflix, Disney+, HBO Max, and Amazon Prime Video.
AVOD (ad-supported video on demand): streaming video services that are funded by advertising. AVOD comes in two forms: 1) subscription services that offer ad-supported tiers, such as Paramount+ and Peacock, and 2) services that are free to consumers and ad supported, such as Tubi.
BVOD (broadcast video on demand): A subset of AVOD, BVOD is ad-supported streaming content that comes from traditional broadcasters. NBCUniversal offers free, ad-supported versions of some NBC and Bravo shows on its Peacock streaming service, for instance.
FAST (free ad-supported television): streaming services that are free to the consumer and ad supported. FAST platforms offer a combination of linear and on-demand programming, and the major players are Pluto, Samsung TV Plus, and The Roku Channel.
What about OTT?
OTT, or over-the-top television, is slightly different from CTV. OTT is a broader term used to describe digital video streamed on any device — desktop, mobile, and, yes, a television set. CTV is a subset of OTT.
So many acronyms…what's the big deal?
Consumers are cutting the linear TV cord at a record rate and shifting to CTV. And as more networks launch CTV services with advertising options, marketers are following.
CTV provides marketers targeting and measurement capabilities that were impossible with linear television, allowing brands to spend their ad budgets more efficiently, conduct more effective campaigns, and drive better results for their bottom lines. In addition, CTV enables marketers to better manage ad frequency across all channels. With more precision and relevance, we can expect ad loads on CTV to be lower than traditional, linear TV, improving the viewer experience.
With ad spend on CTV anticipated to increase by the billions over the next several years, you can understand all the hype surrounding those three little letters.