Streaming hits record 38 percent of U.S. TV usage
Streaming viewership passed record levels in June, capturing almost 38 percent of overall TV usage, according to Nielsen's monthly report The Gauge.
This comes less than a year after streaming moved past cable TV in viewership for the first time. Meanwhile, broadcast TV hit a new low mark in viewership in June, according to Nielsen. Broadcast made up 21 percent of viewing, dropping 7 percent from May. That 21 number is about the same amount of viewership that Netflix, YouTube, and Hulu see combined.
This latest report underscores an overarching content trend, with consumers' attention shifting away from traditional TV and onto streaming. As audience habits change, so could the channels that marketers invest in.
Which streaming services are getting the most attention? Ten different platforms achieved 1 percent or higher viewership, with YouTube (9 percent) and Netflix (8 percent) topping the list.
The most-watched streaming program in June was S.W.A.T., which airs on CBS and can be streamed on Hulu, Paramount+, and Netflix. S.W.A.T. is the type of serialized drama that has had success on broadcast TV by catering to older audiences. The show's comparable success on streaming platforms shows that while the devices may change, content can carry over.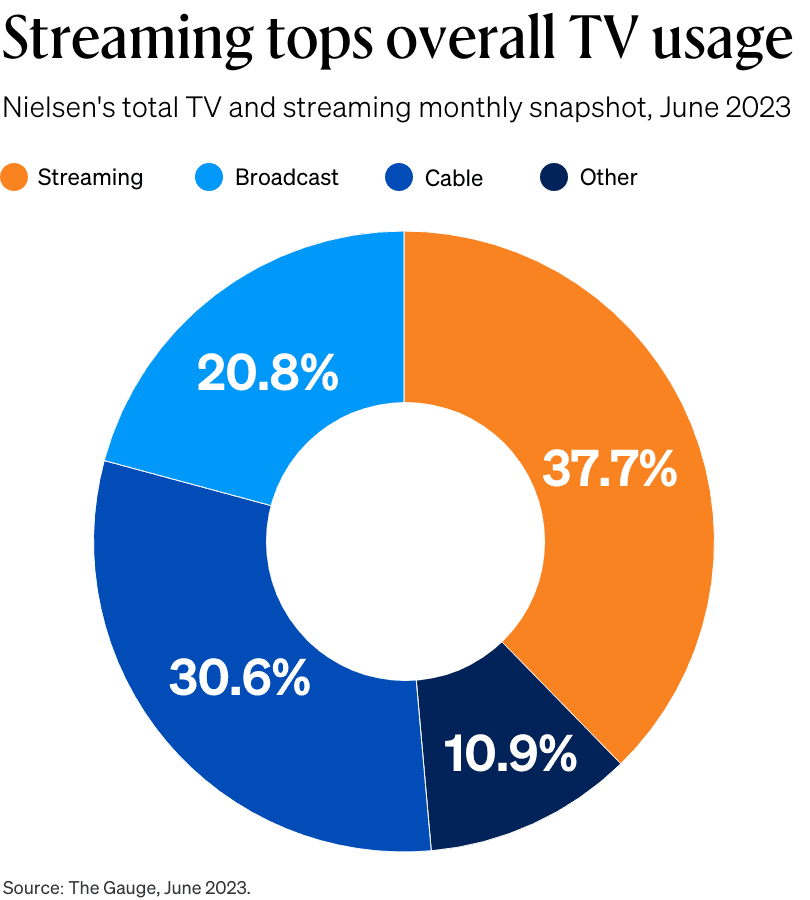 Subscribe to The Current Newsletter