Macy's expanded retail media strategy is calling all brands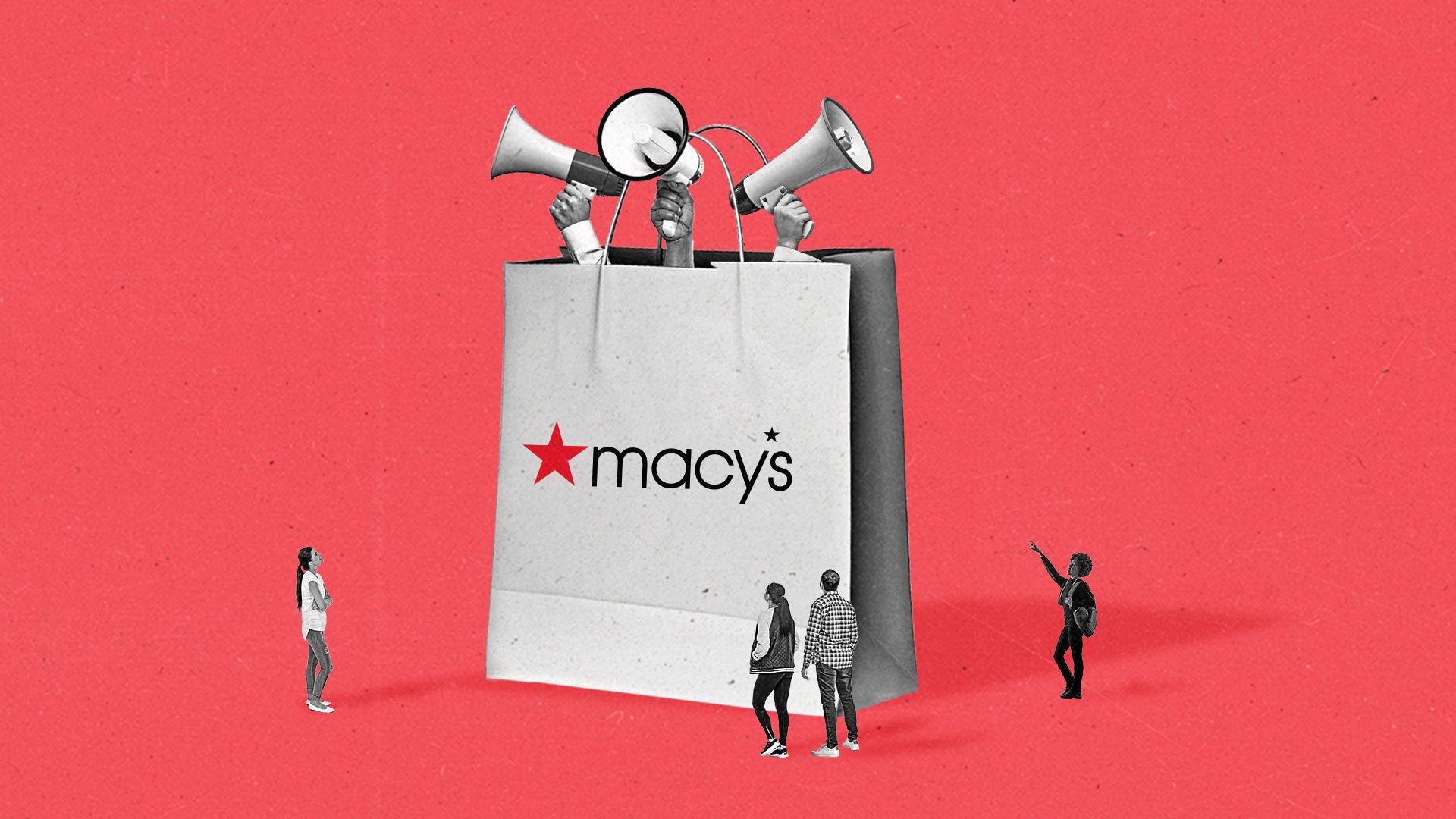 Macy's, the largest — and one of the oldest — department store chains in the U.S. is an example of how a long-standing and steadfast company can evolve with the times.
Over the past few years, Macy's, which also owns Bloomingdale's and Bluemercury, has delved headfirst into retail media, a nascent marketing opportunity that has rapidly shown its promise and is now predicted to attract $61.2 billion in digital ad spend by 2024. In 2020, Macy's launched Macy's Media Network and has been acting as an agency, working directly with endemic brands — or brands that customers would expect to see in stores — for placements on Macy's and Bloomingdale's sites, their apps, and physical retail placements.
This week, the retailer took its retail media strategy a step further and announced a new self-serve option available to advertisers through The Trade Desk, powered by its own shopper data. For the 165-year-old company, the move accomplishes several business objectives, such as forming new agency relationships and focusing on off-site digital ad channels like programmatic display, video, and audio. But most importantly, it opens up the retailer to connected TV (CTV) — which, according to Melanie Zimmermann, vice president of Macy's Media Network, has the potential to attract non-endemic brands, a new area that Macy's predicts will drive ample growth across categories like travel, insurance, and auto.
"It's really in CTV and video where I see a lot of growth and interest," Zimmermann tells The Current. "I'm hearing a lot from our clients that this year and next year is the year of video and CTV. A lot of linear TV spend is shifting to connected TV advertising, and since we have such rich data and insights about what's of interest to consumers, we can be a great partner to make TV campaigns more relevant and interesting for consumers."
Expanding to non-endemic brands and CTV
Non-endemic brands — or products and services that aren't traditionally sold by Macy's but may be relevant to its customers — and especially those in the lifestyle space, are particularly drawn to CTV, Zimmermann says, because they are focused on "driving awareness and branding and consideration." They also appreciate the creative freedom the channel provides.
"We are working with brands that are selling goods that are aspirational, that require storytelling. Lifestyle brands love to engage customers through rich media formats," she says.
Then there's the opportunity for enhanced relevancy. A fragrance brand, for example, could serve a CTV spot to shoppers who Macy's knows are interested in fragrance based on audience modeling. This helps ensure ad spend isn't wasted on "a consumer that might not be interested at all in the category," says Zimmermann.
Insider Intelligence predicts that CTV ad spending will grow by 21.2 percent this year, reaching roughly $25 billion.
The new self-service offering also ties into the desire to give more choice to ad agencies and media agencies driving the decision-making behind the ad dollars of both non-endemic and endemic brands. Macy's will also continue to work directly with brands on the media side.
"The industry is talking a lot about the dollars that are shifting toward retail media. Absolutely, that is happening. However, it is unrealistic that all media dollars will shift over to retailers specifically because upper funnel media dollars are sitting with other teams," explains Zimmermann. "Those types of professional media buyers are looking for self-service tools to run their programs…Rather than competing with agencies, we want to be best friends with them, and make their jobs easier and better, and focus on what we do best, which is really understanding the consumer and our business."
Shopper relevancy potential
The opportunity to reach the most relevant shopper is a big draw to both endemic retail brands and non-endemic alike, simply since much can be inferred from consumers' purchase habits, store visits, and first-party data from the company's loyalty program. Macy's reaches consumers across price points — from entry price to luxury — and creates audience segments based on data points such as price, interests, and purchase history. Macy's casts a wide net, with Macy's Media Network reaching 42.7 million shoppers at Macy's and 4.1 million at Bloomingdale's. Already, the brand has seen significant gains in the space, seeing $144 million in ad revenue in 2022, a 34 percent year-over-year jump, according to Zimmermann.
She adds that the media network can especially serve customers across different life stages, such as getting married or starting a family. If a customer is purchasing maternity clothes, for instance, the network knows they will most likely soon be purchasing children's clothes.
Over time, Zimmermann says Macy's Media Network will start layering in measurement opportunities, and closed-loop measurement for endemic brands that drive traffic back to Macy's and Bloomingdale's sites. Advertisers will then be able to optimize toward their most important KPIs during current campaigns and future ones, as well as bring more personalized advertising to audiences.
"Advertisers are looking for a lot of accountability in their media spend," says Zimmermann. "They want to understand if they're able to achieve business and drive business outcomes."