Hollywood writers are striking. Here's what that means for the streaming TV boom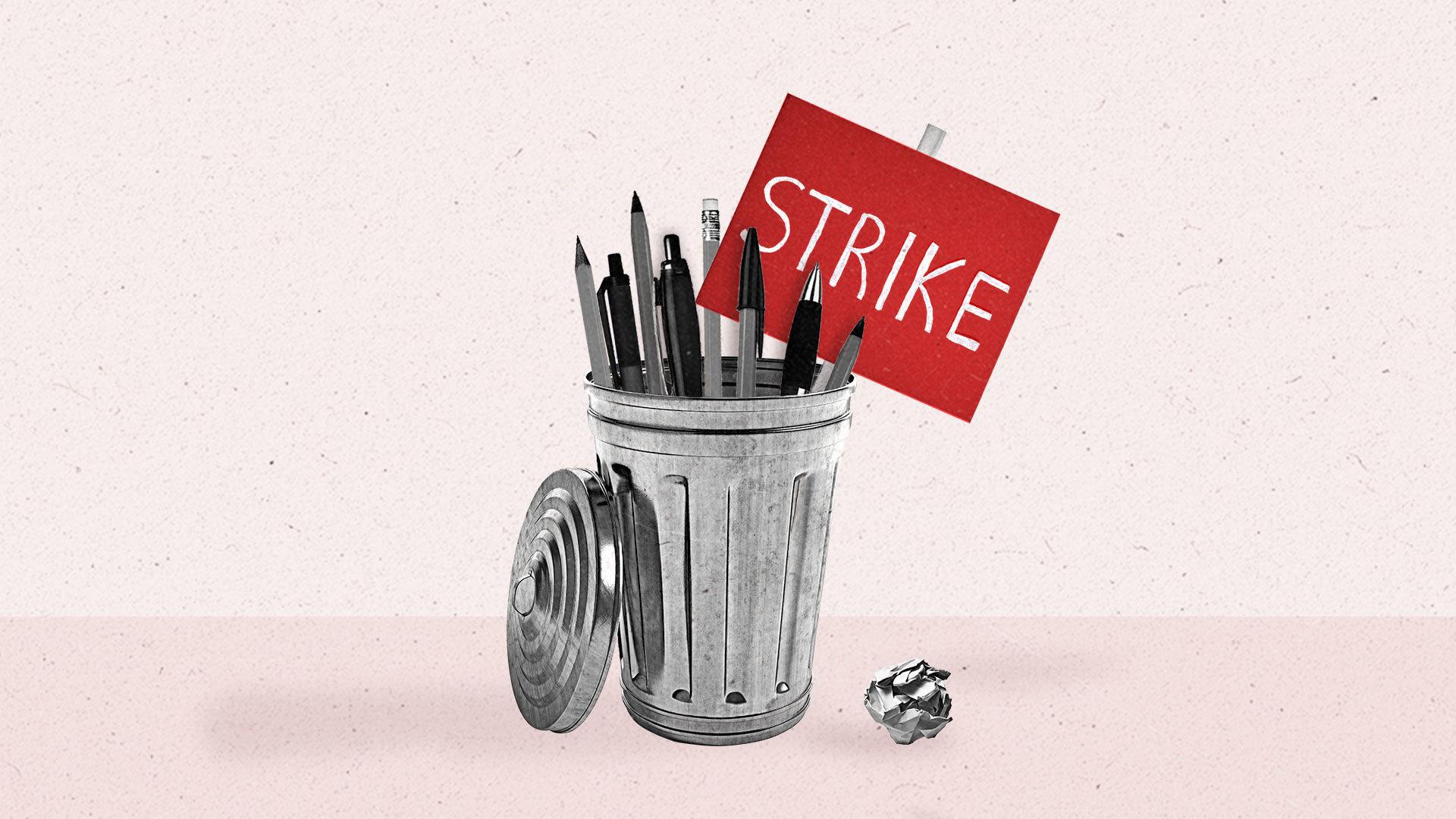 It's been 16 years since the last Hollywood writers' strike derailed TV and movie productions. On Monday, thousands of members of the Writers Guild of America (WGA) "walked off" the job after Hollywood studios, networks, and streamers failed to reach an agreement with the guild.
The most obvious and biggest change for movies and TV since 2007 has been the rise of streaming entertainment, which has transformed the business of TV — particularly how writers get paid. It phased out the traditional residuals model of syndicated TV that gave writers steady income between gigs in favor of a one-time payment when something lands on a network or streaming platform.
Now a writers' strike could upend streaming content, just as the industry is undergoing a correction of sorts. After years of inflated content spending — perhaps losing billions of dollars in an attempt to build up their libraries to attract subscribers — many streamers are beginning to rein in budgets and focus on profitability, in part by boosting revenue with advertising. But content remains king, and a writers' strike could have serious ramifications on streamers' ability to monetize new TV shows and movies. Advertisers want to get the most bang for their buck, but new content will be hurt by the strike — which could in turn hurt the value that advertisers are getting out of streaming.
For some streamers, the ramifications of the strike might be more immediate. But for others, they could feel the effects further down the road, depending on how long the strike lasts. 
Rich Greenfield, an analyst with LightShed Partners, wrote in a note last month that the strike "could lead to notably better-than-expected streaming profitability" due to a decreased investment in content. This notion would support many streamers' 2023 strategy to invest in fewer but more targeted titles, aimed at specific audiences.
"A strike could most impact streaming services with small libraries that lean heavily on new shows," Ross Benes, a senior analyst at Insider Intelligence, told The Current. "It could also have a greater effect on streaming services that rely on featuring new shows right after they debut on their companies' affiliated linear TV stations."
Benes suggests some streamers may be less impacted by a strike than others — at least at first. "Netflix produces much of its content well in advance of when it airs, which will limit exposure initially," he adds.
Indeed, Netflix invests heavily in international content, which would likely be less impacted. Netflix co-CEO Ted Sarandos said during a recent earnings call that the company has "a large base of upcoming shows and films from around the world."
But Eli Edelson, a WGA captain who's worked on shows like Netflix's Unbelievable and HBO Max's Raised by Wolves, is less bullish on those prospects.
"A lot of international guilds have pledged alliance [with WGA]," Edelson told The Current. "International TV could be negatively impacted, especially out of England." 
The Writers' Guild of Great Britain issued a directive last month to its members "not to work on projects within the jurisdiction of the WGA for the duration of the strike," saying that it would "support the WGA in their ongoing negotiations."
In recent years, many streamers invested heavily in new content while licensing fewer titles. They stockpiled their back catalogs to build up their own streaming businesses. Now, in a twist of fate, the strike could mean that the platforms with the most robust libraries of licensed content could be most prepared for the strike. But if the strike persists, it could be difficult for any streamer to come out completely unscathed without new content offerings that attract both viewers and advertisers.
"TV is a writer and showrunner's medium," he said. "The things that are being actively produced right now will be affected. I don't see any network or streamer having such a deep bench that they won't be negatively impacted."