Why baseball's streaming pitch to younger audiences has staying power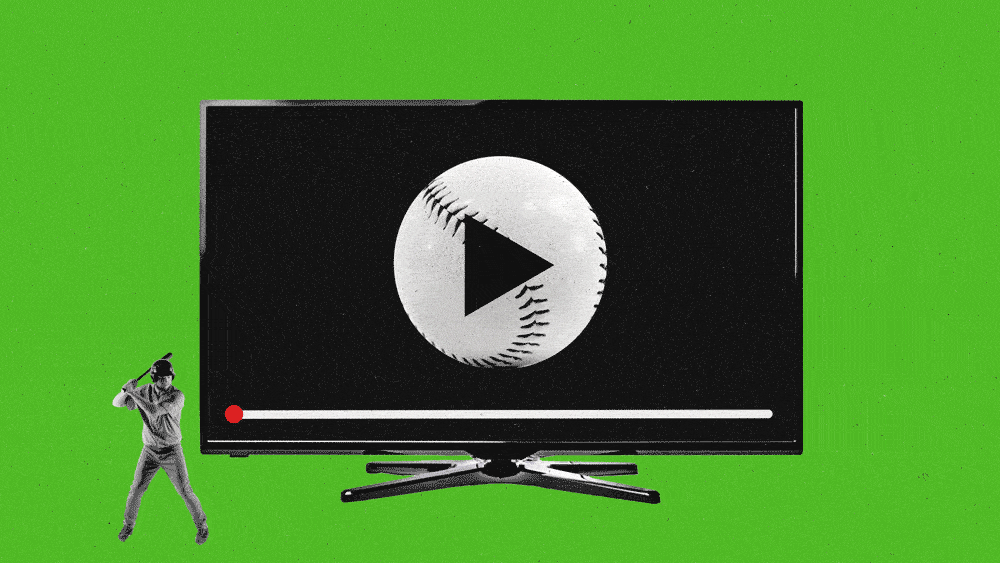 Baseball pushes into the future by exclusively streaming games on Peacock and Apple TV+.
Baseball might be the most traditional of the four major American sports — and definitely carries one of the oldest average fan bases — but that's not stopping the sport from finding innovative ways to connect with young audiences.
These initiatives come as more sports fans are planning to stream games. A recent survey from YouGov and The Trade Desk showed that Americans are planning to watch 17 percent more sports content on streaming platforms in the next year.
For this baseball season, Major League Baseball had a new pitch: bring America's favorite pastime to Peacock and Apple TV+ with exclusive live games every week. The rights deals represent MLB's first appearance on Peacock, and Apple TV+'s first swing at producing live sports. The move is a chance for MLB to reach young viewers who are increasingly streaming live sports rather than tuning in to baseball games on broadcast TV.

This isn't MLB's first streaming rodeo though. The league was one of the earliest adopters when it made games available over its MLB.TV online channel in 2002 — three years before YouTube launched and five years before Netflix began offering a streaming option. MLB has also streamed games over Facebook Watch and YouTube.

To Geoff McQueen, managing director at strategy consulting firm L.E.K. Consulting, baseball is the perfect sport to experiment with streaming live games for two key reasons: MLB's regional nature and its 162-game season — the longest of the four major American sports.

As more sports fans move to streaming to watch their favorite teams, connected TV ad revenues are likely to rise. "We're at the inflection point where I think we're going to see really strong growth in connected TV advertising," McQueen tells The Current.

Still, McQueen also believes MLB's balancing act between broadcast and streaming rights is a "golden handcuffs" situation.

"You're tied to the pay-TV ecosystem because it makes you so much money and it's so valuable," McQueen says. "But it prevents you from significantly going after that younger Gen Z [audience] that doesn't watch linear TV, that doesn't sit down and watch three hours of an MLB game."

Daniel Cohen, executive VP of global media rights consulting for marketing agency Octagon, which has consulted with at least one MLB team on rights evaluations, packaging, and content strategy, tells The Current that until streaming becomes the dominant way to watch live sports, he predicts that we'll "see this continual rise of riding both the linear and streaming distribution waves."

Cohen also thinks each MLB team will eventually offer a direct-to-consumer streaming option as streaming continues to gain a bigger foothold among live sports viewers. In June, NESN became the first regional sports network to launch its own streaming service, NESN 360. Sports fans in the New England area can watch Boston Red Sox and Bruins games for $29.99 a month. In other recent news, Sinclair Broadcast Group announced it will launch its own direct-to-consumer service, Bally Sports+, in September for viewers in its 19 regions, at a price tag of $19.99 a month.

While those games are simulcast, the presentation of the games on Apple TV+ and Peacock are tailored for streaming. Both streamers are experimenting with the traditional way a broadcast looks and sounds — from Peacock using no announcers in a game, to Apple bringing in younger and more diverse broadcast crews. For Ahmed Fareed, host of Peacock's pregame and postgame show MLB Sunday Leadoff, the nature of the channel doesn't change his presentation or preparation.

"When I'm out there holding the microphone, I'm just doing a broadcast and it really could go anywhere," Fareed tells The Current. "And I don't think that we've necessarily catered to a 'streaming audience.' I think we're just trying to do a baseball game as well as we can. At the end of the day, if people enjoy the broadcast, no matter where they saw it, I think that's our No. 1 goal."

For both companies, streaming baseball games presents an opportunity to reach sports fans in new ways and grow their subscriber bases.
"Peacock and Apple are both after subscriber acquisition, but I do think there's a bit of a different purpose for why they're looking for subscribers," McQueen says.

NBC is a multifaceted entertainment corporation with Peacock as a new, innovative channel, while Apple TV+ is an integrated conduit to get consumers to use more Apple services and buy more products, explains McQueen.
"It's not just getting people to subscribe to Apple TV+, but it's adding value to get them using a broader set of services, like Apple Music and Apple Fitness," says McQueen. "So it's a piece of the puzzle, much like Amazon Prime has bundled a lot of services together. Apple is following a similar playbook."

To sum up his thoughts on live sports' shift to streaming, McQueen paraphrased Ernest Hemingway from his 1926 novel The Sun Also Rises:

"'It happened very slowly and then very quickly.' And I think similarly, the shift to streaming will happen very slowly, but then the economics will flip and pay TV will kind of cross that nexus threshold of not enough subscribers."