What the Tech is shopper marketing and retail media?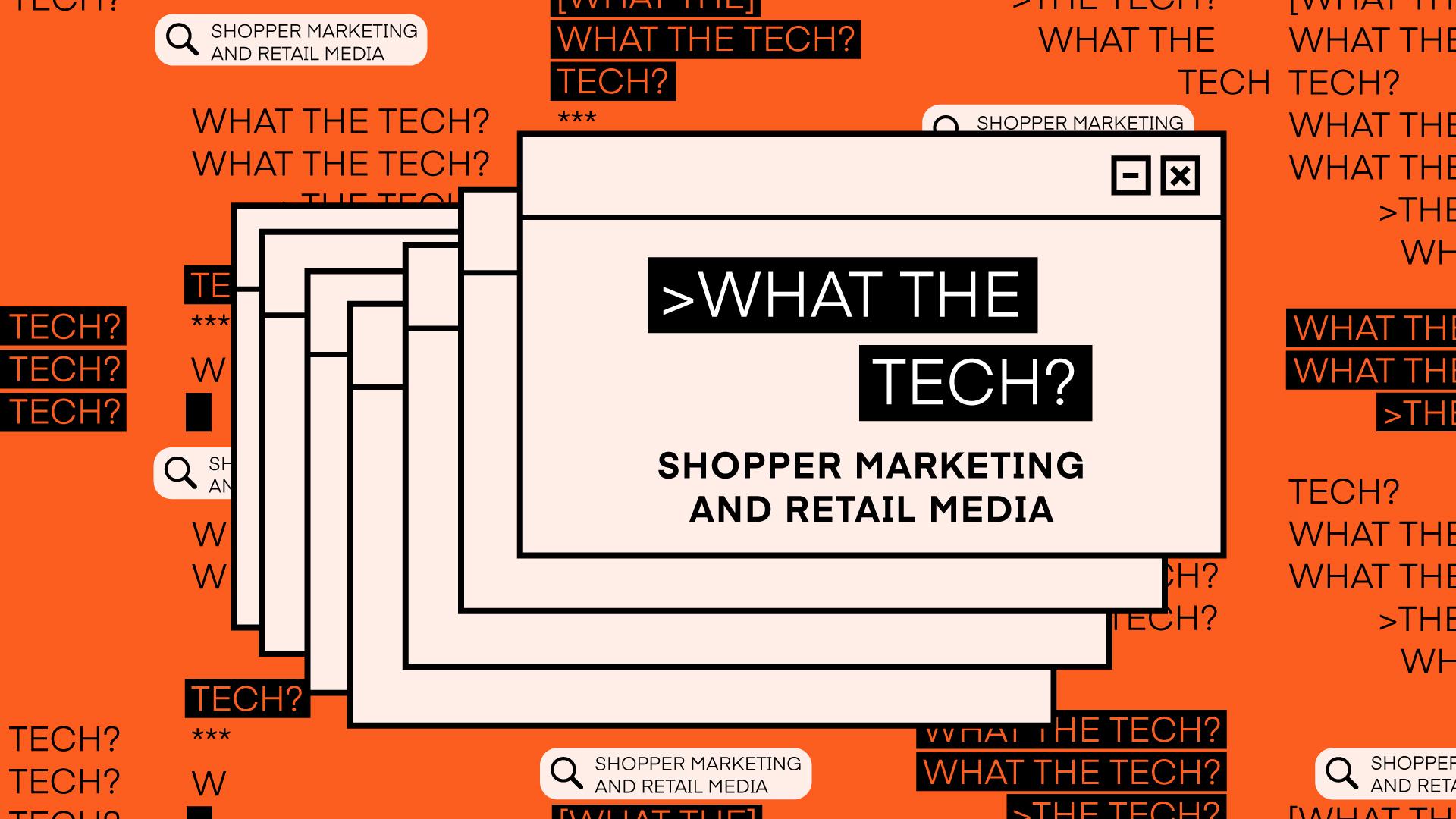 When we think about digital media and advertising, we tend to think of the traditional brand-agency-publisher supply chain.
A brand wants to advertise, their agency devises a campaign on the brand's behalf and then purchases ad space from a publisher, an entity that specializes in producing content (be it text, images or videos) for consumption by the media-hungry masses.
But the past few years have seen the rise of retail media, a media category that functions separate from traditional digital media, and shopper marketing, the process by which brands use retail media channels to market their wares to consumers. Indeed, the Interactive Advertising Bureau, a trade group representing the digital media industry, anticipates e-commerce and retail media to be one of the biggest drivers of growth in the industry in the coming years.
Both subjects have been overlooked in the past, but with the rise of ecommerce, especially during the pandemic, it's time these marketing terms get their proper due.
What is retail media?
Retail media is the practice of brands buying ad space on ecommerce websites.
Traditionally, brands bought ads from platforms (such as YouTube and Reddit) and content publishers (such as The New York Times, ESPN and WebMD). Meanwhile, ecommerce sites (such as Target, Walmart and, of course, Amazon) were seen as being for exactly that, shopping, and weren't viewed as an advertising medium.
It's only within the past several years that these ecommerce sites realized their shopping pages were also good advertising real estate, and that brands realized it might be a good idea to serve ads to consumers who were actively shopping for products. And thus retail media was born.
Can you provide an example?
Sure. The foremost example of retail media is Amazon, the undisputed king of ecommerce and the company that has almost single-handedly turned retail media into a multi-billion dollar enterprise.
You might have noticed the small "Sponsored" label on some of the product listings when you search for an item on Amazon. These are ads; the brand paid to have its product listed prominently in the search results. Voila, you have retail media.
Got it. So what's shopper marketing?
Shopper marketing is a broader term.
Whereas retail media relates to the buying and selling of ads on retail sites, shopper marketing relates to all the ways a brand represents itself and its product to online shoppers. Shopper marketing can include everything from the colors used in a brand's online shopping site to the models they use to show off their wares to in-store activations to engage shoppers.
Traditionally, shopper marketing meant advertisements that existed in brick-and-mortar retail locations and were aimed to induce an impulse purchaser in shoppers. Think of the elaborate Bud Light product displays you see in grocery stores in the week leading up to the Super Bowl, or how clothing brands arrange their store items.
Shopper marketing was viewed as a distinct part of the marketing org, but the rise of ecommerce has changed that. The internet has largely erased the line between media and retail, so shopper marketing teams are integrating closer to their more digitally-savvy counterparts.
You might hear people use shopper marketing and retail media used in the same sentence, which can be confusing. They mean similar but slightly different things, but it's not uncommon to hear them used interchangeably.
Why's it a big deal?
Because retail media is an enormous and growing advertising market.
Let's peruse the list of the 100 most-trafficked websites in the U.S. for the month of August. You see the usual big tech platforms — Google, Facebook, Twitter, etc. — and the large content publishers, such CNN, Fox News and NPR.
Scattered among these tech platforms and traditional media companies are the websites for major retailers, such as wholesale stores Costco (95th on this list) and Walmart (No. 10), department stores Kohl's (82) and Target (36), and hardware giant Home Depot (34).
There are also the online-only ecommerce players, including furniture retailer Wayfair (91), craft-goods marketplace Etsy (42), and of course Amazon, the fourth most popular site in the country.
Large tech platforms can also function as retail media outlets, in some cases. Google, Instagram and Pinterest, for instance, have incorporated shoppable ads into their content streams, thus functioning as part-time retail media outlets. Same goes for publishers, such as The New York Times' The Wirecutter, which focuses specifically on product recommendations and earns commissions when their recommendations induce a purchase. (As you can see, retail media is a broad category and the distinctions are permeable.)
The popularity of these sites is a testament to how large and lucrative retail media is, and it only stands to get bigger in the years ahead. Retail media currently is a $20 billion industry, but it's expected to more than double, to $50 billion, over the next five years.
For more on retail media, check out our Future of Retail Report.
Each week, The Current gives you a rundown of the biggest stories and latest trends from the world of data-driven marketing, including topics like Connected TV and the future of identity — all delivered directly to your inbox.