What the Tech is cookie deprecation?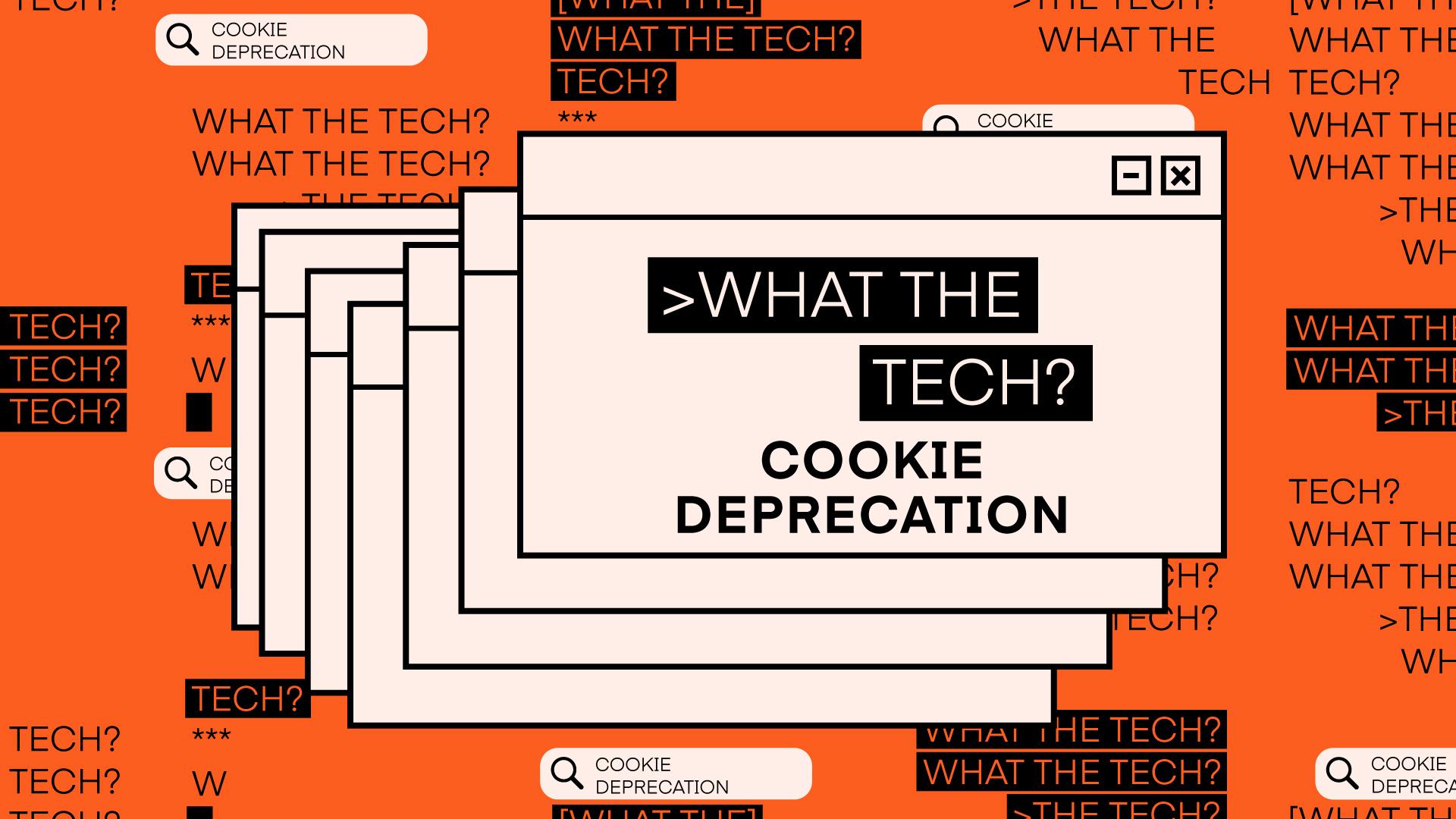 Explaining digital media's cookie-less future.
For years, the digital media industry has been hearing about the inevitable demise of cookies, but the time is finally nigh with Google declaring that they will phase out cookies from its industry-leading Chrome browser by the end of next year. If that timeline holds, cookies will be rendered obsolete, marking one of the most significant changes in the short history of digital media.
This transition is often described as cookie deprecation, a term that, in true ad tech fashion, is inelegant and somewhat inscrutable at first glance. Fortunately, we've assembled this handy explainer to help you better understand the term, and its myriad and widespread implications.
First things first: What's a cookie?
A cookie is a tiny piece of software code that gets downloaded onto your computer when you visit a website. This tiny file, also known as a packet, contains data that allows the website to identify your computer upon subsequent visits.
What are they used for?
Cookies serve numerous purposes, many of which are tremendously helpful for consumers. Cookies allow you to stay signed into web accounts, for example, so you don't have to login every time you visit the same website.
Or say you're online shopping, and you add something to your cart, only to close your browsing tabs before completing the purchase — cookies allow the item to appear in your shopping cart upon a subsequent visit.
These are examples of first-party cookies, when a company (the first party, in this case) uses cookies to remember those who directly visit its website. But cookie deprecation has more to do with third-party cookies, which is a whole other animal.
What's the difference between first- and third-party cookies?
Whereas a first-party cookie is used to improve your experience with a specific website by only that specific website, third-party cookies are created by domains other than the one you are currently visiting, and can be used to deliver a variety of cross-domain services such as on-line chat support, social media buttons and digital advertising.
Why are they so important?
For the display segment of the internet, third-party cookies have been the primary mechanism for building and measuring digital ad campaigns. They help advertisers create campaigns that are relevant to users, so you don't have to see those car ads when you are not in the market for a new vehicle. In doing so, digital advertising funds the free content and experiences that we all enjoy on the open internet, whether it's online news, games, or entertainment.
Why are they going away?
The technology behind the cookie is extremely archaic by comparison to new advancements in the industry. The cookie was developed for browsing the internet but isn't relevant to the fastest growing parts of the internet such as mobile, digital audio or connected TV.
More specifically, though, third-party cookies are going away because Google announced it will no longer support third-party cookies on its Chrome web browser. Apple's Safari browser and Mozilla's Firefox already don't support third-party cookies, so the Chrome initiative would make cookies functionally useless.
What are marketers going to do?
That is the multi-billion dollar question. All of the brands, agencies, ad tech firms and publishers that have grown to rely on cookies are spending a lot of time preparing for a cookie-less future. 
Google announced last summer that it will phase out third-party cookies for Chrome over the second half of 2023, giving everyone a year and a half to figure out how to adjust.
Some experts have predicted a rise in contextual advertising, which allows brands to target their ads based on the content it would appear adjacent to. This might mean beer brands running ads targeting sports fans, or beauty brands targeting sites that draw a substantial number of female visitors. That said, contextual targeting in the 21st Century is a more sophisticated activity within the world of programmatic advertising, which allows for more precision than, say, a traditional ad in the sports section of your long-lost local daily.
Still, contextual advertising is only one way that today's modern marketers are building campaigns, which are becoming increasingly data-driven and less reliant on cookie-based targeting. The truth is, most marketers will use a combination of solutions. Even so, many companies are trying to build an alternative to cookies that replaces the general concept of cross-site relevance, while keeping privacy top of mind.
Is there a replacement?
Cookies were effective because everyone in the industry used them. Cookies became, in essence, the currency by which digital advertising was bought and sold, at least in the world of display advertising.
That's why many digital media executives are pushing for the industry to converge on a single solution to the no-cookie problem. So far, Unified ID 2.0 has emerged as the early frontrunner, with numerous high-profile brands, agencies and publishers embracing the technology as the new industry standard and its interoperability with other solutions like LiveRamp, Fabrick, Blockgraph and OpenAP in the TV realm.
Unified ID 2.0 preserves the critical value exchange of the open internet – free content in exchange for relevant advertising – while putting the consumer in the driver's seat when it comes to privacy and control.
Unified ID 2.0 will not exist in isolation, however. There are other industry solutions that can help fill in the gaps where there may not be IDs. That's why there's a tremendous emphasis on so-called interoperability, which means that the different solutions can interact across the open internet.
As the industry works together on new solutions for cookie deprecation, it's important to note that the fastest growing segments of the open internet, such as streaming TV and mobile, never used cookies.
Each week, The Current gives you a rundown of the biggest stories and latest trends from the world of data-driven marketing, including topics like Connected TV and the future of identity — all delivered directly to your inbox.