Why Hasbro and other toy companies are embracing 'kidults'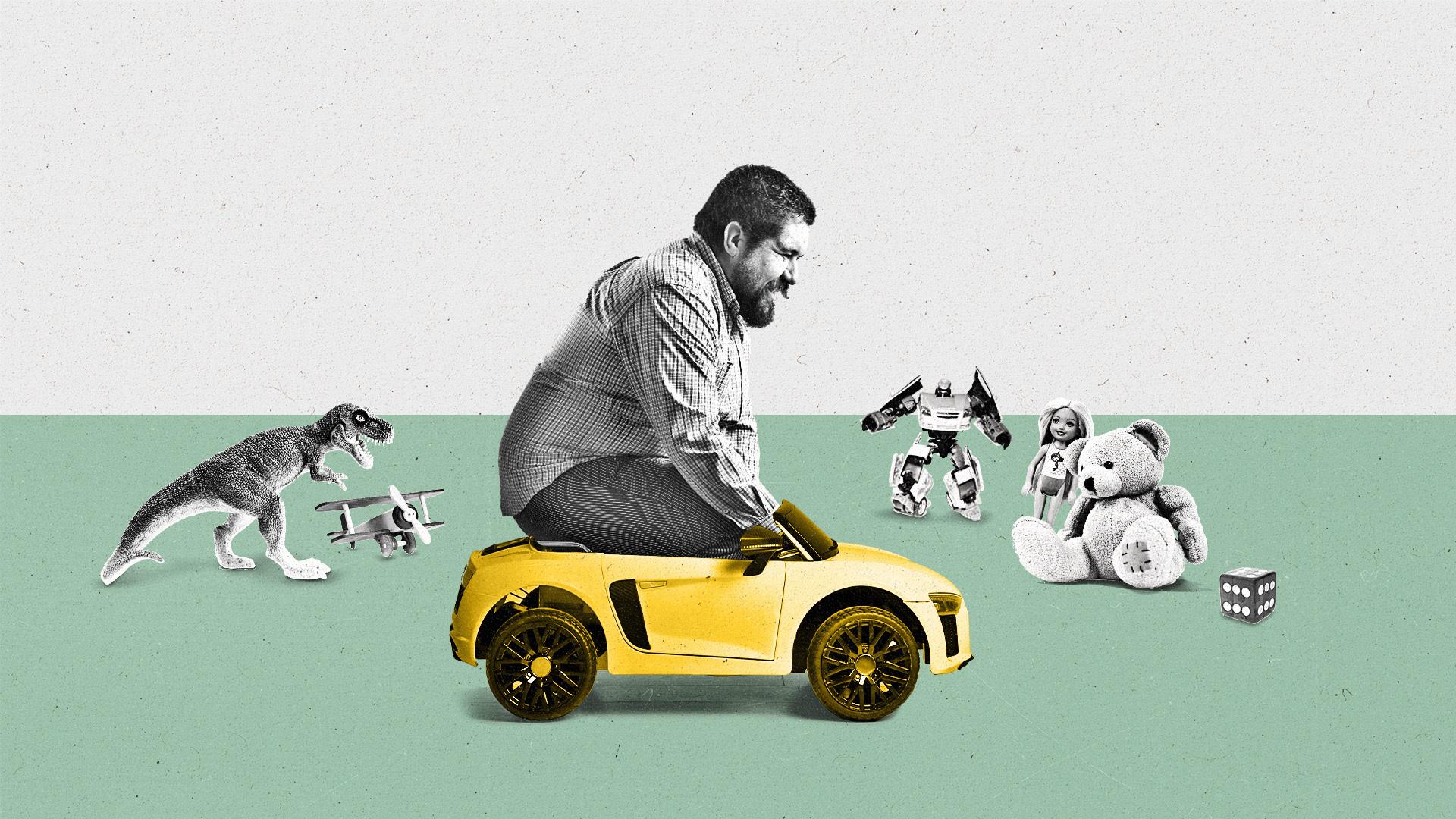 Toys and games aren't just for young kids. They're also for "kidults."
That's the toy-industry term for adults with childlike tastes, and they've become a more essential demographic in recent years. The spotlight is on them this week with the release of the movie Barbie, based on the Mattel doll.
As people get older, nostalgia sets in for the toys and games they played with as kids, and they may want to pass that on if they have kids of their own. Brands try to tap in to this phenomenon, not just through retail but also movies, TV, and video games.
Look no further than Hasbro, the toy giant behind Transformers, GI Joe, Dungeons and Dragons (D&D), and more. In a June interview with The Wall Street Journal, Hasbro CEO Chris Cocks said that adults drive 40 percent of the company's revenue annually, and he can see that number growing to 50 percent five years from now.
In a December 2022 study, research firm Circana — which defined "kidults" as anyone 12 years or older — found that they accounted for $9 billion in U.S. toy sales, the biggest source of growth for the industry last year. Those 18 years and older accounted for 14 percent of U.S. toy sales last year, a 19 percent increase from 2021.
"There is no doubt that kidults have had a powerful impact on toy sales over the past few years, and the pandemic really accelerated this growth as more adults turned to toys and games to destress and fight feelings of isolation," says Jennifer Lynch, a toy trends specialist with the Toy Association, an industry trade organization.
Why kidults are buying toys and games
Hasbro's GM and SVP of global action brands, Tom Warner, tells The Current that the kidult economy is "one of the fastest-growing categories overall" for the company.
"Nostalgic adult fans are passionate and engaged in the brands that they love, especially products they loved as a kid," Warner adds. "Our products allow them to celebrate their fandom. At Hasbro we are focused on our fans of all ages. We are making toys and games for our hardcore adult fans as well as the next generations of those fans."
Nostalgia may not be the only factor. A Lego Group spokesperson tells The Current that in its recent Play Well Report, 88 percent of grown-up respondents played with Lego products because it helped them relax; 89 percent said it helped them stay mentally sharp; and 90 percent said it helped them be more creative. This was based on a survey of 33,429 adults in 33 markets from February 2022 through March 2022.
"We're excited that more and more adults are building and creating with Lego bricks, inspired by play experiences that align with their passions, [like] automotives, sports, entertainment, and crafts (especially our Botanicals range), and we know they can enjoy the mindfulness that comes with manual tasks like building with Lego bricks," the spokesperson says.
Social media could also be contributing to the phenomenon, as older toy fans find online communities and like-minded individuals to share their passion with.
"Social media has played a part and helped accelerate the growth of the fan communities," Warner says.
What products, exactly, are kidults interested in?
For Hasbro, kidults are interested in anything from "highly coveted items that collectors have been clamoring for, to games like Monopoly, D&D, and Clue that adults love to play with friends," Warner says.
Hasbro Pulse, the company's fan-centric direct-to-consumer platform, better connects older fans with the Hasbro brand by offering members exclusive products and more. Hasbro Pulse HasLab, a crowdfunding initiative, is an extension of that goal, giving fans the ability to support "products of varying price points and scale that are highly coveted items fans have been clamoring for," Warner says.
"This momentum shows no sign of stopping," Warner adds. "Since its inception in 2019, a total of 10 projects have been successfully backed with a combined total of over 200,000 backers."
This month, a HasLab campaign for a GI Joe Assault Copter Dragonfly reached its goal of 10,000 backers within a day of its launch, according to Warner.
Toy Association research reaffirms that adults gravitate toward board games and collectible items. According to Lynch, a recent Toy Association survey of over 2,000 parents in the U.S. found that 58 percent were buying toys and games for themselves and not just their children. Fifty-two percent of respondents said they purchased board games, followed by collectibles and puzzles at 48 percent and 47 percent, respectively.
Movies based on toys and games could also compel adult consumers to purchase tie-in merchandise. For the Barbie movie, Mattel implemented over 100 partnerships to sell adult-oriented T-shirts, rugs, mugs, roller skates, and more ahead of the movie's release.
"As the stigmas we once saw around playing with toys and games past a certain age continue to fade, there will be even more opportunities to cater to this toy consumer with new product offerings," Lynch says.