Amid a global streaming slowdown, Europe's content machine revs into high gear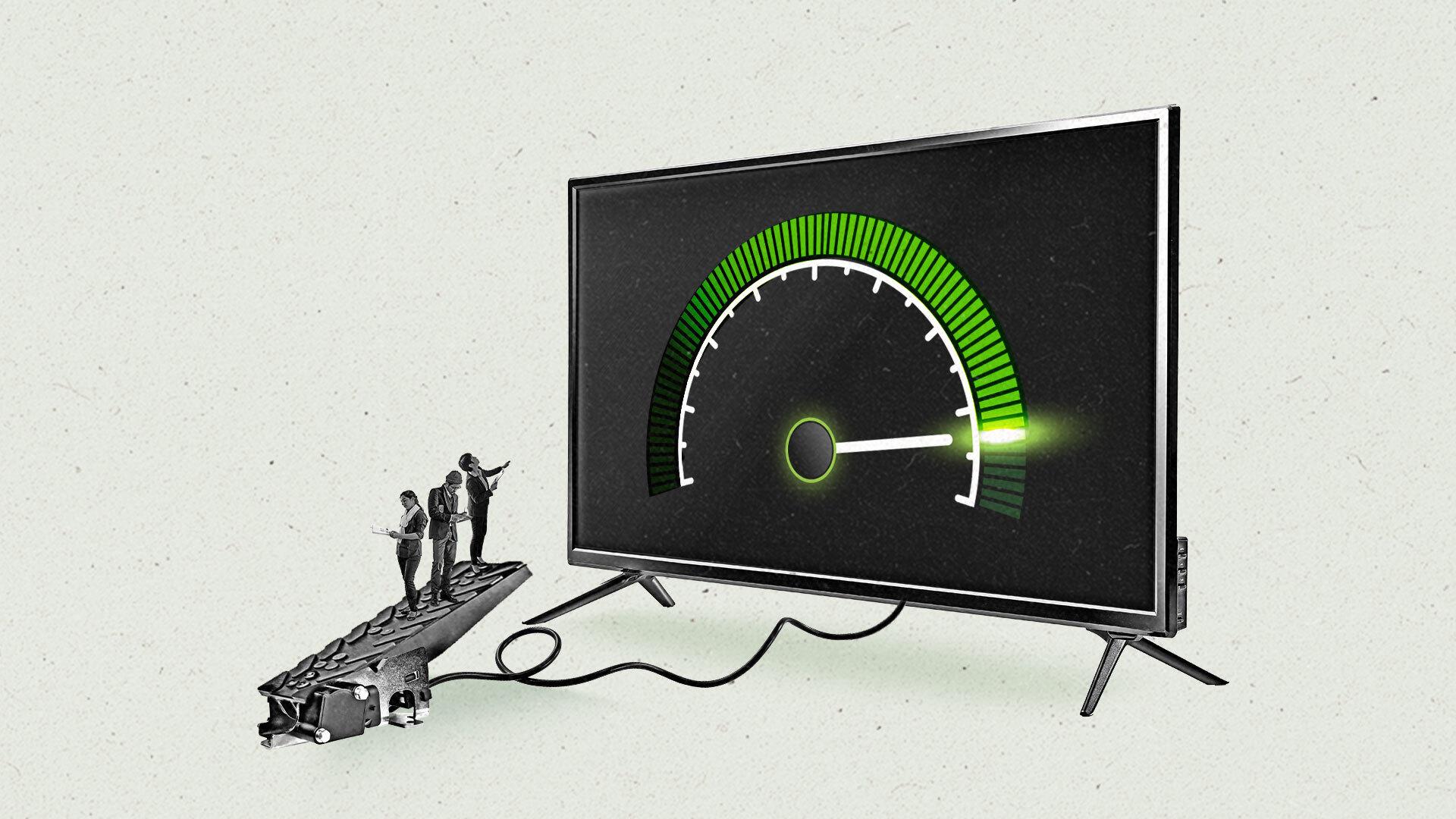 It hasn't been an easy year for U.S. streaming giants. Contending with writer and actor strikes, a saturated market, and an uncertain economic climate has put strains on their global expansion, with NBCUniversal's Peacock reporting heavy losses and Warner Bros. Discovery overhauling its U.S. ad sales strategy.
But while commissions for new shows decreased 10 percent year on year in North America in the second half of 2022, they increased 9 percent in Europe, making it the fastest-growing region for original commissions, according to a recent report from Ampere Analysis.
As they channel content investment toward Europe, the likes of Disney and Netflix are finding that their main competitors — Europe's public service broadcasters (PSBs), commercial TV operators, and pay-TV firms — are moving quickly to stake a claim on their pieces of the streaming and connected TV (CTV) pies.
"This is a time and opportunity for broadcasters, both public and commercial, to push into their VOD [video on demand] strategies," Neil Anderson, senior analyst at Ampere Analysis, tells The Current.
European PSBs lead the pack in commission volume, having announced 22 percent more original titles in the latter half of 2022 year on year. Ampere forecasts that next year, spend on original content in Europe is set to surpass that in the U.S.
The ongoing strike could further accelerate Europe's growth in commissioning volume.
"Public broadcasters and other European commissioners will benefit from the strike because there will be a deficit of original content available in the U.S. market, so they will have even more success selling their original series overseas," Olivia Deane, senior analyst at Ampere Analysis, tells The Current.  
PSBs move to capture younger audiences
Broadcasters' declining popularity belies their importance in maintaining the output of the European entertainment ecosystem. Ampere data shows that Germany's ARD/ZDF, Britain's BBC, France Télévisions, Spain's RTVE, and Italy's RAI together invest nearly 5 billion euros annually in original content and accounted for 63 percent of total TV commissions in Europe's major markets in 2022. This compares to the 2.8 billion euros spent by global streamers in 2021.
PSBs also play an important role when it comes to broadcasting "shared viewing moments," says Anderson, such as sports and the likes of Eurovision. Their commissions run the gamut from unscripted reality TV to local documentaries, which adds to the region's content diversity. Streamers, meanwhile, tend to invest more in scripted content, adds Anderson.
However, streaming giants' European hits like Netflix's Bridgerton and Lupin have spurred PSBs to rejigger their commissioning strategies, focusing on content aimed at younger demographics, such as comedy, sci-fi, fantasy, and family series, according to a recent Ampere Analysis report.
Investments in tech have also followed: BBC and RAI, specifically, have made significant investments into VOD platforms for content-discovery features that resemble streamers' own. However, the content on PSBs' VOD platforms still mimics what is available via their linear TV programming.
"Public broadcasters are not going to be able to compete with the tentpole titles that the streamers have, like Stranger Things, with the budget that they have," says Anderson. "They need to focus on the content that will resonate with a national audience that the streamers can't necessarily provide or understand."
Streaming giants close in on Europe
Streaming giants are tracking opportunity in Europe, in part pushed by the EU's Audiovisual Media Services Directive, which stipulates that streamers' catalogs must contain at least 30 percent European content when catering to European viewers.
Amazon has launched dozens of European shows and films, such as The Rig and Overdose, with many more in the making. Disney upped its European originals target output from 50 to 60 by 2024. The U.K. might not count as part of the European quota anymore starting in 2026, which could see streamers investing even more in mainland Europe.
Nonetheless, Netflix has spent $6 billion (4.8 billion pounds) making TV shows and films in the U.K. since 2020, $2 billion more than originally planned, likely buoyed by the relatively low penetration of subscription video on demand services in the Continent when compared to the North American market, and the country's world-class production sites.
This puts Netflix at the level of commercial broadcaster ITV, which expects to spend around 1.3 billion pounds in 2023, following the launch of its own streaming service last year, ITVX. Ampere data shows that commercial TV operators, like ITV, RTL, and TF1, regularly vie with PSBs for volume of European originals commissioned, accounting for almost a third of all European commissions announced between Q1 2019 and Q1 2023.
To capture more of this market, streaming services are now going after older audiences, says Anderson, by investing in scripted content that appeals to them in addition to seeking hits that will create social media buzz.
The future of European content
Pay TV might become the main casualty of the European streaming wars. In June, Sky Deutschland, the German subsidiary of Comcast-owned European pay-TV giant Sky, announced it will stop making scripted shows, with CEO Devesh Raj saying the decision was "in part driven by the emergence of myriad new streaming providers, making it harder for drama series to cut through."
"Pay TV is trying to find their own niche. And they're probably the most interested in ideas of FAST [free ad-supported TV] channels," says Ampere Analysis' Deane.
For PSBs, meanwhile, the future remains uncertain: To properly compete with the streaming giants, funding models might have to change, says Anderson. But moving toward subscriptions or advertising won't be easy, in the latter's case because advertising markets might not have enough room to accommodate PSBs.
Countries in Scandinavia, however, have found some success through direct funding mechanisms, such as revenue coming from the state budget or a specialized tax.
In the long run, PSBs can count on budget security and protection from market forces, says Anderson. Considering the continent's well-developed production infrastructure, a bright future for European content might lie ahead, even with the entertainment world in flux.
"I would certainly say that Europe is one region to watch over the next few years in terms of the growth of the content markets, as streamers and broadcasters focus on making sure that they've got their hands on some of the best content," says Anderson.
Subscribe to The Current newsletter