Fragmentation-free experiences will win over fans as live sports head to streaming services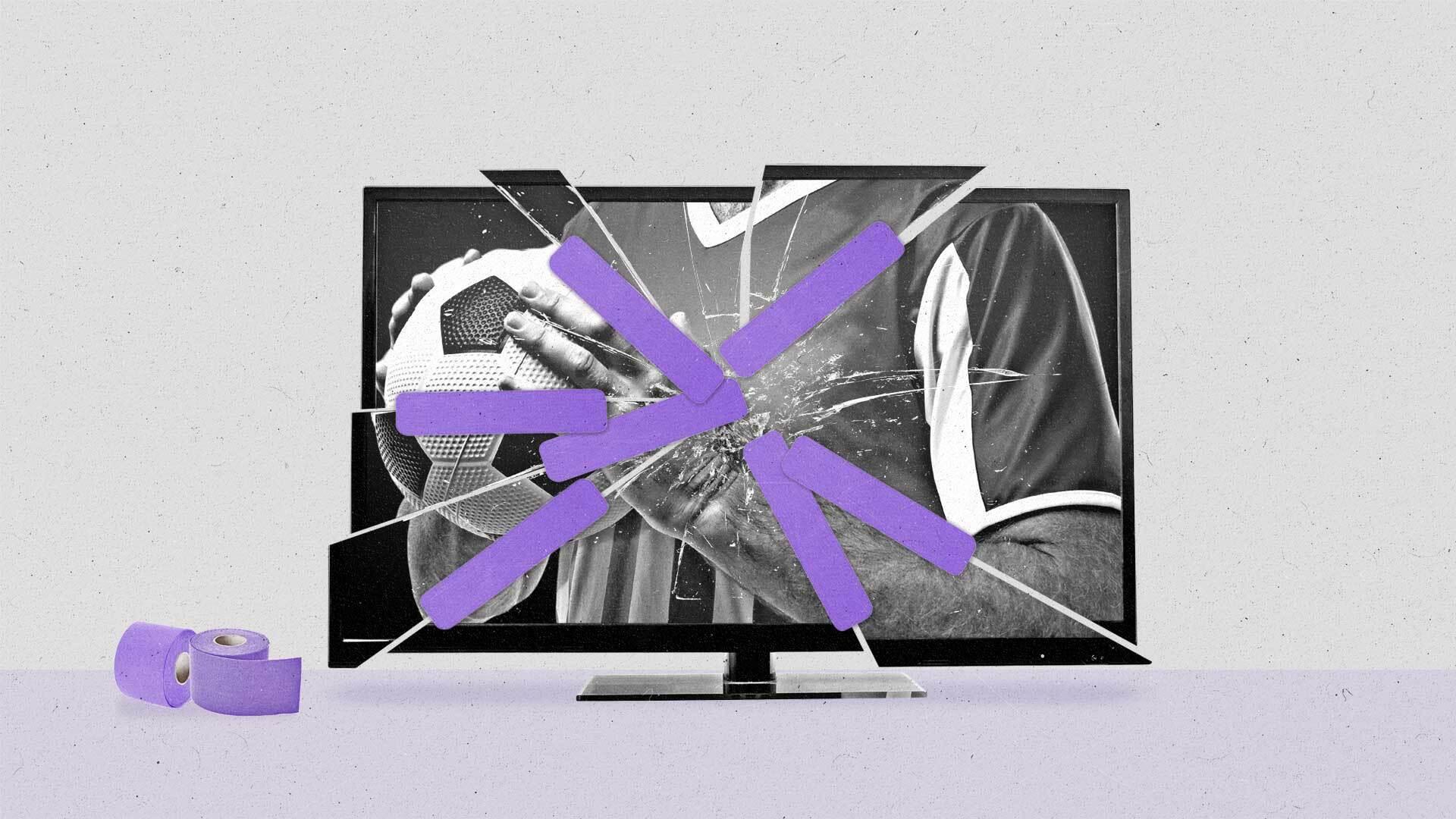 As TV audiences continue increasing their viewing time with streaming content, streaming platforms are taking bigger steps to get in on the opportunity with live sports rights deals. For audiences, however, the transition has created more fragmentation, as only one professional league in the U.S. features the majority of its season within Apple: Major League Soccer (MLS). Comparatively, fans of other professional sports leagues need to have subscriptions for multiple channels and services for access to all games throughout individual seasons.
The appeal of sports broadcasting rights is undeniable, and leagues are well aware of how lucrative their content is with viewers. Google's deal to bring the NFL Sunday Ticket to YouTube, for example, reportedly cost $2 billion per season. But a Sunday Ticket subscription won't satiate true NFL fans. That's because Thursday games are on Amazon Prime Video, ESPN has the rights to Monday games through 2033, and NBC has Sunday Night games, in conjunction with Peacock. Peacock will even have two exclusive games this season, one of which is a Wild Card playoff game.
However, Apple TV has given soccer fans something unique: a consistent service and experience for nearly all MLS games. For the 19 percent of Americans who are MLS fans, this experience removes broadcast fragmentation. It also provides Apple with a consistent content offering and scheduling to attract new subscribers — a value proposition that took on a whole new life when soccer star Lionel Messi joined MLS' Inter Miami CF on a two-and-a-half-year deal.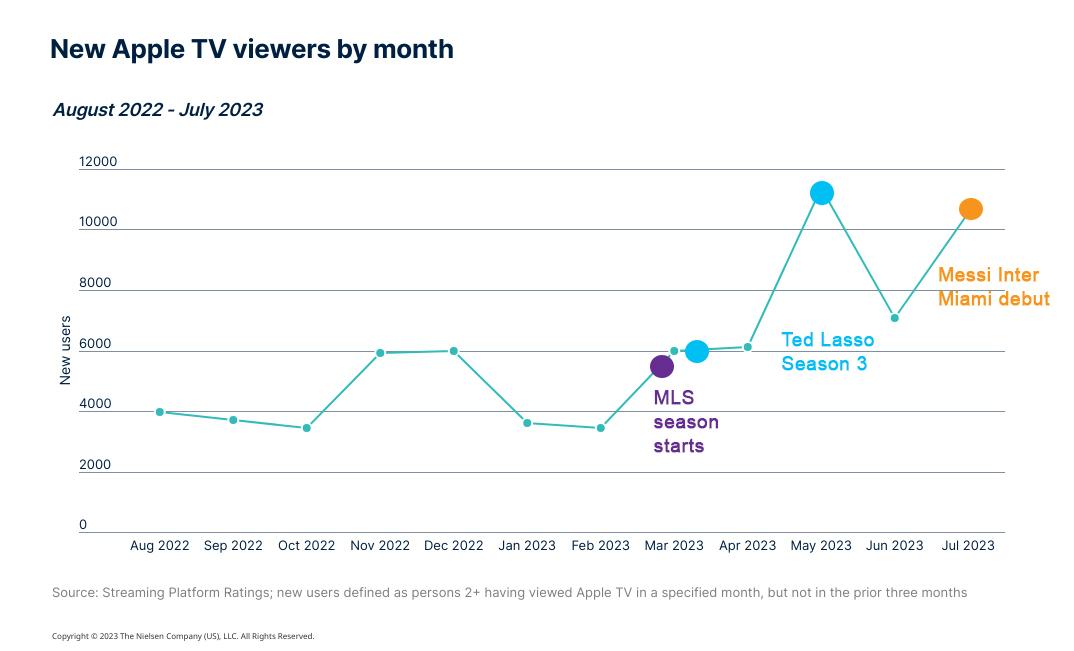 Messi's arrival has been nothing short of spectacular for Inter Miami and MLS. Just six days after his deal was announced, he scored a game-winning free kick in his team's match against Liga MX's Cruz Azul in the group stage of this year's Leagues Cup. Inter Miami went on to win the Leagues Cup, and Messi earned the tournament's Best Player and Top Scorer awards, with 10 goals and four assists. But the Messi effect hasn't been limited to the Leagues Cup. Between July 21 and September 9, Inter Miami went undefeated over 12 games, won the Leagues Cup, and qualified to play in the final of the U.S. Open Cup on Sept. 27.
In addition to giving soccer fans something new to cheer for and influencing new MLS Season Pass subscriptions, Messi is broadening the diversity of Apple TV's viewers. In looking at viewers, we see a 48.6 percent increase in the number of new Apple TV subscribers who identify as Hispanic following Messi's arrival at Inter Miami.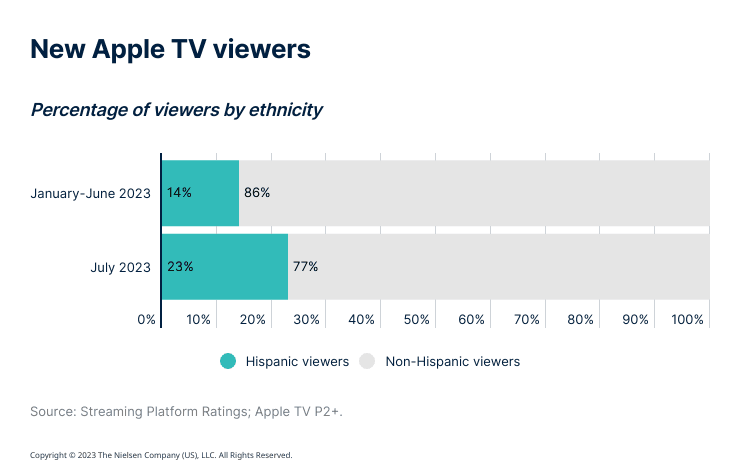 The shift makes sense, as Hispanic audiences are more likely than the general population to be soccer fans, and they're heavy streamers. In July 2023, Hispanics spent 50.7 percent of their TV time with streaming video. We can see the ripple effect of this in Apple TV viewers, as new viewers in July spent 61 percent of their TV time with streaming video, which reduced time spent with traditional broadcast and cable.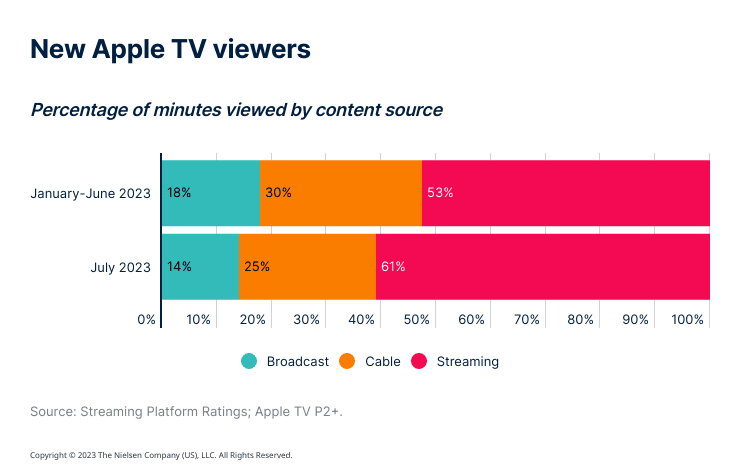 From a feasibility perspective, buying the exclusive rights to the bulk of a league's schedule isn't an easy nut to crack, simply because of the expense involved and how infrequently rights become available. But with streaming usage growing to account for 38.7 percent of total TV time in July, it's easy to see why everyone is trying to get a piece of the sports-streaming pie, even if it adds to growing fragmentation.
Through the lens of the audience, however, finding ways to ease sports viewers' transition to streaming will be critical. The way in which ESPN is approaching NHL games is a good example, as it provides access to more than 1,050 out-of-market games from every team on its subscription ESPN+ service, while broadcasting another 100 games exclusively across ESPN, ESPN+, Hulu, and ABC. For U.S. fans of sports with more of a global footprint, all Premier League matches can be viewed via Peacock, and Formula One races can be watched on ESPN+.
When forced to spend excess time trying to find the games they're interested in or asked to spend for new subscriptions, audiences will become more selective in their quests for content. As we noted in our recent "State of Play" report, audiences now have nearly 40,000 different channels and streaming services to find content on — perhaps more than any of us could have projected when streaming first started to take hold just 10 years ago. That breadth of choice is overwhelming, and that's not lost on audiences. True sports fans will typically go where the action is, but holistic sports viewing growth will be tough to come by in an a la carte, game-by-game approach.



The views and opinions contained in this op-ed represent the views and opinions of the author(s) and do not represent the views or opinions of The Current, a division of The Trade Desk, nor of The Trade Desk. The appearance of the op-ed on The Current does not constitute an endorsement by The Current or The Trade Desk of the content.

Subscribe to The Current newsletter