CTV, OTT, SVOD, AVOD, BVOD, FAST…What the Tech are all these digital TV acronyms?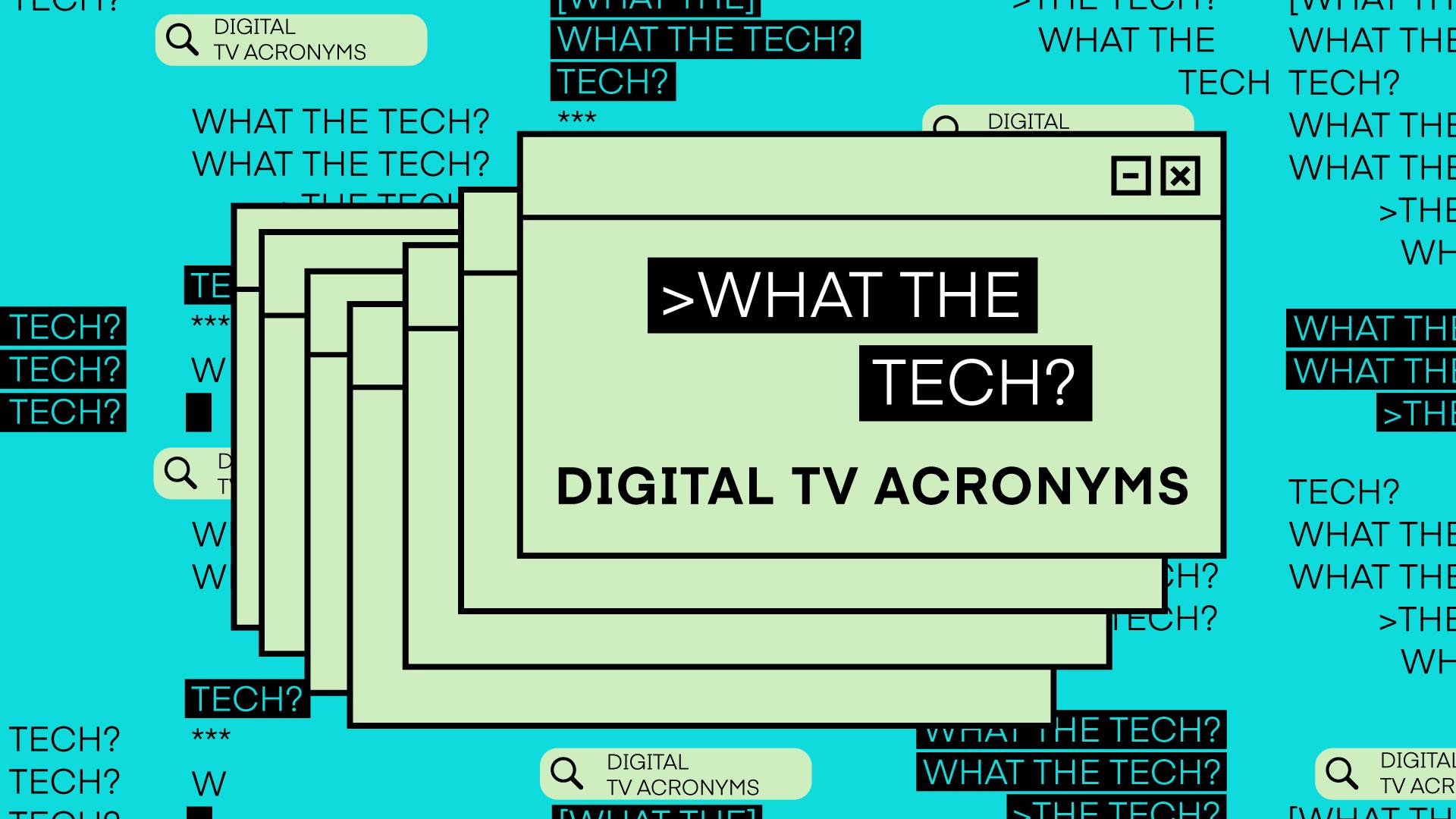 Making sense of the alphabet soup of digital television.
The television industry is in a period of unprecedented upheaval. After decades as the most popular and lucrative channel in media, linear TV is in decline as consumers flock to streaming.
The number of people who watch linear TV has been decreasing for years, and the trend was accelerated by the pandemic. Linear TV lost 10 million viewers in 2020, even as overall time spent watching linear TV increased. (To clarify: There were fewer people watching linear TV, but those who did were glued to their television sets, eager for news about and distractions from the pandemic, causing an increase in overall time spent.)
Digital video, meanwhile, continued its ascent. Consumers are projected to spend two hours and 24 minutes a day with digital video this year, just 33 minutes less than the time spent with linear TV. If current trends hold, streaming will inevitably eclipse linear TV in the coming years to become the foremost channel in media.
But as streaming has grown, so have the number of terms and acronyms used to describe its various iterations, such as CTV, OTT, SVOD, AVOD, BVOD and FAST. It's enough alphabet soup to rival The New Deal, and it can be daunting to anyone trying to understand the vast, growing world of digital video. So, we've assembled this handy explainer about the streaming industry and its myriad sub-categories.
Can you sort out all those acronyms you listed above?
Certainly. Let's establish an operational definition for each term, and then we'll discuss the similarities and subtle differences between them further below.

OTT (over-the-top television): A catchall term for TV delivered over the internet as opposed to through broadcast or cable TV channels. OTT includes everything from streaming SportsCenter highlights on a phone, to watching I Think You Should Leave clips on a laptop, to binging Yellowstone on a television set through Peacock's Apple TV app. Essentially, if you use the internet to watch it, it's OTT, regardless of the device it's viewed on.
CTV (connected television): A subset of OTT, CTV is streaming video viewed on a television set, either with a smart television, a TV that directly connects to the internet, or by way of a streaming device, such as Amazon Fire TV Stick, Chromecast, and Roku. If it's viewed on a television and streamed via the internet, it's CTV.
SVOD (subscription video on demand): Streaming services that require a monthly subscription to view their content, such as Netflix, Disney+, HBOMax, and Amazon Prime Video.
AVOD (ad-supported video on demand): Streaming video services that are funded by advertising. AVOD comes in two forms: (1) subscription services that offer ad-supported tiers, such as Paramount+ and Peacock, and (2) services that are free to consumers and ad-supported, such as YouTube.
BVOD (broadcast video on demand): A subset of AVOD, BVOD is ad-supported streaming content that comes from traditional broadcasters. NBCUniversal offers free, ad-supported versions of some NBC and Bravo shows on its Peacock streaming service, for instance.
FAST (free ad-supported television): Streaming services that are free to the consumer and ad-supported. FAST platforms offer a combination of linear and on-demand programming, and the major players are Pluto, Samsung TV Plus, and The Roku Channel.
Yikes. Why are there so many terms?
It does seem a little unnecessary to have so many different terms for streaming video, especially considering there's a good amount of overlap between these sub-categories.
Then again, digital video is a complex, growing category, and the abundance of classifications reflects the nuances of the medium.
A classic SVOD service such as Netflix is easy to understand. People subscribe to Netflix, and in return they get access to Netflix's stable of original films and series, and licensed titles.
Hulu, however, is a bit tougher to classify. Hulu offers an AVOD service, but it offers BVOD content by way of its licensing deals with networks. Hulu also has a more expensive, ad-free subscription tier. So is Hulu an AVOD, BVOD, or SVOD service? It's all three, really.
Disney announced it will offer a less expensive, ad-supported tier to its Disney+ streaming service. That is, the SVOD service will soon have an AVOD option.
Amazon Prime Video, another SVOD offering, has also incorporated AVOD, placing ad breaks into some of the series available on the platform.
And then there are services such as Hulu + Live TV and YouTube TV, digital subscriptions services that function similarly to old-fashioned linear TV. Customers can watch live television, record shows to watch later, access shows on-demand, watch originals, or watch content licensed from a wide assortment of TV networks and film studios. These streaming services are known as virtual multichannel video programming distributors, or vMVPDs. More letters to remember!
Can I just call it streaming?
Yes, absolutely. No one will fault you for that.
Some people in the digital media industry have tried to use "advanced television" as an overarching term for internet-delivered television, in all its various forms. But for now, streaming appears to be the more widely used term.