Asking for a friend: What's up with the upfronts this year?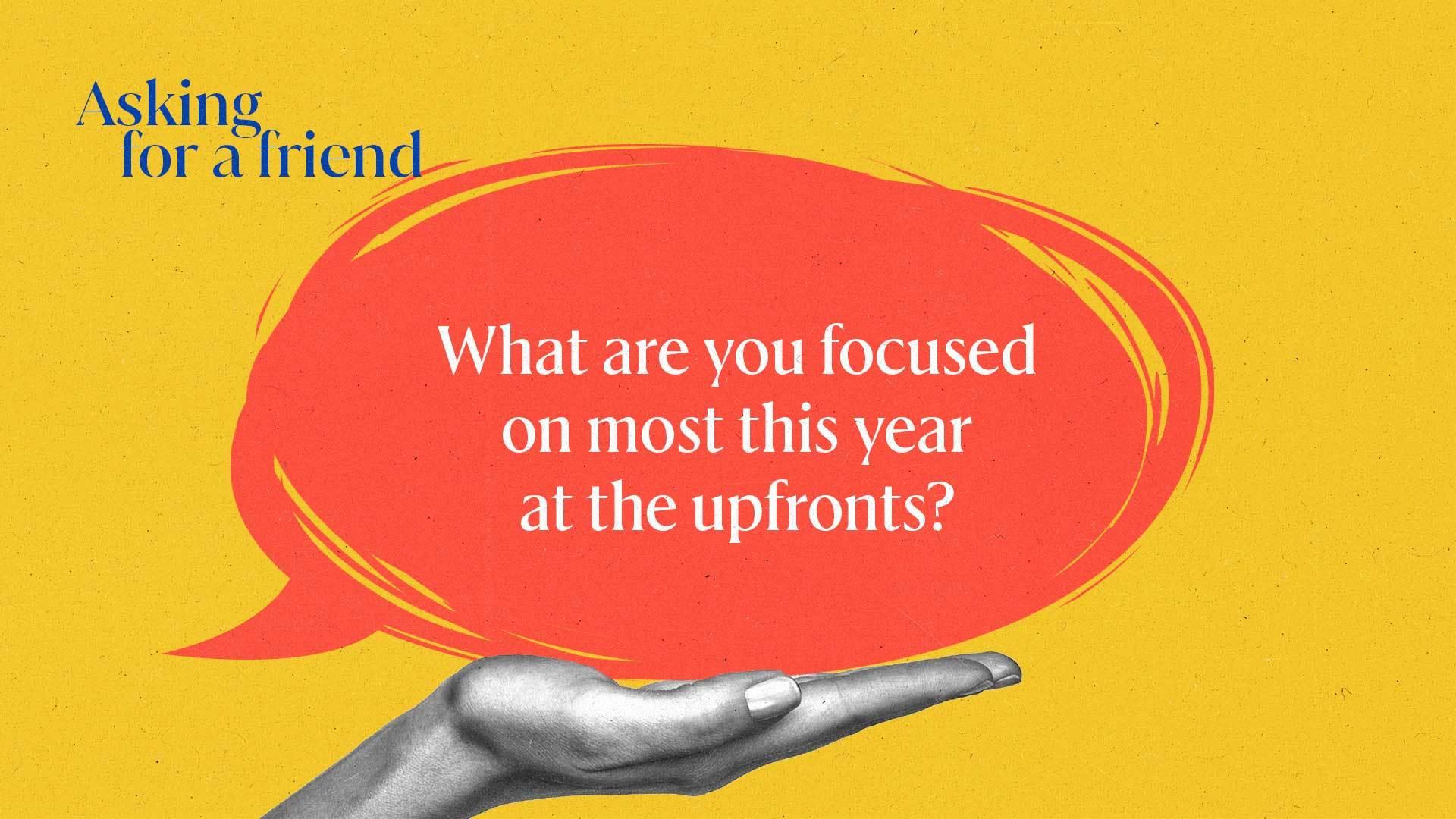 Upfronts season is fast approaching, with advertisers ready to pour in billions to secure future ad space. Sixty-one years after the first major upfronts presentation, the entire process of buying TV ads is in the midst of an evolution.

Last year, streamers flexed their muscles as they welcomed more ads to their platforms. This year, their influence is expected to be even bigger, with stalwarts like Netflix making its first upfronts presentation. And with the forward market gaining momentum, preparation for upfronts agreements is starting months before media buyers and TV networks get in the same room.

The Current asked three marketing leaders to share their strategies ahead of upfronts season. They spoke about sports as a moving target, the effect of the economy, and the drive to balance content, targeting, and measurement capabilities. Some answers have been edited for clarity.
What are you focused on most this year at the upfronts?
Evan Adlman, EVP of commercial sales and revenue operations at AMC Networks:
"For us, it's about the combination of the best content on the most distinctive and differentiated platforms, along with the most advanced advertising technology, along with a proven ability to engage viewers and fans."
Guy Rancourt, VP and group media director at AMP Agency:
"I am curious to see how the regional sports situation shakes out. The regional sports networks [RSNs] have paid leagues and teams handsomely to carry their content with the understanding that ad sales and carriage fees would sustain them economically. But that carriage-fee revenue has fallen sharply as more and more abandon traditional pay bundles. When that happens and ratings subsequently drop, so does the ad revenue. Sports continue to be an important vehicle for many clients; they are resilient and maintain healthy ratings year over year. With some league broadcast rights already moving to alternative platforms like OTT [over-the-top], the loss of traditional RSNs would leave a massive hole to fill." 
Are you doing anything differently at this year's upfronts?
Adlman:
"This year, we are combining a live event on April 18 with a series of more intimate, agency-specific meetings in the weeks to follow. We will be spotlighting our fantastic content slate — as we have in previous years — our advanced and data-driven technology, and some other distinctive opportunities like digital original programming from our content room and coveted live events and experiences." 

Rancourt:
"It will be interesting to see the continued discussions and developments around alternative measurement solutions. Assessing and determining which of the new currencies will emerge and how Nielsen will weather the storm will be top of mind over the next 12 months."  

Rohan Castelino, VP of marketing at IRIS.TV:
"We are working with content owners to normalize their video-level content data so that they can provide contextual intelligence and brand suitability to companies like GumGum, Oracle Advertising, Pixability, Captify, and others. Those companies use computer vision to analyze video content frame by frame and assign categories that can be used for targeting and measuring."
 
How is the present economy affecting your upfront strategy this year?
Adlman:
"Like every content company, we are mindful of the broader economic environment we operate in, but at the same time, we believe we offer some very unique and compelling advantages for advertising partners looking to reach passionate viewers and fans in this or any environment. We have a clear record of demonstrated technological leadership, so the audience engagement made possible by our great programming is amplified by the most targeted, relevant, and effective advertising impressions offered by any content company on any platform."
Rancourt:
"The economic headwinds are something we are talking about a lot lately. In years past, we may have advised holding back budgets to be more nimble with our marketing spends. However, as the scale of streaming continues to expand, resourceful brands will start with streaming instead of locking budgets up in linear deals with limited 'out-clauses.' You get the benefit of targeted video with more cancellation flexibility. And your brand maintains a market presence while it waits for the economic uncertainty to settle."
Castelino:
"Wasted spending is always a problem, but the problem is compounded during times of economic hardship. Relevancy is critical, and with ad-supported streaming TV in its early days, user experience is a major focus for both buyers and sellers. Buyers are looking for more consistent and precise video-level content signals to help reach and engage consumers."