AI, DEI, and CTV: Wrapping up Cannes Lions 2023
Despite speculation that this year's Cannes Lions International Festival of Creativity would be subdued due to the state of the economy and tech layoffs, many attendees described the annual awards bash as reminiscent of pre-COVID times. Tech companies continue to grow their presence with beach cabanas and yacht parties, business meetings were held in prestigious hotels among elaborate spreads of French cuisine and rosé, and celebrities and artists entertained the masses. (This year saw the likes of The Foo Fighters, Florence and the Machine, Lizzo, and Honey Dijon.)
And yet so much has changed since 2019, which was apparent in the major themes coming out of this year's big shindig. Not shockingly, the biggest topics of discussion have acronyms — AI, DEI, and CTV — and highlight how creativity, technology, and messaging will continue to merge.
"People are really trying to achieve progress and are open and honest," Rory Paterson, VP of global media at Expedia, told The Current. "It hasn't always been like that, but it feels like we're moving toward that."
AI, AI, and more AI
To the surprise of absolutely no one, if there's one takeaway from Cannes Lions this year, it is that artificial intelligence (AI) has completely replaced last year's obsession with the metaverse. Conversations about how professionals are using AI across creative and media buying were abundant, with power players from Meta, Publicis, and The Weather Company.
Of course, a major topic of conversation is how the new technology will affect jobs in the industry.
"We'll have to adapt our workflow and use it, and there may be things that we spend our time on today that we don't spend as much time on in the future," Brad Lightcap, OpenAI's chief operating officer, said in a panel with Goodby Silverstein & Partners. "But that being said, I will make you a bet that if I come back here in five years, this industry will be busier than ever."

Several AI-driven campaigns struck gold. Dentsu Creative's Scrolling Therapy app won the Pharma Grand Prix award in its aim to help people with Parkinson's disease perform helpful facial exercises. Michelob Ultra and FCB New York won the Entertainment for Sport Grand Prix for "Dreamcaster," a campaign that helped Cameron Black, who is blind, provide TV commentary for a basketball game through the use of blended generative AI and haptic technology.
A lot of AI news made headlines from the festival. Omnicom announced a partnership with Google for new text and image tools, and Meta announced the development of its AI assistants. Publicis got a laugh out of attendees with its sarcastic AI-generated out-of-home (OOH) campaign in which it depicted how the industry reacted to its 2017 news of saving money with its AI management tool, Marcel.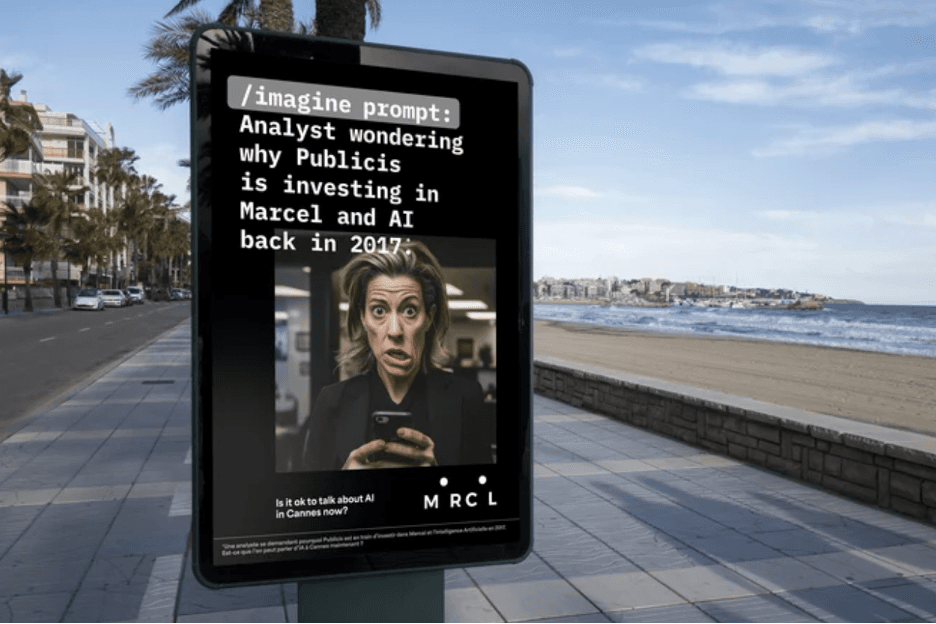 DEI and sustainability abound in panels and winning work
Building a brand around purpose continues to be a major theme at marketing conferences, and this year's festival was no exception.
The "The Inequality You Can't Ignore" campaign, created by The Chrysalis Initiative and Eversana Intouch, won gold for its use of OOH and augmented reality to address health care disparities, and Cephas Williams, founder of the Black British Network, took the stage to discuss the mission of bringing more Black talent to Cannes.
For the first time this year, award submissions asked for information on the carbon footprint and sustainability impact of all campaigns. AlmapBBDO won gold for its "Eart4" campaign, which launched an IPO for planet Earth on behalf of the Brazilian stock exchange to generate signatories for the UN Global Compact. Meanwhile, Stagwell's brand strategy agency, Gale, made headlines by becoming the largest agency to sign the Clean Creatives pledge, refusing to work with clients that use fossil fuels.
"I think at first it was a lot about being relevant in the scene, and now it's more of a moment where it's less about talking and more about committing — it has to be when brands invest so much money to be here. You have to show that ROI for investment," says Crystal Park, head of B2B marketing at IBM's The Weather Company, who has been to the festival six times.
In a panel earlier in the week featuring Academy Award-winner Halle Berry's new Re-spin health and wellness platform, MullenLowe Global CEO Kristen Cavallo described how the menopause market alone represents a $600 million business opportunity. "I think the best business has to start with passion that resonates with you," Berry said onstage.
Winston Binch, chief innovation officer at Gale, says his company is seeing an uptick in brands coming to the agency for a purpose-based strategy. "Purpose matters," Binch tells The Current. "As you go into the market, you have to know who you are."
At the same time, there can be tension around campaigns that lead with purpose. Several prominent marketers and creatives spoke about pulling back from feeling the need to build campaigns around issues, particularity politics, and focusing instead on creativity.
In an interview with Ad Age this week while at Cannes Lions, Procter & Gamble CMO Marc Pritchard emphasized the need for brands to get "back to the fundamentals."
"The way we look at it is that we need to convey performance or benefits," he said. "And if you do that, and do it in a way that is inclusive and also sustainable, if we stay in that territory we'll be fine. That just reinforces again getting back to the fundamentals. I think in today's world, moving into areas of advocacy that are outside of your brand's wheelhouse, that's where things can get undone."
Streaming finds a larger home at Cannes
Netflix, Amazon, Apple, and Tubi all used the festival as an opportunity to connect with advertisers on the waterfront and the streaming front.
"Cannes Lions is streamers' chance to establish themselves as the next generation of video advertising," Daniel Konstantinovic, a media analyst with Insider Intelligence, told The Current.
Gale's Winston Binch, for one, welcomes the new opportunities that these streamers' growing ad tiers create, saying they only provide a "bigger canvas" for advertisers.
And there was no lack of CTV news. European media giant RTL, which occupied a sizable space on the beach alongside tech giants Meta and Google, announced it's merging linear TV and programmatic buys for 30 million unique households across Europe. NBCUniversal announced it's bringing its One Platform to Europe, Asia, Australia, and the Americas in partnership with Comcast's FreeWheel. And Warner Bros. Discovery said it will integrate identity solution Unified ID 2.0 into its digital platforms, including Max and Discovery+.