The top Halloween brand costumes of 2021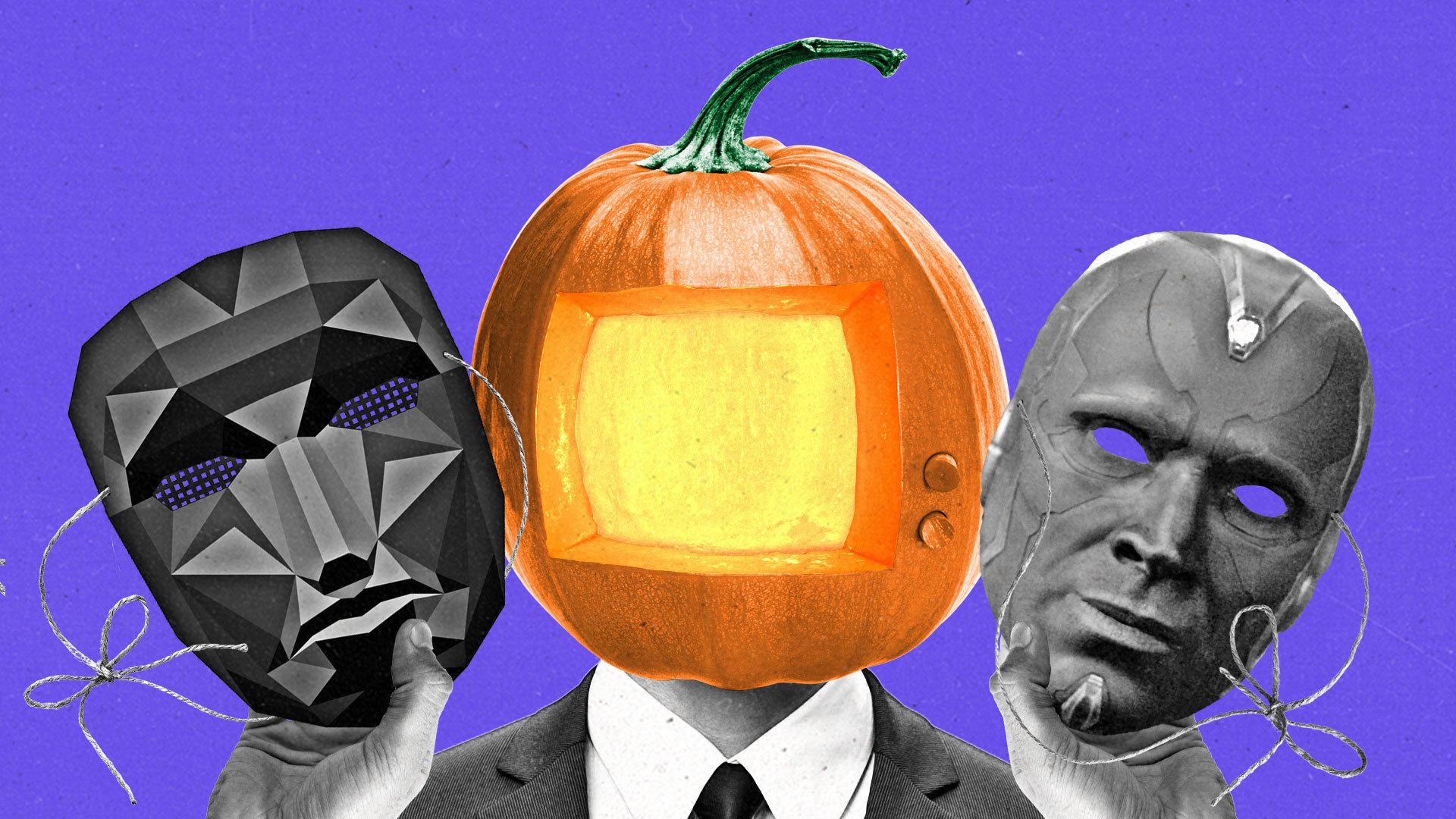 From Squid Game to Liquid Death's Tony Hawk collab, here are some Halloween costumes tailored for the advertising and marketing industry
Halloween is almost here, and if you're still looking for a creative costume you can pull together in time for the celebrations, we've rounded up the best brand costumes from this year's best-performing brand campaigns, streaming hits and viral memes.
Netflix's Squid Game
Just in time for the start of Halloween season, Netflix's Squid Game has recently dominated everyone's screens and became the streaming service's "biggest-ever" launch, viewed by 111 million accounts since it debuted on September 17, according to CNN. The series, which revolves around an indebted, desperate group of people in South Korea who are initiated into a deadly tournament, automatically lends itself to Halloween costumes thanks to the uniform jumpsuits and sweatsuits worn by the players and the guards in the show. Searches for "squid game Halloween costume" have soared by 450 percent, according to Google Trends. It's the start of a merchandise bonanza for Netflix, which secured a partnership with Walmart last week to sell goods based on its hit shows.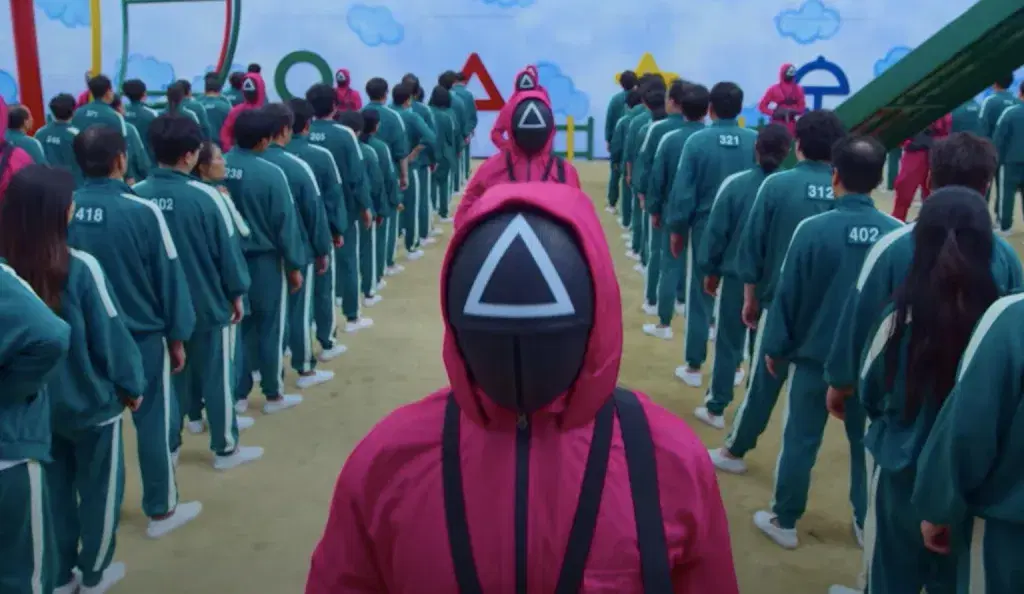 Disney+'s WandaVision
Another streaming show popular this Halloween is Disney+'s WandaVision. Searches for "wanda halloween costume" spiked by 950 percent over the past week, according to Google Trends. The series debuted this year and follows the Marvel Comics' film Avengers: Endgame, focusing on the relationship between Marvel characters Wanda Maximoff and Vision. WandaVision costumes means options, especially for couples portraying Wanda and Vision, since the show pulls from multiple eras, but Wanda's Scarlet Witch outfit with its red cloak and headpiece and Vision's android form are the most distinguishable.
Liquid Death's Tony Hawk blood collab
Liquid Death—the popular canned water that promises to "murder your thirst" from the mind of Netflix creative director Mike Cessario—is already a natural for a Halloween costume, but its latest collaboration with Tony Hawk makes it doubly so. The brand mixed a vial of the skateboard legend's own blood with red paint to design $500 limited-edition skateboards. "Our Tony Hawk blood is harvested straight from the source, then sanitized," reads Liquid Death's website.
Only 100 boards were made for the collab and they are all sold out, but it doesn't take much to turn this crazy stunt into a costume. All you need is a skateboard, some ketchup and a can of Liquid Death. Extra credit for dressing like Tony Hawk and connecting tubes to your body and the skateboard.
Uber Eats' Elton John and Lil Nas X mashup
One of the most colorful campaigns this year belongs to Uber Eats' "Tonight I'll Be Eating" from agency Special Group. While previous iterations of the campaign matched up celebrity pairs like Mark Hamill and Patrick Stewart and Simone Biles and Jonathan Van Ness, the latest spots feature Elton John and Lil Nas X and the setup is perfect for a duo Halloween costume.
In one of the campaign's five spots called "Legendary Looks," we see Lil Nas X propped in an armchair covered in multicolored feathers as a tribute to Elton John's costumed 1974 tour, while Elton John himself is sitting at his piano in another of his most iconic looks—his bright pink suit. The celebrity partnership is one for the creativity books, bridging different generations of music fans. The campaign isn't too difficult to reproduce in Halloween fashion with a pink suit and lots and lots of feathers.
Skims' SNL skit
Last week, Kim Kardashian West hosted Saturday Night Live and of course used her appearance to hawk her shapewear company Skims. In the process, she gave viewers a great option for Halloween costumes for dogs with a skit where Skims creates a shapewear specifically for "full-figured," or "Thick" dogs. Kardashian-West hypes: "The only product on the market that will comfortably accentuate your dog's curves no matter how thick that butt!" Although the product doesn't actually exist, some tailoring and alterations to a regular Skims item could replicate the desired effect for a pooch this Halloween. Watch the skit here.
Drake from State Farm
State Farm's Super Bowl LV commercial featuring "Drake from State Farm" was a crowd pleaser. Don't feel like you have to look like the famous rapper to pull this costume off. All you really require is a red shirt and a makeshift badge that reads "State Farm: Drake," or "State Farm: Drake, not Jake."
Mtn Dew's Bob Ross deepfake
This year, Mtn Dew used CGI and face-mapping technology to deepfake the late Bob Ross for a "lost episode" where he paints a bottle of Mtn Dew with some "happy little droplets." Bob Ross has always been a popular Halloween costume since all you really need is some painting tools and a wig. Just add a can of Mtn Dew to the painting you're carrying around, and your costume becomes one of the most talked-about, controversial brand campaigns of the year. Not too many fans were happy about bringing the star painter back from the dead to sell soda, and Netflix's documentary, "Bob Ross: Happy Accidents, Betrayal and Greed" about the underpinnings of the Bob Ross Company didn't help Mtn Dew's case.
Bernie Sanders' mittens meme
Here's a blast from the past­: When Bernie Sanders posed with his mittens during Joe Biden's inauguration at the beginning of the year, brands from Benefit Cosmetics to KFC served up their own take on the viral meme on social media. It's an easy enough Halloween costume to master with just a large jacket, a surgical mask, a pair of mittens and of course, a perturbed look on your face.
Cheugy
Intergenerational wars are alive and well. This year, some major brands got pulled into new Gen Z slang for out-of-date, off-trend individuals, mostly applied to millennial women who follow the "girlboss aesthetic." The term "cheugy" was originally posted to TikTok in a video and later documented across media outlets and in memes. The term pertains to anyone owning Ugg boots, Gucci belts with the large double "G" logo, Tory Burch sandals and Rae Dunn pottery. Also included are people into skinny jeans, slogan and brand T-shirts and sweatshirts and Pinterest moodboards. Dress in everything "cheugy" to turn this meme into a Halloween costume.