The most impactful 2022 Pride campaigns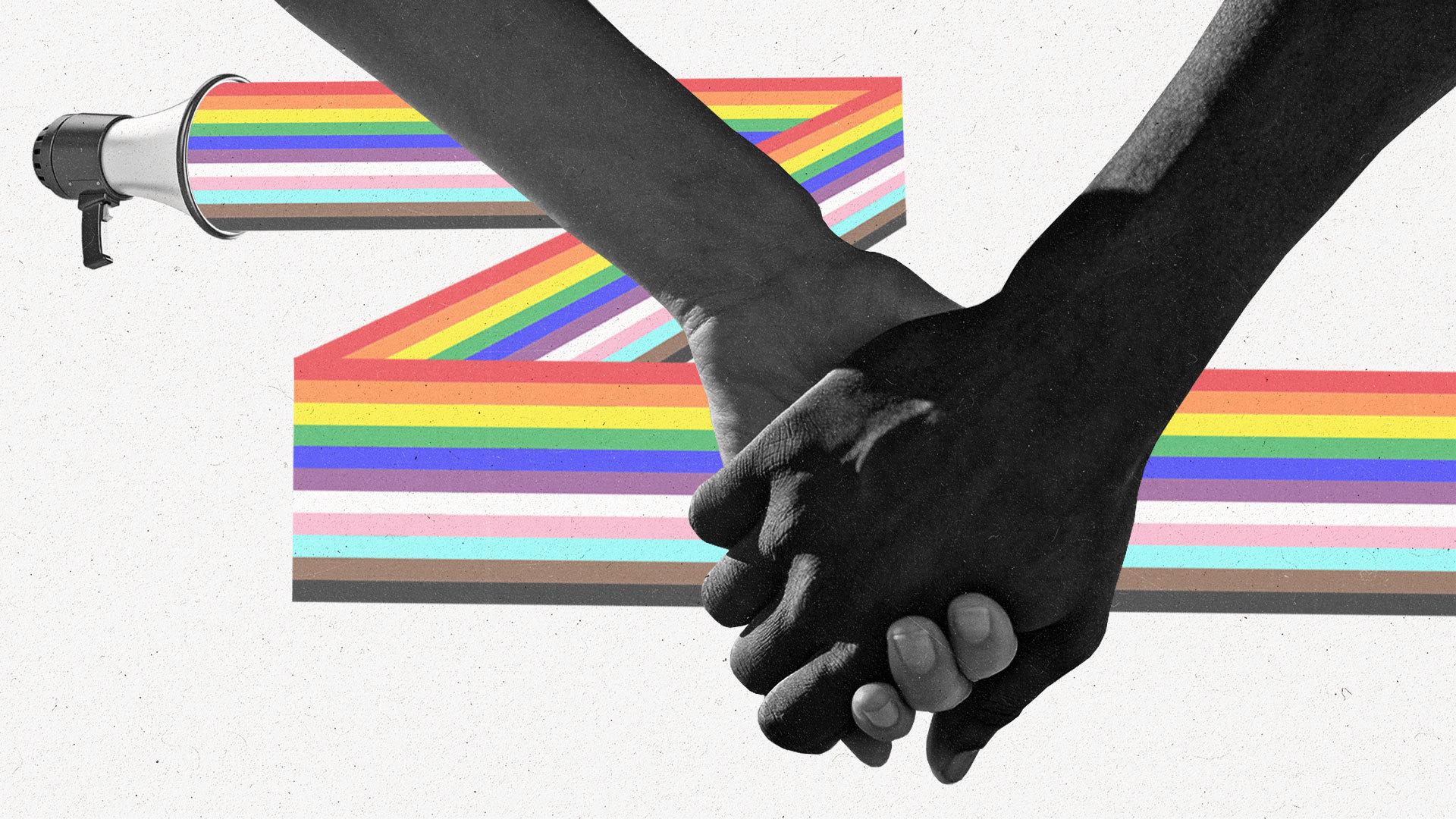 Brands like Tinder, Pantene, and Oreo show allyship beyond rainbow-washing.
Pride month has once again arrived, and if brands want to show that they are truly supporting LGBTQ+ rights, they should strongly consider backing campaigns that do more than simply pepper social media platforms with rainbow versions of logos or sell themed products. In a year filled with several proposed pieces of anti-LGBTQ+ legislation, including Texas' "Don't Say Gay" bill, this approach continues to ring true. Increasingly, brands, such as Pantene and Absolut, have been launching inclusive LGBTQ+ campaigns year-round, rather than zoning in on just Pride month alone.
"The time for rainbow-washing is over," writes Byron Beach, head of digital and social strategy at multicultural agency Orci, in an Ad Age op-ed. "Now is the time for brands to demonstrate allyship and show that all those multicolored logos from Junes of years gone by were more than just lip service."
The Current has selected six of the most impactful Pride campaigns this year that outdo the easy, rainbow-filled plays to drive change.
Tinder seeks to end blood-donation ban
Perhaps one of the year's most activist-driven and least flashy Pride campaigns is Tinder's work with the Human Rights Campaign (HRC). The dating app is trying to end current FDA legislation that prohibits men who have sex with other men from donating blood. It's a ban that was first implemented in 1985, at the height of the HIV/AIDS epidemic. Match Group, Tinder's parent company, worked with the HRC to produce a study that can update what Renate Nyborg, Tinder CEO, calls in a Fortune op-ed "outdated" legislation that "risks alienating an entire generation of blood donors." Nyborg cites UCLA researchers who estimate that dismantling the ban could end up treating more than a million people, and he writes that it's in Tinder's best interest — insofar as the LGBTQ+ community is its fastest growing segment — to end this ban.
Pantene advocates for safer, more inclusive workplaces
According to Pantene's own research, 53 percent of those who identify as LGBTQ+ feel pressured to conceal their identity at work. That insight has inspired the hair care brand to launch a new film and to work with advocacy groups, including Out Leadership and the Dresscode Project, to create educational resources with the goal of fostering safer work environments for LGBTQ+ individuals. The work is a continuation of the brand's ongoing "Hair Has No Gender Campaign," or #HairHasNoGender.
The two-and-a-half-minute film features 12 members of the LGBTQ+ community who share their personal stories about navigating the workplace while still staying true to themselves. The film accompanies another Pantene campaign in collaboration with Getty Images called #StyleWithPride, which aims to increase representation of LGBTQ+ people in advertising and brand communication efforts. Pantene and Getty Images found that less than one percent of the most popular Getty images online feature a member of the LGBTQ+ community. Pantene aims to create a gallery of inclusive imagery available through the Getty platform and will donate a dollar to the Dresscode Project every time a photo is shared with the hashtag #StyleWithPride, up to $100,000.
Oreo highlights family acceptance
Popular cookie brand Oreo didn't just stop with a limited-edition Pride Pack (where people can write words of affirmation on the packaging). The brand is donating $500,000 (one of the larger brand donations), to nonprofit PFLAG National, which provides support to families, parents, and friends of LGBTQ+ members. Oreo is also promoting a film from famous indie director Alice Wu called "The Note," which first launched in April. The touching film tells the story of a young Chinese American man and his experience of coming out as gay to his family.
Microsoft brings Pride to the metaverse
In addition to a line of Pride-themed products, Microsoft is looking to the metaverse to showcase its Pride and raise awareness of significant issues impacting the queer community. On June 17 from 10 a.m. to 12 p.m. PST, Microsoft is using its AltspaceVR platform to host a colorful "Pride Has No Borders" VR experience on Windows, MacOS, Windows Mixed Reality, HTC VIVE, or Oculus Rift. Also to be livestreamed on YouTube, the event promises to dive into LGBTQ+ history and introduce visitors to organizations like OutRight Action International.
To top it off, Microsoft's Employee Resource Group GLEAM will donate $170,000 to various LGBTQ+ nonprofits, bringing total donations made by the company to $8 million since last year.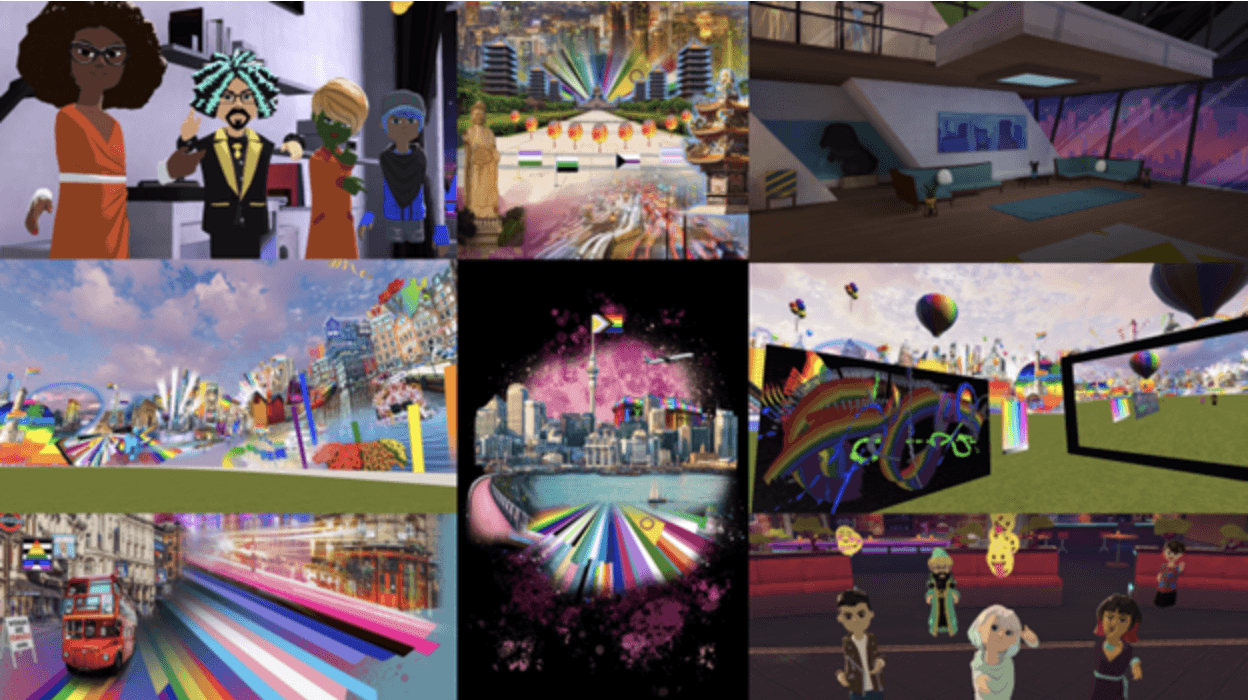 BMO Financial Group turns rainbows into donations
The eighth-largest bank in North America has found a way to make all those rainbow images flooding social platforms and brand campaigns pay off in a substantial way. Americans and Canadians who download BMO's Rainbow Deposits app can trade in pictures of rainbows to make donations to Rainbow Railroad, a nonprofit that helps LGBTQ+ individuals living under oppression. For every rainbow "deposited," BMO will donate a dollar, up to $50,000. While finding pictures of rainbows won't be hard, the app also helps users locate rainbows images nearby with its map feature.
The North American campaign, created through ad agency FCB Canada, is being promoted across social, digital, and out-of-home elements in cities like Vancouver, Toronto, Montreal, and Chicago. The campaign is also leaning on partnerships with small businesses, LGBTQ+ influencers, and drag queens with the hashtag #BMOPride. BMO can also back up its Pride efforts with its long history of sponsoring Pride events, including an annual remembrance run in Toronto and several inclusivity programs for employees.
Absolut Vodka highlights importance of LGBTQ bars
Ahead of June, Pernod Ricard-owned Absolut Vodka launched the latest iteration of its ongoing "Out and Open" campaign, which aims to showcase the essential role LGBTQ+ bars and restaurants play in the lives of communities. Unfortunately, many of these establishments have been closing at alarming rates across the U.S. According to Absolut, 15.2 percent of LGBTQ+ bars closed between 2019 and spring 2021, as the pandemic raged on. Absolut has created a series of audio stories about the importance of these spaces, hosted by Saturday Night Live comedian Bowen Yang. For every listen, the brand is donating a dollar to the National LGBT Chamber of Commerce.
Absolut Vodka is also working with the nonprofit to provide LGBTQ+ business owners with in-person and virtual training sessions. The effort is the latest in Absolut's ongoing mission. Over the past 40 years, Absolut has donated over $40 million to causes that serve the LGBTQ+ community, the brand says.
Each week, The Current gives you a rundown of the biggest stories and latest trends from the world of data-driven marketing, including topics like Connected TV and the future of identity — all delivered directly to your inbox.