The Current 100: A look back at 9 surprising things that shaped our industry since we launched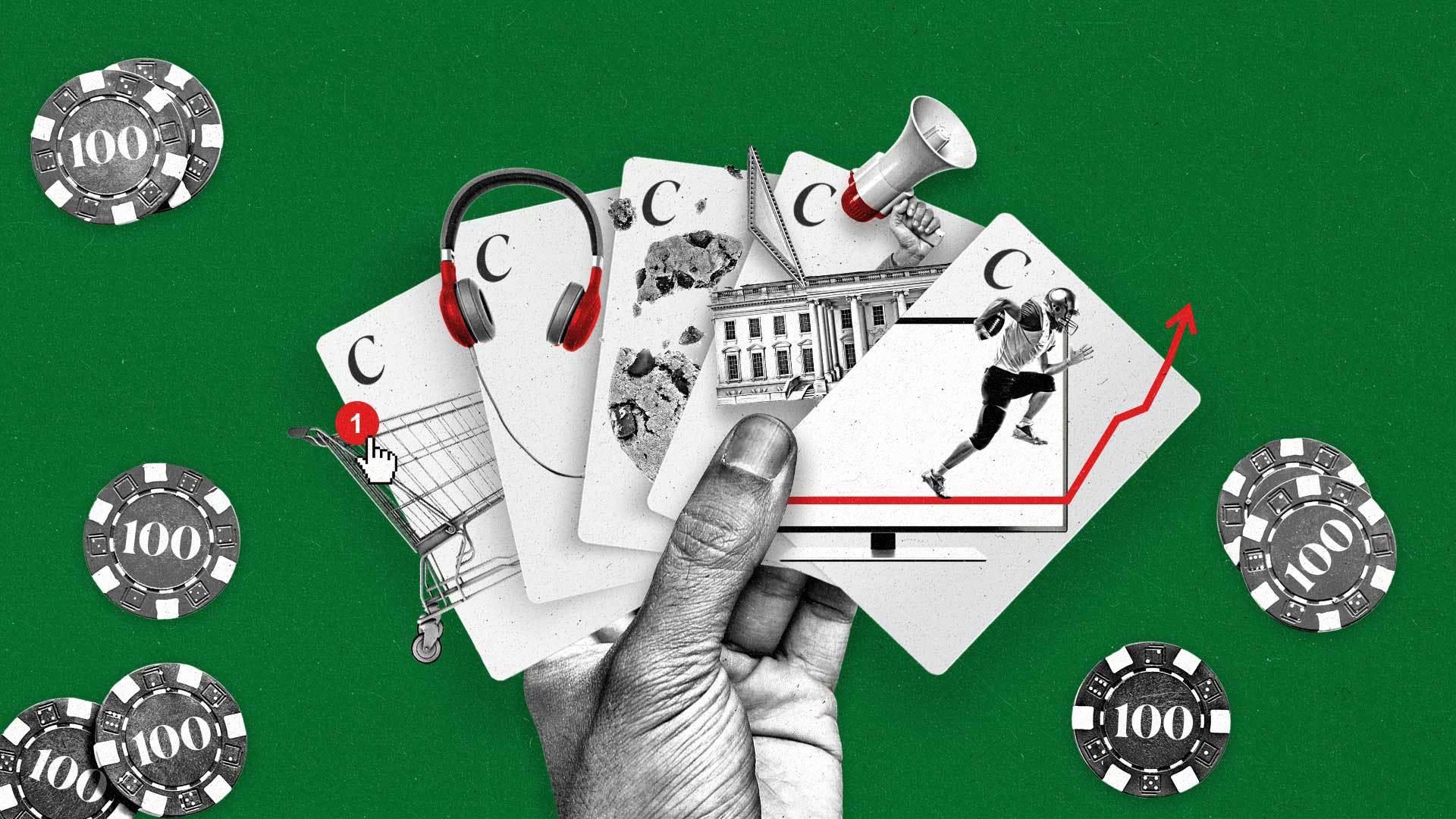 We launched the first edition of The Current in January 2021 with a hot take on how connected TV (CTV) was at a "tipping point." Cord-cutting was all the rage, with many consumers ditching their pricey cable packages. Two years later, with the benefit of hindsight, we can see that we were reporting on a groundswell that would revolutionize the way many people consume media across the open internet.
Of course, we're not just talking about Tiger King, the Netflix series that became a sensation during the early days of pandemic-induced lockdown. The feud between Joe Exotic and Carole Baskin may have been a quirky distraction from a world in crisis, but even bigger things than captive tigers were at stake: the very ecosystem of our digital lives was transforming. That has impacted how we watch television, shop, or even engage with political candidates in battleground states.
With that in mind, The Current presents a roundup of nine surprising things that happened (or didn't) during these two years of rapid change in the ad tech industry. We reviewed our reporting, surveyed hundreds of data points, and parsed a fair few acronyms to provide some perspective on the current moment. We also checked in with a couple of industry mavens who offered further insight.
From Albertsons to Disney, from Netflix to Walmart, "every company with large consumer data touchpoints is launching some sort of marketing or advertising or media capability — companies across the spectrum — and we expect that trend will continue," says Terence Kawaja, the founder and CEO of LUMA Partners, as reported in the company's "State of Digital Marketing 2022" presentation. "[These companies are] taking advantage of their large pool of first-party data and closed-loop environments to launch ad businesses that have high margins, improve the customer experience, and aid conversion."
1. The sun didn't set on cookies. We're still clicking Accept All because cookies have yet to be deprecated from the Google Chrome browser. "It's a bit like Lucy yanking out the football from Charlie Brown in the sense that Google keeps changing the date on us," says Kawaja. And yet, the anticipation of the cookie sunset has pushed the ad industry to seek better identity solutions aimed at preserving the essential value exchange of the internet: relevant advertising for content. New methods of optimizing the consumer experience across the open internet, such as Unified ID 2.0 (UID2), work toward a more transparent, privacy-conscious way for advertisers, publishers, and consumers to operate in a post-cookie ecosystem that's still up for grabs.
2. Everyone wants in on retail media networks. There's no doubt about it: Retail media networks are the hottest thing since Bella Hadid wore the Adidas Samba Vegan. Most major retailers — from Walmart to Instacart to Dollar General — have realized the value of their loyal-shopper first-party data. Paging Amazon. That means they've created media networks that enable them to sell ad space to marketers. It's a win-win situation for the retailers and the brands they carry (and some they don't) to reach consumers online and offline to the point of sale. In fact, according to Business Insider, retail media networks are predicted to have the fastest growth in 2023, upending the duopoly's dominance.
3. Metaverse buzz got loud and then quiet. For a while there, the Metaverse was the talk of the town. But a bear market, and questions about the value of the virtual realm, may have slowed the hype. Facebook went all in with its rebrand as Meta, and yet the metaverse remained woozily conceptual, with consumers expressing some confusion about what it is. This reception may have given marketers pause as to whether to invest in, say, a chief metaverse officer, though some have. Massive corrections in the crypto markets after the failure of FTX has arguably derailed the momentum of Web3 and blockchain, which are foundational for the metaverse. That said, some industry experts and venture capitalists remain cautiously optimistic that major brands will shift ad spend into the space in the coming years.
4. Streaming soared to new heights. Maybe the biggest story to come out of the pandemic was the boom in streaming platforms at the expense of cable TV. Cord-cutting accelerated. Streaming platforms went on a spending spree to create premium content, from Bridgerton to The Mandalorian to The White Lotus. The battle for subscribers, and efforts to prevent churn, only got more intense as new platforms came online to compete with the dominant Netflix — including Disney+, Peacock, Paramount+, and plenty more outside of the United States. Subscription fatigue is real, and even Netflix and Disney+ offered up an ad tier. With so much content being produced in every part of the world, television audiences have never had it so good.
5. The social media pecking order was rearranged. TikTok became the fastest-growing social media app in the world. Ever. According to the company, it reached a billion users in 2021. But it's not stopping there. It says it has plans to build product-fulfillment centers in the U.S. to create an e-commerce supply chain that could challenge Amazon. Meanwhile, problems mounted for Facebook as users jumped ship and advertisers reduced their spending. Likewise, Snap also struggled, thanks to economic headwinds, increased competition, and reduced ad spend. Elon Musk's takeover of Twitter created uncertainty around the company's future, causing advertisers to reevaluate their bookings on the platform.
6. Live sports bounced back to dominate the advertising ecosystem. It took a pandemic to remind everyone how crucial live sports (preferably with noisy stadiums) was to our sense of well-being and connection. When COVID-19 shut down sports in 2020, it removed ritual, community, and excitement from our lives. But as sports returned, fans flocked back to their teams and screens like long-lost friends, and so did advertisers. Only now there was a difference — viewers were shifting their viewing habits to streaming. Let the games begin: Legacy broadcasters and streamers are now battling for lucrative sports rights. "The decline curve in linear TV will be materially accelerated if a large tech platform bids and wins the Sunday Ticket — the Sunday broadcast rights for the NFL — because linear TV is driven by live viewing," says Kawaja. Update: Now that YouTube has snagged the rights to the NFL's Sunday Ticket, we'll keep you posted on this prediction.
7. Apple moved closer to the ad business. When Apple announced plans to release new ad "placements" in its App Store by the end of 2022, it was another indication of the tech giant's ambition to grow its ads business. While digital ad revenue for the company makes up only 1.7 percent of total U.S. digital ad revenue — $4.4 billion in comparison to Google's ad revenue of $70.15 billion, according to Insider Intelligence — the company has plans to nearly double its workforce in digital ads. The announcement came 18 months after Apple introduced privacy changes to its mobile operating system, allowing iPhone users to choose whether to be tracked by specific apps, a move that disrupted the digital ad market. Does Apple's dominant position make it the "800-pound juggernaut in the room," as industry analyst and consultant Matthew Scott Goldstein asserts?
8. Podcasting got louder. At this point, who doesn't have a podcast? Podcasting surged, with major platforms like Spotify betting big on spoken audio. Thanks to a proliferation of new shows, celebrity hosts (Joe Rogan, Michelle Obama, Dua Lipa), and new technology like smart speakers, the medium just keeps growing. True crime became one of America's favorite podcast genres, which saw a 21 percent growth in listeners from Q2 2020, according to a new report by GWI. Marketers have upped the ante on their media mix, powered by new tech-driven ad innovations that enable them to be more dynamic and agile when it comes to reaching those tuned-in listeners.
9. U.S. political ad-spend was off the charts. First there was the presidential election of 2020, where the two big winners of the contest were 1) Joe Biden and 2) political advertising, which hit an unprecedented $8.5 billion for the cycle. But then came the midterms of 2022 — which would determine the balance of power in the Senate and the House of Representatives — and words like overwhelming, gargantuan, and whopping were hardly sufficient to capture the new reality of political ad spend. According to AdImpact, the nonpartisan ad-tracking firm, ad spend for the cycle approached a record $9 billion, a quarter of which flooded into digital advertising (including CTV). "If you think about politics, it's the perfect application for data-driven digital advertising because it has a binary outcome — Republican or Democrat, in this country — and it's got a fixed time frame that ends on Election Day," says Kawaja.