The 'Crypto Bowl,' NFTs, and laughs: Major themes of this year's Big Game commercials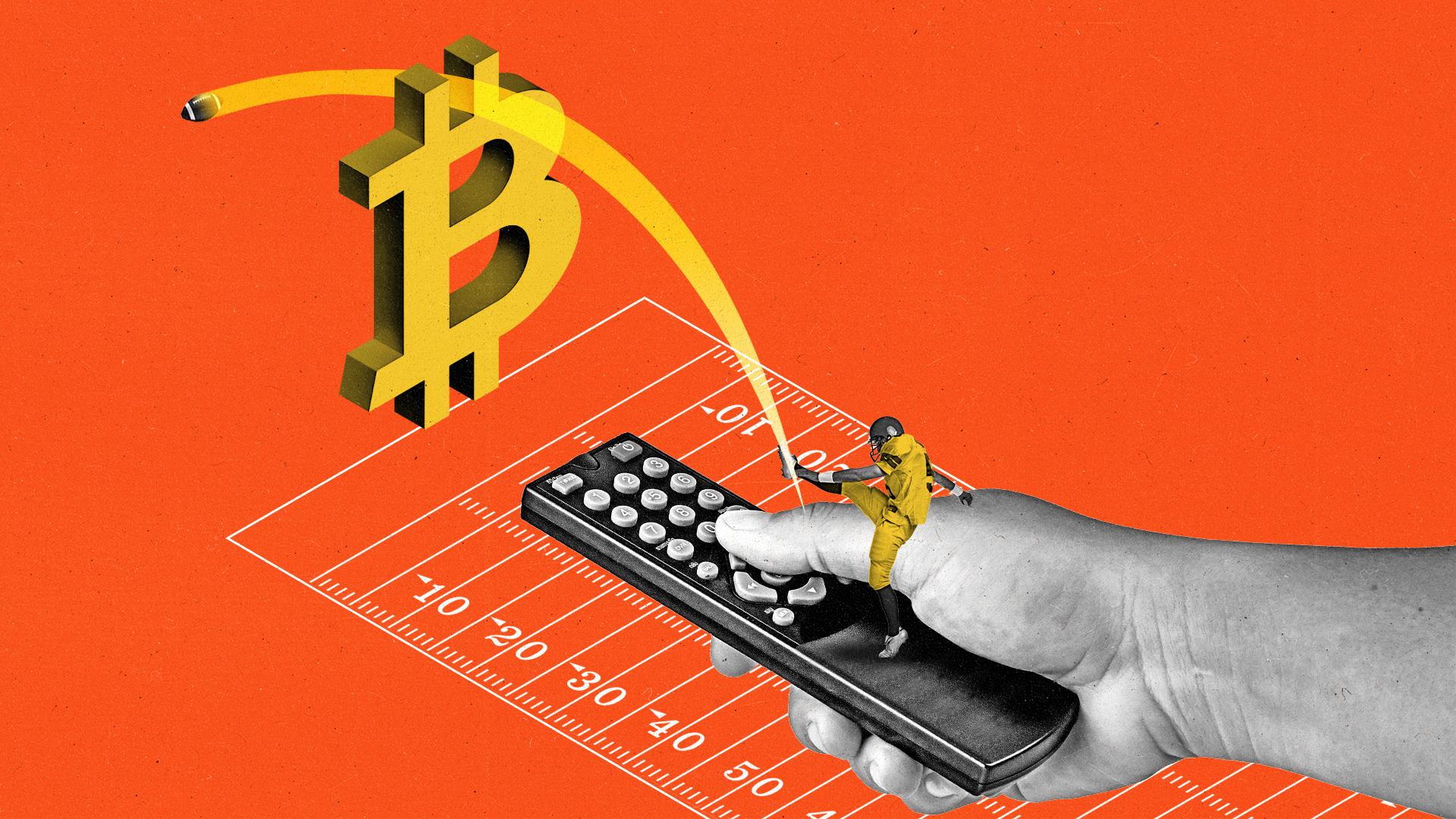 After a rough two years dealing with disappointing ratings and Covid restrictions, the Super Bowl has come back with a vengeance, and marketers are ready for it.
This year, the sold-out Super Bowl LVI — between the Los Angeles Rams and Cincinnati Bengals — is seeing record ad rates. Thirty-second commercials cost an average $6.5 million, with multiple coveted spots selling for $7 million, according to NBCUniversal.
There's good reason: Beyond anticipating more viewers (coming off a wave of exciting playoff games), for the first time, every advertiser running an in-game spot will also appear on NBCUniversal's NBC Sports streaming platforms — including Peacock, NBCUniversal says. Super Bowl advertisers understand that a traditional TV spot in the Big Game only goes so far without a digital component.
As such, there's a rush of newcomer advertisers — from cryptocurrency exchanges to sports betting apps — looking to the Super Bowl to make a large awareness play. In fact, 40 percent of the advertisers are new to the big game, NBCUniversal says. Brands in categories like travel and fitness that have been hit hard during the pandemic are also either returning to the game after a hiatus or are newbies themselves. In other trends, viewers can expect to see NFTs and the metaverse (the industry's hottest new buzzword) sneak into campaigns as well as famous comedians bringing the laughs.
The 'Crypto Bowl'
This year's Super Bowl comes in a year where cryptocurrency exchanges have been ramping up their marketing efforts (see Crypto.com's $700 million naming takeover of Staples Center), the Super Bowl stands as a natural opportunity. Crypto exchanges FTX and Crypto.com and social investment network eToro are running ads during the game this year, and Canadian-based Bitbuy will be running a spot during the Canadian broadcast. This fevered activity is drawing comparisons to the 2000 Super Bowl, where dot.com brands made their presence felt. This trend has seen many dub this year's game the "Crypto Bowl.".
FTX's 60-second spot, developed with Dentsu McGarryBowen, is still under wraps, but the brand has released four teasers this week revolving around a bitcoin giveaway where characters like Thomas Edison, a farmer, and a monk, say they've missed out on a lot, but won't miss the bitcoin giveaway. "It's a way to get our name out there. In terms of venues to do that, it's hard to find a higher-profile one than this," FTX founder Sam Bankman-Fried told The Wall Street Journal.
Much less is known about Crypto.com's spot, although it's coming right after some backlash around its latest campaign featuring Matt Damon (South Park even spoofed the spot).
Another category this year with a lot of newcomers is online sports betting as more states (including New York) have made the practice legal. DraftKings will air a 30-second spot with a teaser that entices viewers to download the DraftKings app and get in on a Super Bowl bet. Caesars Sportbooks, meanwhile, will air a 30-second spot and teasers featuring comedian J.B. Smoove and Halle Berry playing Julius Caesar and Cleopatra, along with Eli, Peyton and Archie and Cooper Manning playing themselves.
Metaverse everywhere
In a year in which Facebook changed its parent company name to Meta, the metaverse has been a growing presence in brands' marketing efforts — from NFT drops to branded Roblox and Decentraland worlds. It's no surprise that the craze is coming to the Super Bowl in a myriad of ways. The NFL is even giving attendees free NFTs.
Meta's own Super Bowl 60-second spot called "Old Friends, New Fun" from Anomaly is dropping ahead of the game on Feb. 10. A 15-second teaser plays on nostalgia to present the company's new image of a virtual reality future and shows a fictional restaurant called Questy's, available in Meta Horizon Worlds. Then, after the game, Meta is hosting a virtual Foo Fighters concert on the VR app Horizon Venues, available on Quest headsets.
For its debut Super Bowl campaign for its new zero carb beer Bud Light Next, the beermaker makes plenty of references to the metaverse and NFTs in its 45-secound spot, from Wieden+Kennedy New York, that was released this week. The spot is tailored around people not feeling boxed in and escaping the boring, or uncomfortable. The brand has also released its N3XT Collection — more than 12,700 NFTs going for $399 that allow holders to vote on Bud Light merchandise and other events, created through VaynerNFT.
Other brands are using NFTs to crash the Big Game. Animal Planet is giving out NFTs for the Puppy Bowl, Frank's RedHot has an "edible" NFT, and Miller Lite is launching a metaverse bar where it will premiere the "first big game ad to premiere in the metaverse."
Travel and fitness categories bounce back
Sectors that have been hurt during the pandemic are now making their way back to spending big on marketing with Super Bowl spots. Planet Fitness, for instance, is airing its first Super Bowl spot, which features Lindsay Lohan in search of a new, improved lifestyle. "Health and wellness is more important than ever before, and our Super Bowl commercial reinforces how fitness makes you feel, featuring an incredible cast of celebrity talent," Jeremy Tucker, Planet Fitness CMO tells The Current.
Travel brands Expedia and Booking.com will both air 30-second spots during the Big Game, looking to reach travelers antsy to get back exploring. For Booking.com's first Super Bowl spot, the teaser is an advertiser's delight. It features Idris Elba asking popular spokesperson Isaiah Mustafa (Old Spice) and Jonathan Goldsmith (Dos Equis) for advice for the upcoming spot.
Bring the laughter
The tone of Super Bowl spots often mirrors the nation's, and after years of more subdued Super Bowl commercials as the pandemic continued to ravage the country, this year there's a noticeable shift towards humor, especially when it comes to the celebrities. Several spots feature some of America's most-beloved comics as well as a popular commercial motif: The fake movie spot.
Jim Carrey, for instance, is bringing back The Cable Guy for Verizon's Super Bowl spot, Mike Myers and Rob Lowe are reprising their roles from Austin Powers for General Motors, Eugene Levy, Danai Gurira, and Dave Bautista will appear in a staged action movie for Nissan, and Seth Rogan and Paul Rudd appear for Lay's in a fake commercial. Other comedians onboard include: Kevin Hart for Sam's Club, Steve Buscemi (with Peyton Manning) for Michelob Ultra, Andy Richter for Avocados from Mexico, and Jennifer Coolidge, Trevor Noah, and Gwyneth Paltrow for Uber Eats.
Each week, The Current gives you a rundown of the biggest stories and latest trends from the world of data-driven marketing, including topics like Connected TV and the future of identity — all delivered directly to your inbox.