Tesco pushes further into retail media as British retailers bet the cart on digital advertising's third wave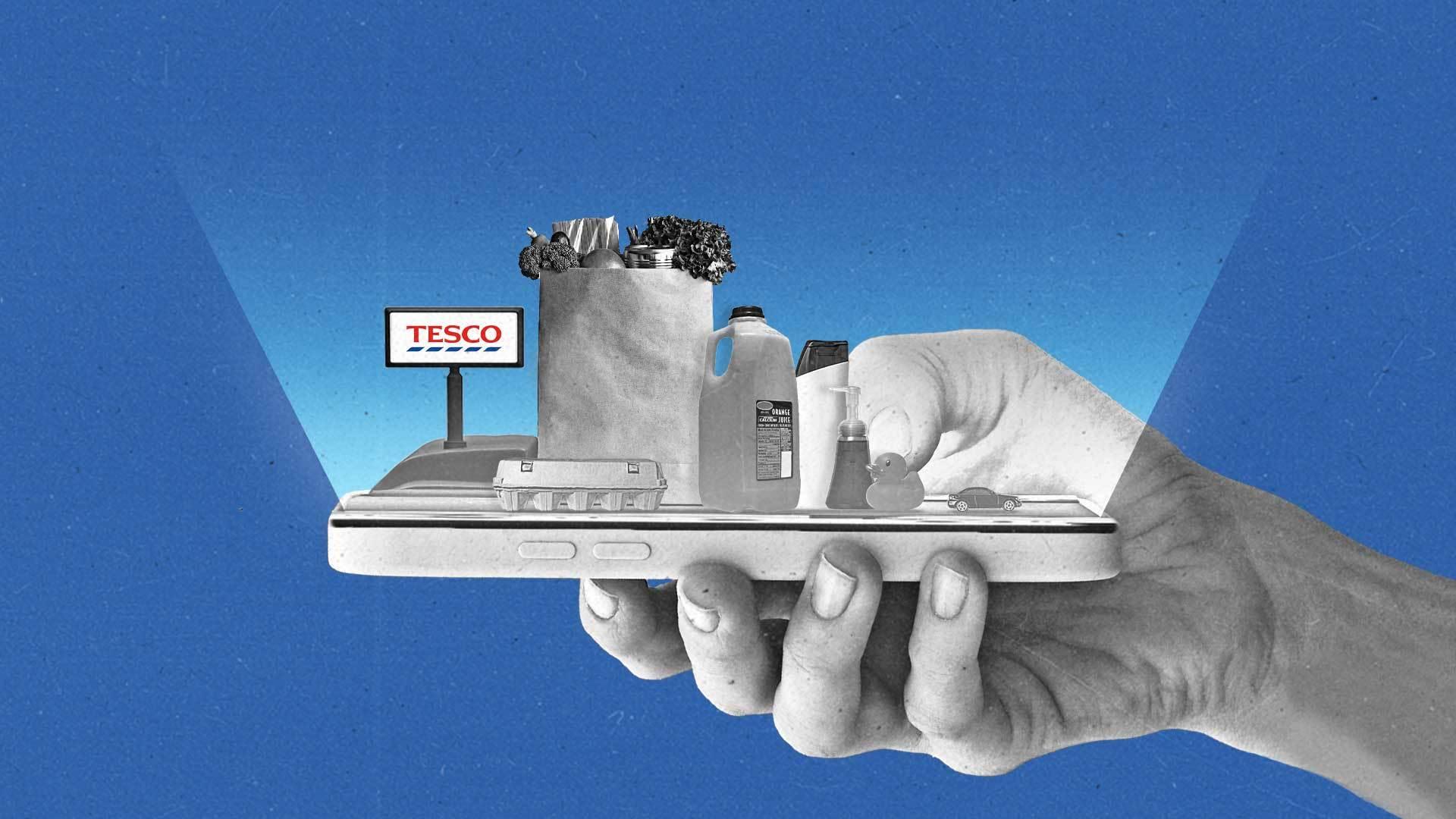 The expected phasing out of third-party cookies, the increasing reliance on first-party data, and improvements in ad tech have combined with retailers' treasure trove of shopper data to usher in the third wave of digital advertising — and Tesco shows that British retailers are just getting started.
At an upfront event in London earlier this month, Tesco announced initiatives that experts predict will speed up the growth of retail media in the U.K. Among them are new inventory partnerships (including on connected TV (CTV), with the brand-new ITVX streaming service), new sponsored inventory on its website and app, and market-first scan-as-you-shop media placements.
"Given Tesco's scale as the largest grocery retailer, this [announcement] will help retail media's growth in 2023," says Steve Ricketts, managing partner and head of e-commerce practice at Mediacom U.K., Tesco's media agency. "The additional self-serve capabilities will also make it easier for us as agencies to plan, deliver, and evaluate campaigns for advertisers."
The announcement comes as media agency GroupM forecasts retail media spend in the U.K. to hit 46.5 billion ($7.45 billion) by 2027. The U.K. also has one of the highest e-commerce penetration rates in the world, second only to China, according to Insider Intelligence.
Dunnhumby, part of Tesco, operates the brand's retail media business through its Tesco Media and Insight Platform. "It is our view that retail media can help offer some certainty in times of uncertainty," Stacy Gratz, regional managing director for media at Dunnhumby, tells The Current. "Retail media truly is a safe bet to reach the right consumer at scale in the right moment, with true end-to-end measurement."
Queueing up at the retail media till
Tesco is ramping up in an already crowded retail media landscape in the U.K. Competitors Asda, Sainsbury's, and Morrison's all have their own networks, as does Boots, the country's largest pharmacy retailer. They all leverage data collected through their loyalty programs, and boast inventory like in-store digital screens, petrol stations, and website ads. Boots' loyalty program counts 17 million users, rivalling Tesco's.
Even delivery apps like Deliveroo and Uber Eats are getting into the retail media game. And Amazon's early lead may be eroding, too: consultancy McKinsey estimates that 80 percent of advertisers currently use at least one retail media network in addition to Amazon.
However, Tesco's retail media network is still the U.K.'s largest, offering access to 500 in-store digital screens, a loyalty scheme that counts 20 million households, and a website that attracted 65 million visits in 2021.
"Tesco's weekly media reach rivals some of the biggest online platforms…We're using our unrivalled digital platform to create additional value and increase loyalty, making sure that the more customers use Tesco, the more useful it is to them," Tash Whitmey, membership and loyalty director at Tesco, said in the announcement.
Closing the loop on retail media's reputation
In the face of tough economic headwinds, British retailers themselves are choosing to invest in advertising in order to maintain sales. So it is not very surprising that brands are showing increased interest in a data-driven channel like retail media, as marketing budgets face the squeeze and attention turns to sales numbers.
"Over the last year, we have seen a 77 percent increase in the number of campaigns that have run, with almost 500 advertisers working with us in a multitude of different ways, and 150 using Tesco media for the first time," says Gratz.
While in the past, brand marketers mostly turned to retail media as a performance medium, the wealth of first-party data at their disposal now means that it is fast becoming a go-to channel for marketing activity across the funnel.
"Over half of shoppers start product searches on retailers' [sites] rather than Google, and many searches are generic, giving brands the opportunity to expand their category and reach new shoppers," says Mediacom's Ricketts.
The power of loyalty (points)
Tesco Clubcard's 20 million-strong membership base, which the company calls "a diverse, nationally representative, first-party behavioural dataset," gives it a significant unique selling proposition for mass precision targeting, Gratz says.
"The combination of Clubcard, our online grocery business, our nearly 7 million regular app users and Dunnhumby's world-leading data science creates a very powerful digital capability," she adds. "Together with our unrivalled physical network, this gives us a competitive advantage that is very hard to replicate."
But while retail media is projected to be one of the few bright spots in the advertising industry as we head into 2023, Mediacom's Ricketts believes there is more to be done before it can deliver fully on its promises.
"The growth in retail media is like a recipe. We need more common definitions, rules, and standards; better ad tech in place to catch up with the aspirations; and education across the industry. It is great to see Tesco and Dunnhumby playing a key role," says Ricketts. "What we also need is more progressive retailers and brands, and then to celebrate the successes."