Streaming wars, episode II: 'Funding the Content Machine'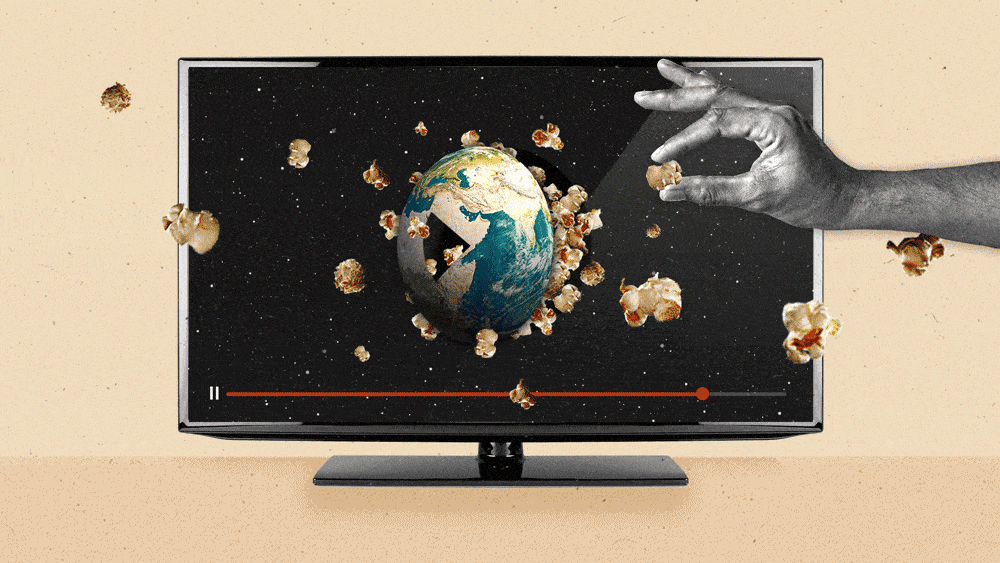 Last week, we investigated the challenges American streaming giants face as they expand globally, from regional competition to corporate struggles, and why this is a quest they cannot afford to fail.
Industry experts who spoke to The Current agreed that American streamers' success abroad will hinge on how well they manage the relationship between two pillars of the entertainment industry: money and content.
This week, we explore the money factor. The likes of Netflix and Paramount are navigating two conflicting forces: the importance of investing in local content while the flow of cheap credit turns into a trickle. They can learn from local streaming players' approaches to growth at a low cost, not at all costs.
Money becomes the protagonist
Markets like Indonesia and India present enormous growth opportunities for American streaming giants, thanks to large populations and burgeoning middle classes. But so far, streamers' hesitancy to go all-out in acquiring market share may be indicative of the low expected return on investment, says Richard Cooper, research director at Ampere Analysis.
This has left the door open for local players to expand and grab market share — and Asian and Middle Eastern players such as Viu, Vidio, Eros Now, and Shahid have already done so. And often, they have done so on a budget.
"We focus on building a sustainable competitive advantage against the international streaming platforms that have strong global content for their audiences," Monika Rudijono, managing director at Vidio, tells The Current.
American streaming firms, on the other hand, have often invested big money in flagship originals. But many analysts and companies themselves are starting to question whether it makes sense to finance productions like Amazon Prime Video's The Rings of Power (the bill for which was estimated at $462 million for the first season alone) when viewers might not care so much about high production value as they do about affordable plans.
"Those [production] prices simply aren't being matched by those smaller regional players that are benefiting from cheaper production costs and also low production value," says Cooper. Regional players are thus typically able to offer pared-back content at cheaper price points — something that has been resonating in regions where consumers' purchasing power significantly trails that of the U.S. and European consumers.
Ad-funded plans might well come to the rescue, of course. But while they may work in Western countries where audiences are used to paying for full-price subscriptions, many viewers in lower-income countries already access streaming services that are either ad-subsidized or inexpensive. Vidio's entry-level plan in Indonesia, for example, starts at 29,000 rupiah (IDR) ($1.85) a month —half the price tag of Netflix's same plan in the country.
Some streaming giants are adapting. In India and Indonesia, for example, Netflix offers a cheaper mobile-app-only tier. Nonetheless, several experts tell The Current it will be hard to reconcile American streaming companies' reputation for big-budget blockbusters and original series with low subscription fees.
The end of the cheap-credit era
Until now, streaming giants' global expansion has been financed by cheap credit and a disruptive financing model for content. A firm like Netflix typically pays studios for content over four years instead of all at once, which spreads the cost and makes studios dependent on the company for ongoing cash flow. This strategy allows streamers to overpay for both talent and content, while securing exclusive streaming rights over that four-year period, says Tim Mulligan, executive VP and research director at MIDiA Research.
A worsening international economic outlook, coupled with internal pressures for many streaming giants like HBO and Disney, means that the original-content machine that has powered much of their global expansion so far might be running out of steam.
"Looking forward, availability and release of content will have less to do with what viewers want and more with what is fiscally prudent given that streamers are now looking to prove profitability rather than growth," says Tom Harrington, head of television at Enders Analysis.
This could put local competitors on a more level playing field against American firms and lead to a less homogenized development of the content landscape worldwide — if anything because localizing content is an expensive undertaking, some experts say.
Some regional streamers, like Sweden's Viaplay, have already developed a following by working with local creators to ensure the storytelling is tailored to local audiences, says Filippa Wallestam, group chief content officer at Viaplay.
"We are creating local content in many of our direct-to-consumer markets, and it will become an even more important part of our offering in the years to come," she adds. "At the same time, great shows travel like never before, which means that our local productions in one country can be an additional reason to subscribe to Viaplay in any of our markets."
A complete set of entertainment
However, even though local players might now be able to better compete on content appeal with the streaming giants, the latter still hold a significant advantage that some experts say is arduous to replicate, especially as the supply of money tightens.
Over decades, firms have discovered that a combination of scripted shows, reality TV, news, sports, and kids' content does exceptionally well at attracting and keeping audiences, says Mulligan.
Netflix, Paramount+, Peacock, and HBO Max all lack one or more components of this tried-and-tested formula, although they are still further ahead than most emerging regional players. Disney, however, has them all, and has already begun to roll out its full offering under the name Disney+ Hotstar in India and Southeast Asia. Indonesia's Vidio isn't that far behind, broadcasting the NBA and Europe's major soccer leagues in addition to TV and movies. The upstart is Southeast Asia's over-the-top (OTT) market leader — even pulling ahead of Netflix and Disney+.
The full offering can help carry international players into new countries — but ultimately, experts believe the strength of their local content will determine success in a new market.
"One of the biggest challenges is creating an offer that appeals to the local consumers. This requires investment in local content and a tailored go-to-market strategy. The latter will often require local distribution partners to help get the product into the hands of consumers," says Andre James, global head of media and entertainment at Bain & Company.
Viewers are also naturally gravitating toward shows in their own language, says Brandon Katz, industry strategist at Parrot Analytics. This is an area local players have an innate advantage in, and which may ultimately decide who will emerge victorious from the global streaming wars. Find out how these regional firms are carving out their piece of the streaming map — and why American streaming giants still have an ace up their sleeve — next week in episode III: "Lost in Translation."