From sea to streaming sea: CTV to reach 17 percent of U.S. midterm ad spend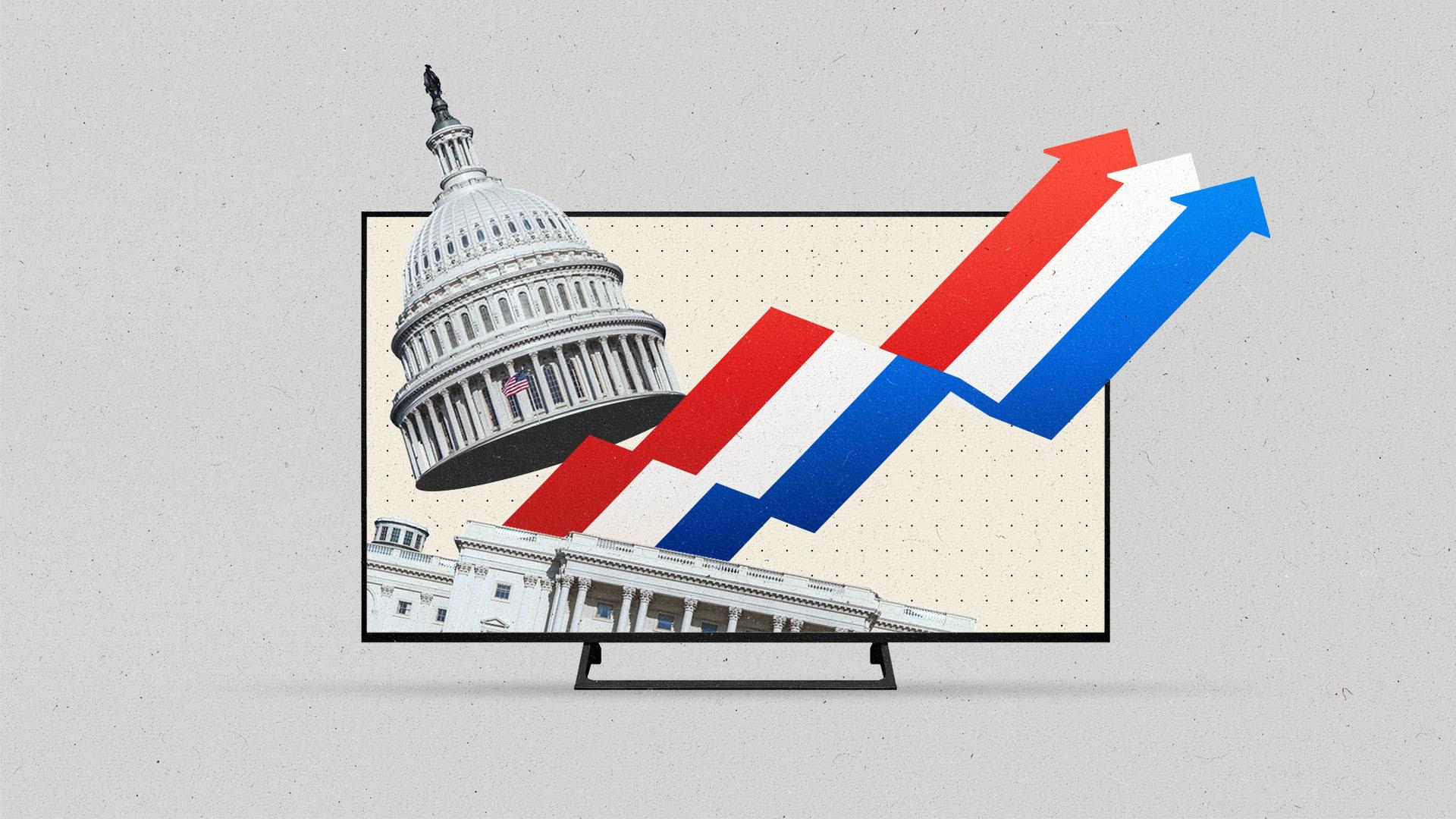 There's more ad spend being poured into this year's U.S. midterm elections than any other election in the nation's history, and digital — especially connected TV (CTV) — is taking a larger piece of the media mix.
A record $9 billion is being spent across TV, digital, and radio, more than double compared to the $4 billion spent during the last midterms in 2018, according to Kyle Roberts, CEO of nonpartisan ad tracker AdImpact, which tracks every campaign in the country — over 4,000 in real time. Digital advertising — across desktop, social, and CTV — is estimated to comprise roughly 25 percent of that spend, or roughly $2.25 billion. CTV alone is expected to account for 14 percent to 17 percent of all political spend, Roberts tells The Current.
"For this cycle, CTV is the big player. It's entering the political scene and it's going to be north of $1 billion. That's pretty serious," says Roberts, who only expects CTV spend to increase for future elections, taking a bite out of linear spend.
"As you have an increase in content, a move toward time-based viewing, and people buy more smart TVs, the impression base on CTV will only grow," Roberts says. "Outside of sports and a couple of other major events, the linear numbers are not as large as they used to be. Now you really need to think about audience-based buying and more sophisticated campaigns that try to figure out who their audiences are."
Gallantly streaming
A major reason why political advertisers have turned toward TV's digital version is the reach it provides. Roberts estimates that advertisers that only track campaigns across broadcast media are now missing anywhere from 50 percent to 60 percent of consumer activity.
In fact, only 49 percent of U.S. registered voters are tuning in to traditional TV, according to a new study from TV analytics company Samba TV and market research firm HarrisX, which surveyed 2,300 registered voters in the U.S. from August 29 to September 1. And the study shows that only about 4 in 10 (or 42 percent) independents, the likeliest profile for swing voters, have traditional TV today. That percentage becomes even slimmer in key battleground states like Pennsylvania, Nevada, and Wisconsin, where the findings show only 39 percent of independents have traditional TV. Complicating matters, the study found that 1 in 4 voters who do have traditional TV say they plan to cancel in the next six months.
Meanwhile, streaming is trending upward on a national scale. The Samba TV/HarrisX report discovered that more than 80 percent of registered voters across the country — including key battleground states — stream. When it comes to younger voters, millennials and Gen Zers are twice as likely to stream than to have a traditional linear TV subscription. The shift toward streaming leans more Democrat than Republican, with 72 percent of Democrats more likely to stream video on their mobile phones, compared to 59 percent of Republicans.
"This cycle, in certain states, linear TV has gotten so expensive and I think a lot of it has to do with traditional TV's reach problem stemming from its loss of subscribers. CTV is a much more efficient and effective place to turn to reach a lot of the same viewers with additional frequency while also finding voters who have cut the cord," explains Zach Wineburg, founder, CEO, and political advisor at Ally Strategies, which consults with clients and tech platforms on digital advertising strategy like the Democratic Senatorial Campaign Committee.
Purple mountain majesties
Advertisers are also able to pinpoint audiences they would like to target more effectively via CTV, which can especially help to direct specific messages to vital battleground states.
"The life cycle of an ad on CTV is much longer than on linear TV, because you can create a lot of micro-audiences on CTV, and you can build a lot of frequency among smaller audiences for specific messages, whether it's the cost of pharmaceutical drugs or oil companies or taxes," explains Roberts. "You can segment that out."

Another positive is control frequency management. "If you want to crank on the frequency, you can," says Wineburg, who adds that a best practice is getting viewers to see your ad seven to eight times across channels. "With programmatic, you — the buyer — are in control and can set the frequency cap or floor you want, versus being beholden to broadcast's frequency curve where grandma may see an ad 25 times and mom only sees it twice."
While social media platforms continue to attract a lot of political ad spend, especially when it comes to the fundraising portion of political campaigns, it's becoming trickier to navigate due to new company policies from TikTok and Facebook around targeting voters with ads, along with Apple's privacy changes. The cookieless environment of CTV, meanwhile, has fewer bottlenecks, with more CTV channels, such as Paramount and Peacock, opening up to political advertising in the past year.
"I don't think Facebook is a great persuasion platform. It's a great place for reach, but not necessarily a place where people are going to view and watch your video," says Wineburg. "There's a premium on video environments, and I think the industry has caught on to that."