At 20, the Pumpkin Spice Latte is still influencing brand calendars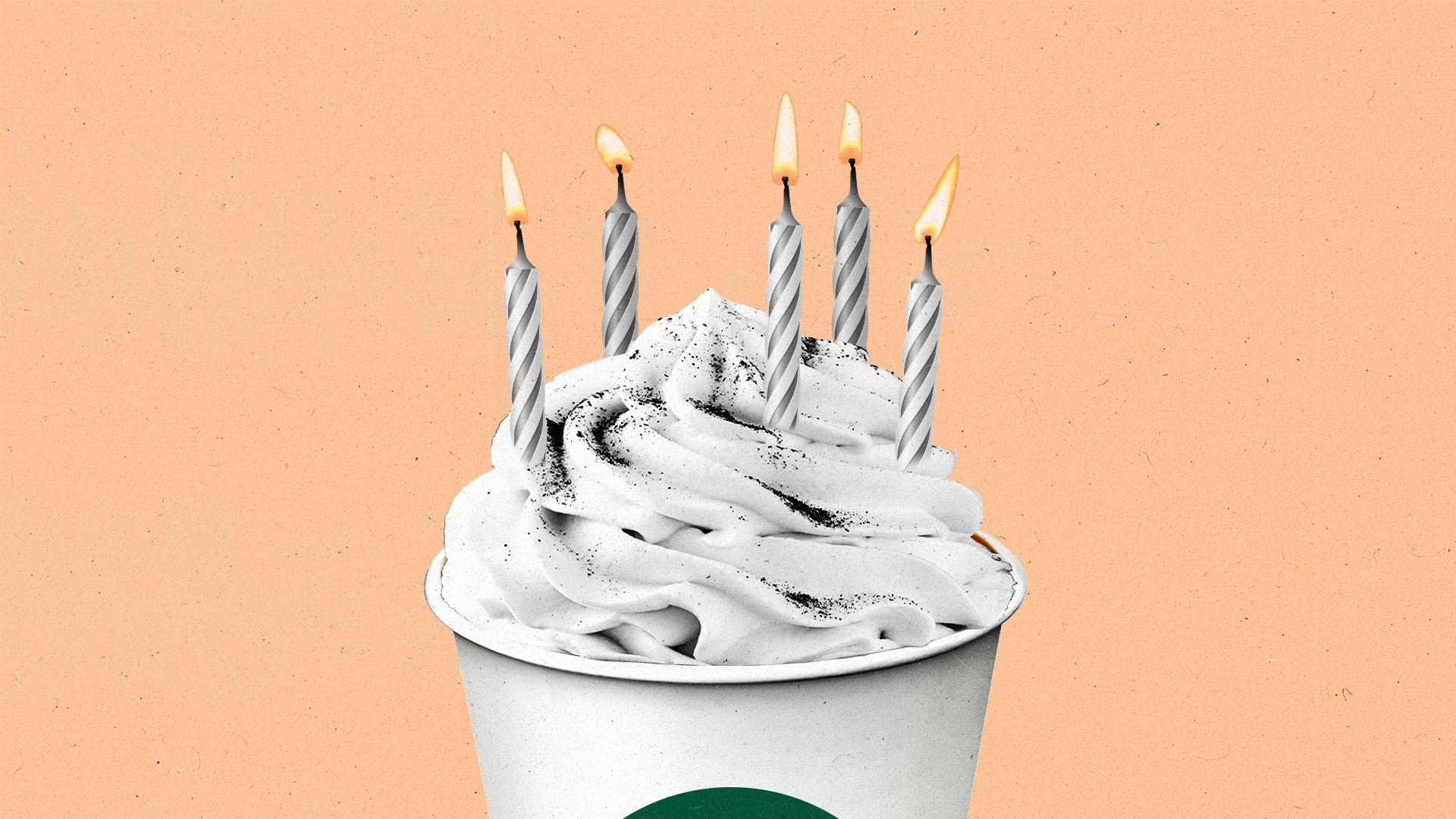 Fall officially began on Sept. 23, but Starbucks and other brands have been celebrating the season with pumpkin products since August.
Pumpkin spice season has grown into a cultural phenomenon since Starbucks first tested its Pumpkin Spice Latte 20 years ago in the fall of 2003 at hundreds of locations (it fully launched the drink the following fall). From last July through this July, pumpkin products raked in $802.5 million, according to Nielsen, a 42 percent increase from the same period in 2019.
The season has been starting earlier and earlier as more retailers capitalize on its popularity, even debuting their own products ahead of Starbucks' seasonal menu item. Starbucks launched its latte on Aug. 24 this year, its earliest release yet. Meanwhile, 7-Eleven rolled out pumpkin coffee drinks on Aug. 1, Krispy Kreme on Aug. 7, and Dunkin' on Aug. 16.
"More than anything else, it plays into nostalgic or seasonal feelings, and I think [Starbucks] has done a really good job linking with that and associating new flavors with different seasons," says R.J. Hottovy, head of analytics research at Placer.ai, which measures retail foot traffic.
Visits to Starbucks locations saw a 25 percent increase on Pumpkin Spice Latte launch day this year compared to the launch day in 2017 — the last year the drink debuted in September —which Placer.ai used as its baseline. Visits increased from 2017 to 2018, and again from 2018 to 2019. After seeing a slight dip from 2021 to 2022, visits have surged again this year.
Visits on this year's launch day, a Thursday, were also 30.5 percent higher than the average daily visits of the previous 10 Thursdays. Overall, the event has shown few signs of slowing down for Starbucks.
The staying power of the trend — and that other brands have seized on the seasonal beverage — reflects how Starbucks managed to turn a product into an event year after year.
"Starbucks excels in driving traffic to its venues during otherwise unremarkable times through recurring seasonal menus and special promotions," Shira Petrack, a content manager for Placer.ai, wrote in a report.
Now that there are so many pumpkin spice contenders, brands are looking for the "first-mover advantage" by releasing their drinks early in the season, explains Jared Watson, an assistant professor of marketing at New York University's Stern School of Business.
"Every year, a brand tries to be the first to market with their pumpkin spice offerings to capture the initial excitement, which is making the season longer and longer," he says.
That's not just for lattes, either. The drink's popularity has inspired an array of fall-themed products that launch in the final weeks of summer. Beer brands Sam Adams and Dogfish Head, both owned by the Boston Beer Company, got a jump start on the competition and rolled out their fall beverages on Aug. 1, for instance.
But Watson, the NYU professor, warns that if the pumpkin spice calendar creep continues, it could have negative implications.
"When thinking about the main drivers of the pumpkin spice season, I think it's safe to say that many are not tied to the product itself," he says. "They are tied to the time of year, weather, and more. And as such, trying to expand the season will only hurt sales long term. The longer the pumpkin spice season, the less novel and scarce is the offering."
Subscribe to The Current newsletter