Peacock, Paramount+ are eating into Netflix's market share. Here's what it means for advertisers.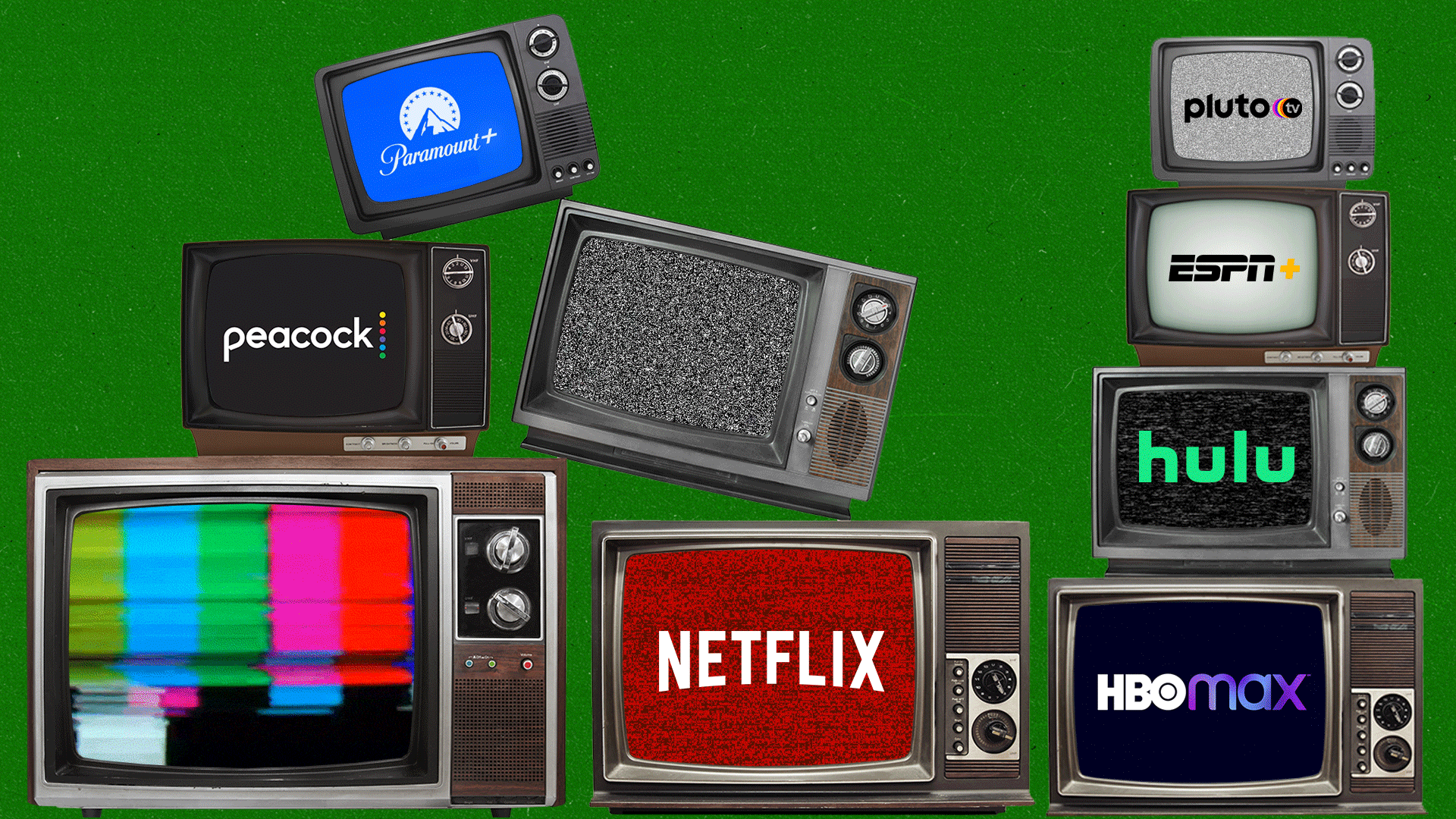 'Outside of Netflix, there's a sense that these newer platforms will likely support a mix of subscription and advertising.'
Streaming juggernaut Netflix lost a staggering 31 percent market share in the last year while newer, lower-cost entrants such as NBCUniversal's Peacock and Paramount+ gained ground, according to a new report from data research firm Ampere Analysis.
And during its first-quarter earnings with investors earlier this week, Netflix said it added 2 million fewer subscribers than expected. The company reported a gain of 3.98 million net global streaming subscribers, well below its previous guidance of 6 million, Variety reported.
While the pandemic accelerated cord-cutting and user adoption of streaming services, advertisers now want to know which consumer trends will last. The fragmented streaming market is also top of mind, Jeff Roach, president and chief strategy officer at agency SCS, tells The Current.
"For advertisers, it's a time of significant transition," says Roach. "Outside of Netflix, there's a sense that these newer platforms will likely support a mix of subscription and advertising in their consumer-facing models."
Roach points to Hulu as an example of where marketers have more opportunity in making programmatic CTV buys that closely resemble digital performance media, giving advertisers data-driven tools that provide improved audience targeting and measurement capabilities.
"The longtail is already here," says Roach, who emphasizes that there are already hundreds of over-the-top streaming apps in conjunction with content-rich platforms like Peacock, Pluto and Paramount+. "The fragmentation of the top streaming networks is only going to help marketers who are ready to embrace programmatic connected TV."
Specifically, Ampere says Peacock grew its market share from zero to five percent by the end of 2020; HBO, which plans to introduce an ad-supported version of its platform later this summer, captured 12 percent market share, up from 3 percent the year earlier; Paramount+ and ESPN+ also gained ground.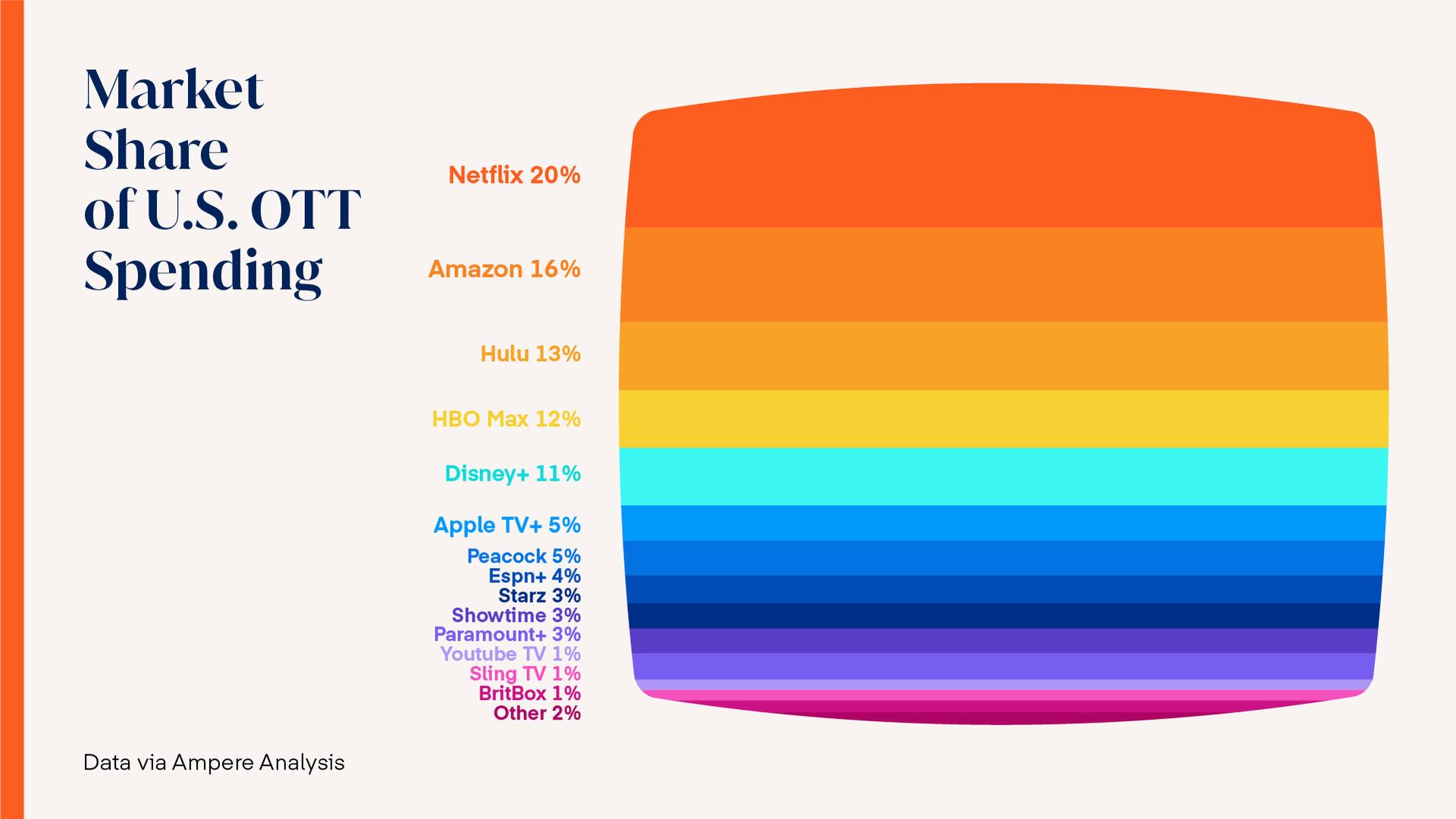 Not in direct competition
Most consumers (65 percent) say they now want access to cheaper, ad-supported streaming video, or AVOD, post Covid-19, according to Deloitte's 15th digital media trends report, released earlier this week.
The average subscriber now has four paid video streaming services, down from five in October, Deloitte says, adding that nearly a third (31 percent) of consumers are shedding their SVOD subscriptions at record pace. "These are the highest rates we've seen in the history of our survey," Kevin Westcott, vice chairman of U.S. tech, media and telecom told Fortune earlier this week. "As fast as people are signing up to try new services, they're deleting them once the trial period ends."
Fewer paid subscriptions likely opens the door for free, ad-supported TV, or FAST. ViacomCBS-owned Pluto TV, for instance, will surpass $1 billion in U.S. ad revenue by next year.
Still, Netflix's loss in market share doesn't mean the streaming giant is in any danger of losing its market-leader status, John Mergen, CMO at agency The Shipyard, tells The Current. Mergen suggests that AVOD services will likely coexist with pure play options (SVOD), as consumers mix-and-match services to meet their content needs and budget.
"Audiences are not loyal to platforms that aren't fulfilling their content needs and churn rates with these streaming services increased as subscribers jumped around to test and leave new platforms," says Mergen. "There is also a limit on how many paid subscriptions audiences will take on, which is why AVOD platforms like Pluto and Tubi have been so successful."