'It's not child's play anymore': The Podcast upfronts celebrate surpassing $1 billion in revenue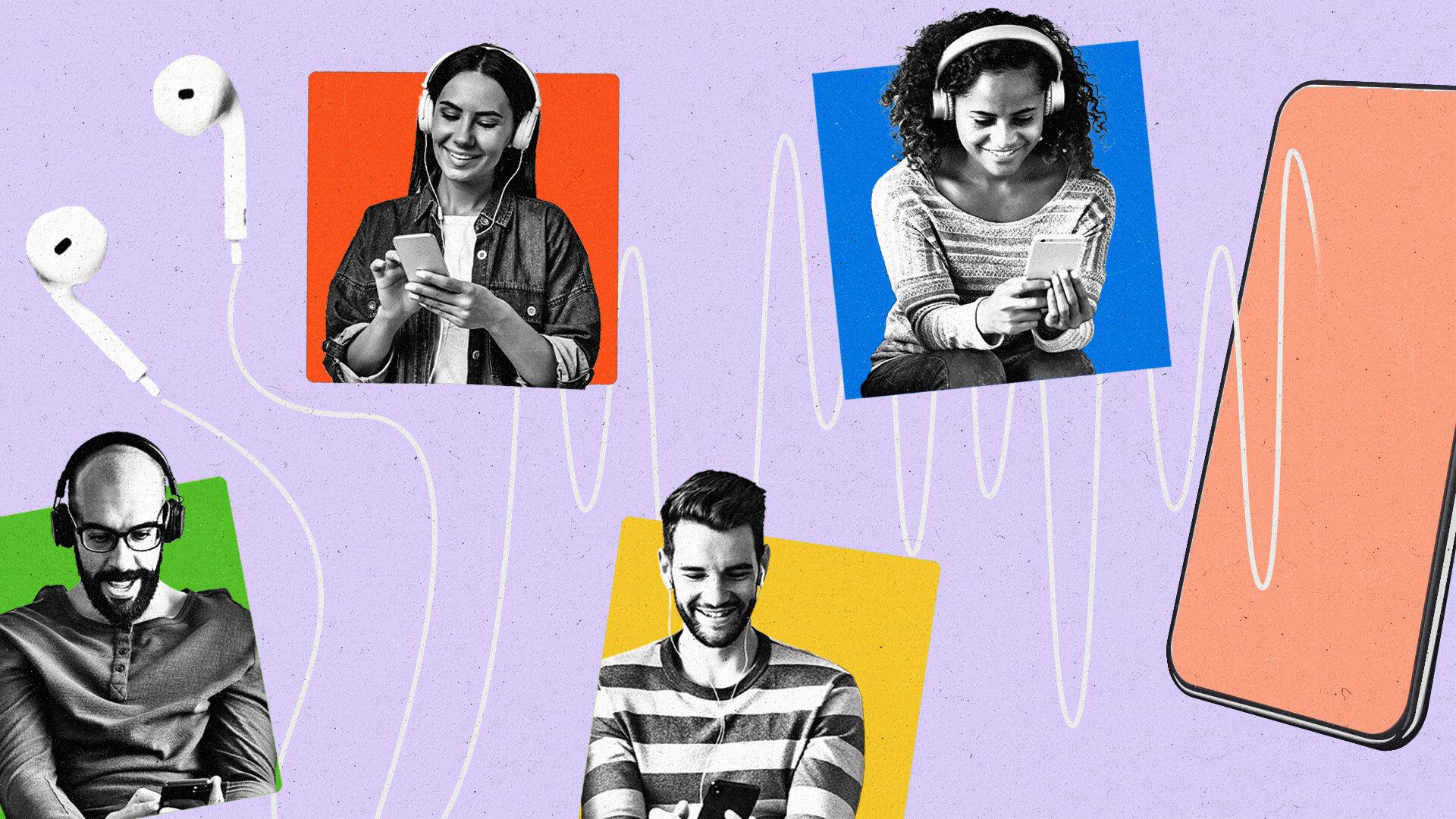 Advances in ad tech and an increase in time spent listening keeps optimism high for a $4 billion 2024 forecast, reports the IAB.
"Mainstream, prominent, and influential" — these are the words that the Interactive Advertising Bureau (IAB) used to position its 2022 Podcast upfront, which took place virtually from May 10 to 12. It featured speakers from The Walt Disney Company, NPR, iHeart, Paramount, and Sony, among others, talking up their podcast offerings for captivated brands.
It's certainly a declaration the podcast industry can take pride in. It wasn't too long ago when brands' podcast budgets were deemed experimental. But advertiser demand for scripted audio shows and interviews grew more than twice as fast as the overall total internet advertising market in 2021, thanks largely to advancements in ad tech and increasingly engaged audiences, according to the sixth annual IAB U.S. Podcast Advertising Revenue study released this week.
Specifically, the podcast advertising market surpassed $1 billion in revenue for the first time in 2021, growing 72 percent year-over-year to $1.4 billion (compared to only 19 percent growth the year before), according to the report. Ad spend is only expected to increase, with revenues projected to exceed $2 billion in 2022, and nearly triple to over $4 billion by 2024, reads the report.
"It's not child's play anymore," David Cohen, IAB's chief executive officer, tells The Current. "It is a scaled business that operates at the intimate level with everything we love about podcast personalities and live reads, and it's getting more sophisticated in terms of programmatic, dynamic ad insertion, and personalization. It's really the best of both worlds."
Tuned in
As podcasting has boomed, it has more than proved its worth with advertisers who want a piece of the audio action. "Almost every client is at least curious about it," says Bob Hunt, senior director of audio at Omnicom-owned global marketing agency Hearts & Science. He recalls that when he started his role two years ago, the clients who were investing in podcasts were largely already podcast listeners themselves.
"There's an intimacy to having the host's voice inside your ear that makes you feel like you know them personally," says Hunt. "That is truly a unique offering in a world of increasing media consolidation." He adds that the cost of creating high-quality audio content is also "significantly less than it is in video."
Podcast advertising advocates also credit the highly engaged audiences. The time people spent listening to podcasts grew by 15 percent this year, even higher than the 6 percent increase of the number of listeners, according to Insider Intelligence data.
"There is sizable time spent on growth due to casual listeners becoming moderate and heavy listeners," says Ross Benes, senior analyst at Insider Intelligence. "The medium is not adding many new listeners but lots of people who used to listen to an episode per week, now listen to three or four episodes per week." Benes adds that brands also like that ad blocking among listeners is less common.
Advancements in ad tech
For all its advantages, the podcast arena still has its quirks as it matures. Companies are working toward standardizing measurement, centralizing buying and planning, and introducing new ad formats to listeners.
Advances in ad tech alleviate some of these concerns. The IAB reports that dynamic ad insertion (DAI), where ads are inserted in various points in audio files, has grown to represent 84 percent of podcast ad revenue, a percentage that has doubled in two years. In its new report, the IAB describes DAI as "creating greater scale, flexibility, and targetability for advertisers."
Advertisers also have more ways to buy relevant ads at scale. At the upfronts, Acast, which works with brands to buy, create, and target ads within podcasts, announced a new partnership with The Trade Desk, allowing advertisers to use data to target listeners at a household level and measure automatically, says Elli Dimitroulakos, Acast's director of automation, Americas. Acast also focuses on targeting on an episodic level, so that brands can avoid advertising alongside conversations in podcasts that do not align with their positioning.
"We have a responsibility to create an ecosystem that is fair, equitable, democratized, safe, and results-oriented," says Dimitroulakos. "And we are very proud of the work we've accomplished. But there is more to do, and it cannot' be done alone, which is why partnerships like the one we have with The Trade Desk are incredibly important to us as we help grow this emerging channel without taking away from the current experience that is so loved and valued."
Each week, The Current gives you a rundown of the biggest stories and latest trends from the world of data-driven marketing, including topics like Connected TV and the future of identity — all delivered directly to your inbox.