From 'Ted Lasso' to 'The Queen's Gambit:' Why streaming platforms dominated the Emmys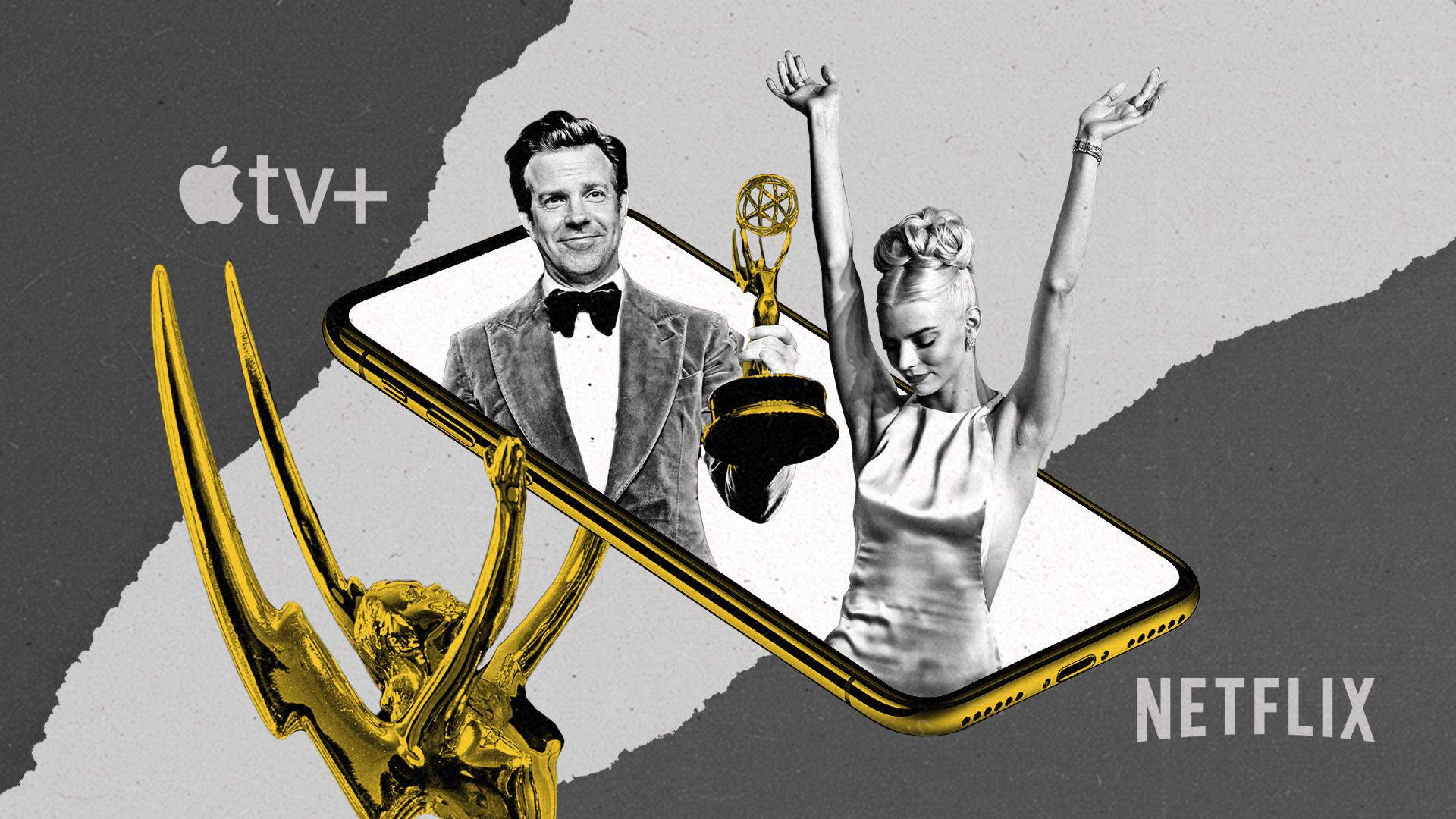 "It's clear that the streaming platforms are making their mark as full-blown Hollywood studios."
For the first time, streaming services took all top honors at the annual Emmy Awards, cementing the consumer shift towards bingeable, accessible entertainment.
Netflix and Apple TV+ claimed the top awards at the 73rd annual event, across limited series, drama and comedy. This year's show — hosted by Cedric the Entertainer and sponsored by Kia — was broadcast live on CBS and streamed on the network's streaming service Paramount+. The Emmys brought in 7.4 million viewers on linear TV, up 16 percent from the year prior, according to Nielsen, bucking the recent trend in audience declines for major awards shows. Paramount+ viewership has not yet been released.
The show's ratings underscored trends born from the pandemic, namely, accelerated consumer adoption of streaming services. The most telling is that Netflix — which has battled with HBO for the past five years for the most Emmy nominations — finally took home the most wins.
"It's clear that the streaming platforms are making their mark as full-blown Hollywood studios," Jeff Roach, president and chief strategy officer at media agency SCS, tells The Current. "Netflix, Hulu, AppleTV+ and Amazon Prime Video delivered such a high number of Emmy nomination counts and some of the most awarded shows are now living within the platforms."
Netflix took home top honors with "The Queen's Gambit," which follows the rise of chess prodigy Beth Harmon played by Anya Taylor-Joy. The show won for limited series, the final award of the evening, a slot usually reserved for best drama, and highlighting the rising popularity of the genre, and marking the first time a streaming service collected the award. Netflix's fourth season of "The Crown," a chronicle of the British royal family, won in the best drama category and took home six other wins. Previously, the only other streaming service to win best drama was Hulu four years prior for "The Handmaid's Tale."
Netflix ties CBS
Two-year-old Apple TV+, the ad-free version of Apple TV, was another big winner, becoming the first streaming service to win in the best comedy category for sports series "Ted Lasso," which chalked up a combined four awards.
"It's no surprise that Ted Lasso hit the wins it did and it's well deserving," says Roach. "The show simply has a ton of heart and it's a reminder to marketers that lighthearted but emotional storytelling that isn't afraid to be real is connecting strongly with viewers and consumers today."
Ad-supported streaming services, such as HBO Max, were also victorious. HBO Max's "Mare of Easttown," for instance, won in best actress, best supporting actors and actress categories in a drama series; HBO Max's "Hacks" won in writing, directing and for best actress in a comedy series.
In total, Netflix brought home 44 Emmy wins this year, tying CBS' 1974 record of most Emmy wins for a platform or network in a single year. Following Netflix, HBO and HBO Max landed 19 total awards; Disney+ took home 14, including a win for "Hamilton" in the variety special pre-recorded category; Apple TV+ saw 10 wins; NBC was awarded 8 trophies; and VH1 tallied six wins.
Emmy commercials promote more streaming
Mirroring the success of streaming services, the commercials during the event promoted several shows only available through streaming, such as CBS' Paramount+'s "Mayor of Kingstown" and a spot for NBC's entire Peacock lineup, proving how traditional networks are continuing to step up their game in the streaming space.
It also helps that the creators of TV shows—actors, writers, producers and directors—are finding a lot of success through streaming services. And they're voicing their support as members of the Television Academy, the group that nominates and votes for Emmy awards.
Josh Von Scheiner, founder and CEO of ad agency A Different Story, says that less than 10 years ago, if a major network wasn't interested in a project, the only other option was Netflix which primarily licensed older shows. Now, he says, creators can take their projects directly to a number of streaming outlets such as Amazon, Netflix, Disney and Comcast. "This group wants recognition for the great work they're doing with streaming services," he says.