Euro 2020: streaming viewers drive CTV ad demand
New research reveals that only 7 percent of marketers are using linear to reach fans during the Euro 2020 soccer championship, while 15 percent are turning to CTV.
Live sports are roaring back around the world following last year's hiatus. Suddenly, the summer has an abundance of riches, from Wimbledon to the UEFA European Football Championship 2020 (otherwise known as Euro 2020 — and yes, they kept the name), to the Tokyo Olympics later this month. What more could you want? Even the New York Mets are looking good.
And Euro 2020 is proving something of a flashpoint. The quadrennial European soccer fest is advancing the migration of the sports fan toward CTV. And this shift has not gone unnoticed by marketers who don't want to miss out. New research conducted by The Trade Desk, in conjunction with Advertiser Perceptions and YouGov, found that 15 percent of marketers say they plan to use CTV to reach audiences during Euro 2020, versus 7 percent who say they are using linear. At the same time, 29 percent of marketers are looking to both channels. A growing number of advertisers are notably using both CTV and linear as part of their strategy across the board for major marquee television events.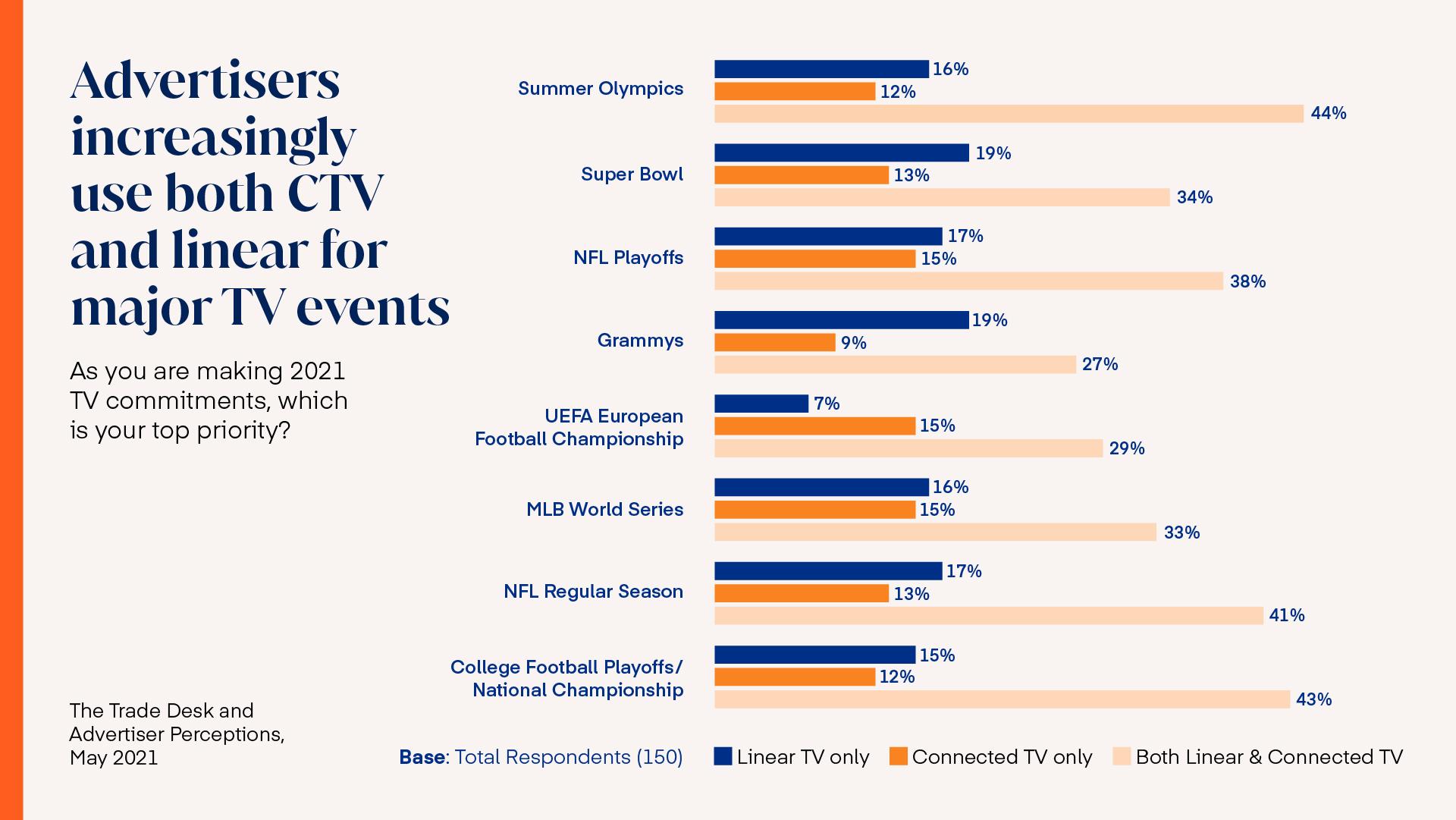 "Advertising has to follow the viewership," Diana Horowitz, senior VP of ad sales at fuboTV, tells The Current. "With more and more viewers watching on a connected device, buyers absolutely have to take this into consideration." Advertisers are taking notice of this surge in streaming viewership as 74 percent of marketers report that buying CTV ads in conjunction with live sporting events can be more cost-effective and impactful than classic sports sponsorship, according to The Trade Desk's recent Future of TV Report.
And while full capacity crowds have yet to return to these live events, there are more options than ever before for fans to watch online through streaming platforms. As the world starts to settle into this new normal, sports fans are no longer obliged to watch via expensive cable packages. And when it comes to Euro 2020, fans in the United States can watch ESPN's coverage of the games not just on linear channels but also on standalone streaming services such as ESPN+, as well as vMVPD providers such as fuboTV.
Horowitz points out that 90 percent of those watching fuboTV — which defines itself as a sports-first live TV streaming platform — are cord-cutters. By allocating ad dollars to CTV and streaming platforms, marketers are making sure they reach an "unduplicated audience."
Meanwhile, one in five U.S. TV ad dollars now goes to CTV advertising, according to a recent report published in June by Group M. The report notes the various subgroupings – placing them under the catch-all heading of CTV+, which includes connected TV, OTT (over-the-top), and AVOD (advertising-supported video-on-demand).
While GroupM suggests that "it's all TV for the consumer," it's clear from this data that advertisers are paying attention to this migration. Horowitz refers to this transition as "a revolution" in the digital realm, which allows advertisers to reach highly engaged audiences watching the game on a big screen, but with the added benefit of being able to target audiences down to the "first-party, addressable household."
"If you want to reach every viewer that's watching a sporting event on [a given] channel, you must include fuboTV in that plan or you're going to miss a significant percentage of the audience you're trying to reach," says Horowitz.