Digital out-of-home soars amid the return to the office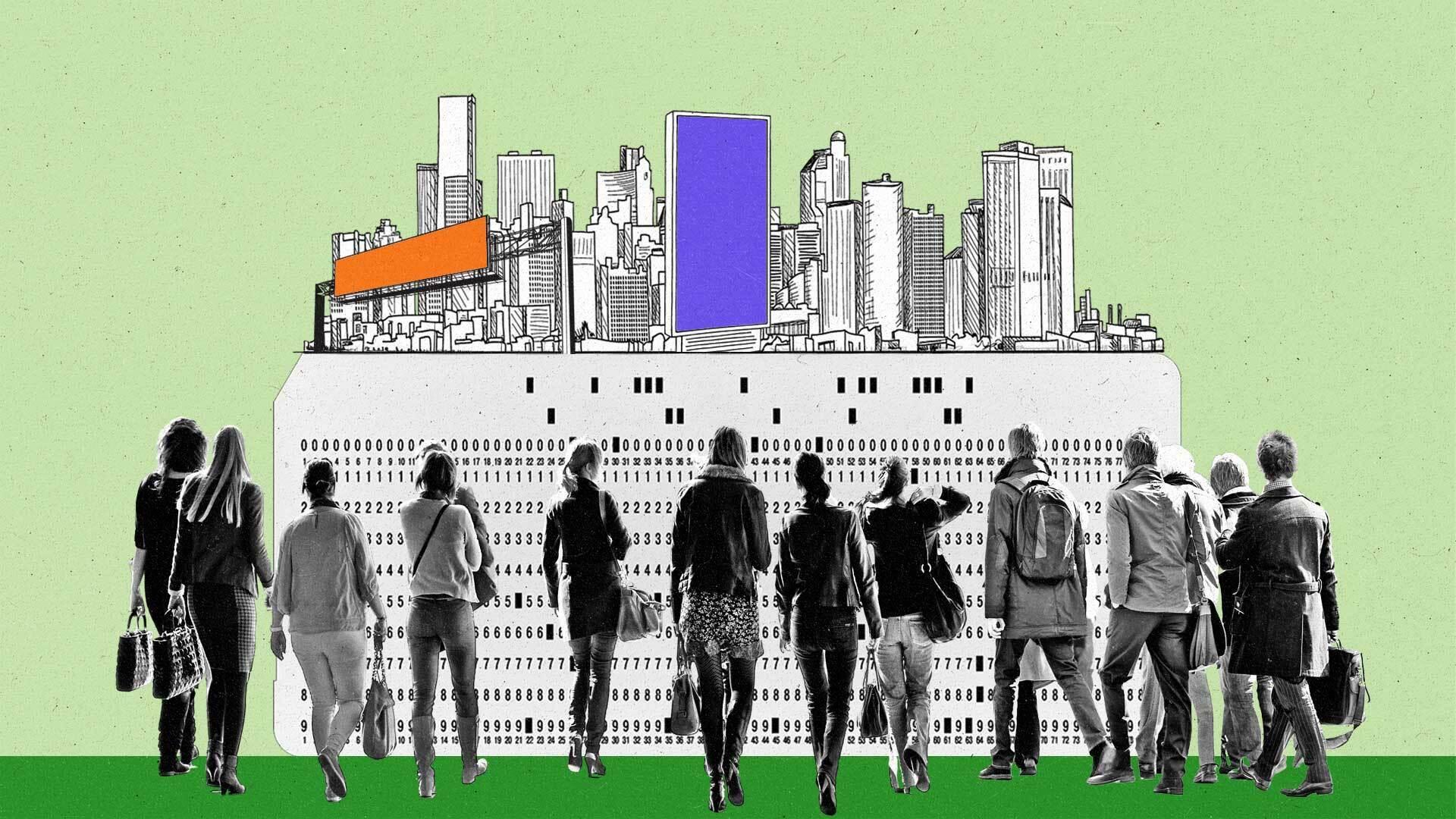 People are working from the office again, which means the return of everyone's favorite work-related rituals: wearing slacks, eating a boxed lunch during a client meeting, and seeing a digital out-of-home ad for a Unicorn Frappuccino while waiting for the Q train.
After two years of working from the comfort of home, professionals across the country are trickling back into their corporate outposts, and it's a boon for the digital out-of-home advertising industry.
"We've seen a substantial increase in ad spend on digital out-of-home as a result of people going back to the office," says Natrian Maxwell, The Trade Desk's general manager of emerging channels, which includes digital out-of-home. 
"The return to offices is real — people are outside more," Maxwell adds. That means a captive audience for all the billboards, bus stop placards, train station posters, gas station monitors, taxicab televisions, screens in elevators, and all other forms of digital signage in the physical world.
Enormous increases in DOOH ad spend
The surge in commuters has driven a corresponding increase in ad spend on digital out-of-home.
"With a growing number of companies returning to offices, the investment in programmatic digital out-of-home has accelerated substantially," says Christopher Allison, vice president of demand-side platform (DSP) partnerships at Vistar Media, a digital out-of-home ad network. Out-of-home ad spend increased by more than 21 percent in 2021 from the previous year, according to an April 2022 report from the Interactive Advertising Bureau trade group.
"We've already matched our 2021 total billings and we've had a bunch of legacy clients come back into the mix," says Brian Rappaport, CEO of Quan Media Group, an agency that specializes in out-of-home advertising.
Spend is expected to increase even further as the return to pre-pandemic life continues. "We expect ad spend on digital out-of-home to increase even more in the second half of this year," Maxwell says.
Brands capitalize on the DOOH boom
Coffee, a vital component of many people's work routines, is one brand category taking advantage of the surge in commuting. Vistar offers dynamic creative, and coffee brands have taken advantage by tailoring their messages to consumers based on the time of the day and the weather, says Allison. A popular coffee brand, for instance, urges consumers to warm up with a hot cup of joe if it's cold and rainy in the morning. If the sun comes out and it warms up in the afternoon, the campaign will advertise iced coffee or cold blended drinks.
Transit is equally essential to many people's workdays, and brands have been eager to take advantage, Rappaport says. "Brands are more excited about the increase in transit ridership than the return to office," he says. "As the New York City subway has reached 60 percent of its pre-pandemic ridership, brands have been willing to spend on subway advertising again."
The out-of-home opportunity has attracted several brands — such as Truff, a line of truffle-infused hot sauces; Skims, Kim Kardashian's shapewear brand; and Plex, a new streaming service — including others that are entirely new to the channel, Rappaport adds. "What's most exciting is that, of the 75 out-of-home campaigns we've run in 2022, a quarter of them have been for brands spending in the channel for the first time," he says.
Each week, The Current gives you a rundown of the biggest stories and latest trends from the world of data-driven marketing, including topics like Connected TV and the future of identity — all delivered directly to your inbox.