CTV is inspiring creatives to tell better brand stories
When it comes to sources of inspiration, a data point may not be the obvious muse. And yet, creatives responsible for brand campaigns say that more precise audience data allows them to tell better brand stories. And that data is now available thanks to CTV.
"I feel like there's a real renaissance and a resurgence in the thing that works the best for brands, which is film, which is TV. Because now at long last I can target a little more effectively, I can measure a little more effectively," Avery Gross, the executive creative director at VSA Partners, tells The Current. "I think creatives across the globe I know are rejoicing at the rise of CTV. Because it lets us do the most with our best weapon."
The concept of brand storytelling has been gaining ground for several years in the marketing world. It draws on some of the principles of narrative storytelling—episodic and emotional—to connect customers to the core values of a company, going beyond the product it sells. Here's an example.
Of course, there are different chapters that go into telling a good story. And this is where CTV comes into its own, by enabling sequential messaging for brands who've got a good story to tell. In fact, a study conducted by The Trade Desk and Advertiser Perceptions, bears this out. Our research shows that 43 percent of marketers identified CTV as the best channel for brand storytelling in 2021. This was followed by social media (29 percent) and linear TV (26 percent).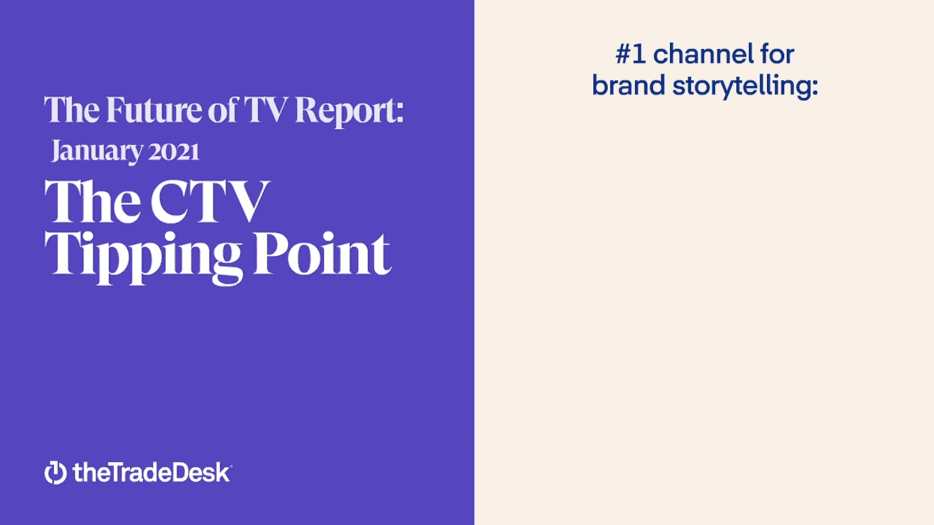 How does this work in reality? When VSA Partners was recently asked to work on a new campaign for an online educator, they saw an opportunity to develop a brand-building strategy. Advertising for this category has typically been very functional, says Gross, but the client was open to a more nuanced approach to telling its story. It kicked off with the big idea to connect people on a high level, say, a kid on a laptop. From there, the CTV channel opened up ways of reaching different audiences in specific ways.
There are parents, students, administrators, counselors — and of all ages and stages—and geographic nuances, says Andrea Spiegel, the managing director of VSA Partners. "So we're able to address all of those things in this work that's centered around a big idea, but it enables us to address very specific audiences at different times, at particular times," she says. "Our creative just is better because it's fueled by data."