Consumers say they prefer ad-supported streaming over paid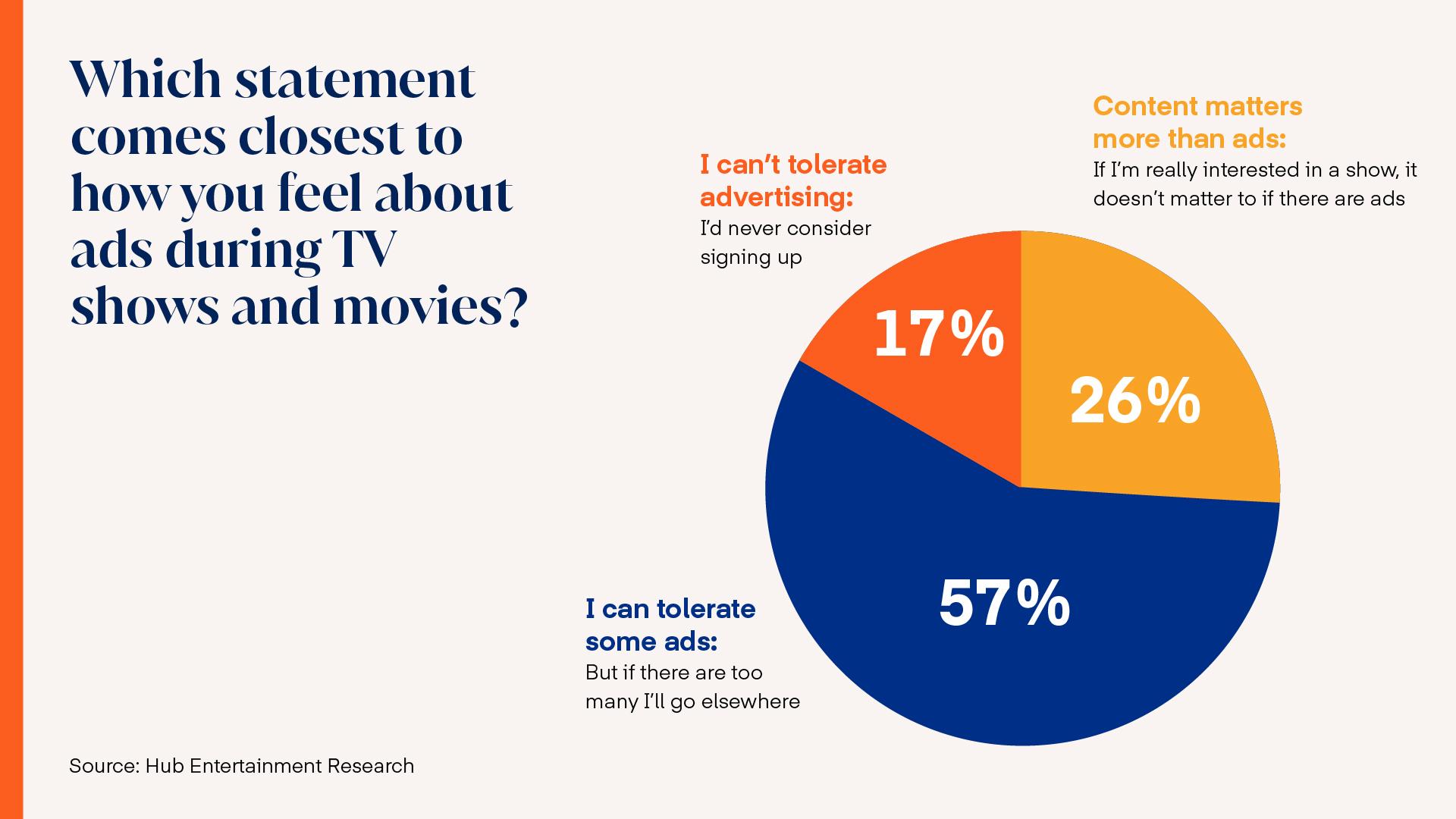 'For years, it's been assumed that ad avoidance has been a major driver of the shift from pay TV to streaming. But as viewers stack more paid subscriptions, the cost of ad-free viewing is rising.'
New data reveals that consumers are more than willing to watch ads in exchange for content. In fact, those who desire to pay a premium for a commercial-free experience are in the minority.
That's according to a new study released by Hub Research Insights, a technology and entertainment intelligence company that counts Netflix, AMC, Turner, ViacomCBS, among others, as clients.
"Although ad-free services are indeed gaining subscribers, free, ad-supported streaming TV, or 'FAST,' are also seeing increases in usage," the report says. "Past research by Hub and others has shown that under the right circumstances, viewers do engage with ads and often find value in them."
Nearly two-thirds (67 percent) said they would choose ad-supported TV over an ad-free subscription. Specifically, 41 percent said they would prefer to watch TV for free and see commercials in each show while 33 percent said they would pay a premium to watch content without ads. Another 26 percent would pay for a service that shows some ads, according to the study.
Data-driven TV advertising also has the potential to improve the TV viewing experience. Hub's study found that 60 percent of consumers who were served relevant ads enjoyed their viewing experience.
"For years, it's been assumed that ad avoidance has been a major driver of the shift from pay-TV to streaming," Hub said. "But as viewers stack more paid subscriptions, the cost of ad-free viewing is rising."
The data comes on the heels of streaming juggernaut Netflix telling investors during its first-quarter earnings that it added 2 million fewer subscribers than expected — all while newfound rivals Peacock and Paramount+ gained ground. It also underscores the significant transition marketers are facing, as newer platforms begin to offer a mix of advertising and subscription while linear continues to see declines in viewership.
Still, there's a fine balance in how much consumers are willing to pay. 58 percent said they would watch ads if the subscription was $4 to $5 less than the ad-free option, according to the report.
Approximately 3,000 U.S. TV consumers between the ages of 14-74 and who watch TV at least once each week were surveyed for the study. Of those, 95 percent said they use at least one streaming platform while another 79 percent said they use at least one FAST service.