CMO Spotlight: Campbell's Linda Lee on marketing an iconic brand in real time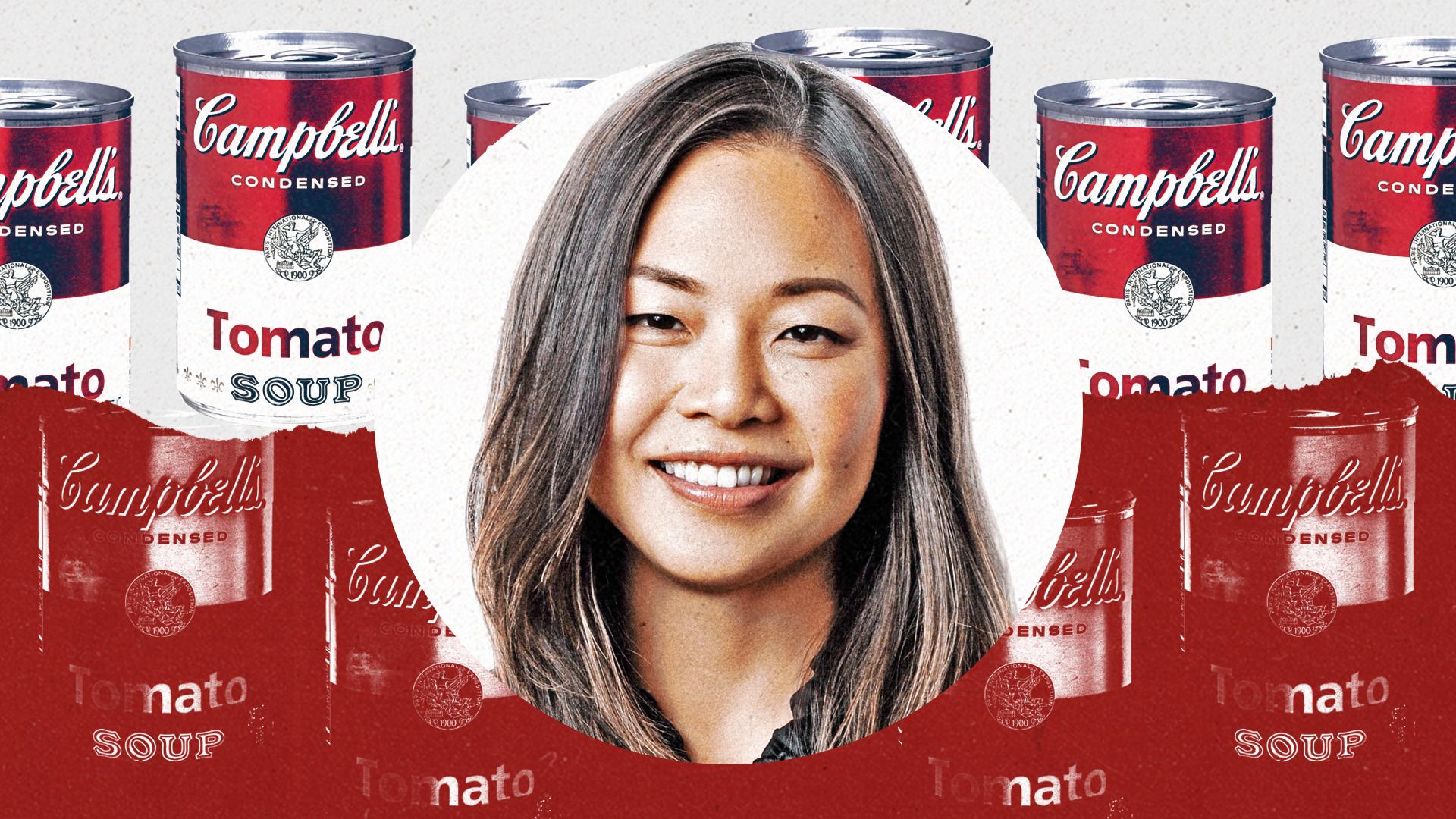 Linda Lee grew up eating soup. Although she was born in the United States, Lee's parents had emigrated from Taiwan, which meant "literally every night, my mom made soup from scratch," she recalls. It wasn't until 2017 — two years before Lee joined Campbell as the CMO of its meals and beverages division — that Lee was served an American staple, a bowl of Campbell's tomato soup and a grilled cheese sandwich. It was then Lee experienced that famous M'm! M'm! Good! moment.
And yet, when Lee joined the company as CMO in 2019, the very thing that made the company famous — soup — was in a declining category. The challenge for Lee, she explains, was to "win in soup" and get the category, as well as the iconic Campbell's brand, back to growth. As it turned out, it was only a matter of months before it was flying off the shelves again — a surge in demand driven by the pandemic. Soup was back in a big way as people loaded up their pantries.
For Lee, the company's marketing strategy had to be reframed in this new context, which created both new challenges and solutions. "What sped up was us trying to understand what our consumers were doing," Lee tells The Current. "There was no longer any predictability, there was no history to tap into. The world changed around us, and that world continues to change. So, there's a real-timeness to what we do next."

From a marketing perspective, the company wanted to retain these new consumers who'd found in Campbell's soup the "comfort and utility" they craved — a product that always delivered. "For us to do that meant we had to meet consumers where they were, with what they were experiencing, and to understand what they were talking about," says Lee. "We just needed to work with a lot more agility and an ear to the ground, understanding those needs and then being able to activate [campaigns] based on that listening."
Data and empathy
For Lee's integrated marketing team, that meant drawing on both data insights and empathy to create more agile, topical campaigns. For example, by understanding the implications of virtual schooling for children, Campbell launched a new "Save the Snow Day" winter campaign around its chicken noodle soup. This involved pivoting the launch of their new seasonal ad "Snowbuddies" that had been inspired by the brand's classic snowman ad from the 1990s, broadening it into a timely call-to-action focused on saving and celebrating those snow days that so many have childhood memories of, says Lee.
As the pandemic continued, Campbell leaned on shopper data from retail partners to help drive efficiency to find and retain its customers. This data afforded Campbell valuable insights on customer behavior during the pandemic, especially as it pertained to pantry loading. The data revealed that some of these customers carried on buying at an elevated rate, while others stopped buying altogether. Equipped with these insights, the Campbell team was able to create bespoke audience targeting campaigns, serving digital ads to relevant consumers and custom audiences to maintain a strong sales trend.
Figures suggest the company's marketing plan to find younger consumers is paying off. "Nearly 13 million new households purchased Campbell soup since the initial peak of the pandemic, of which one-third are millennials, outpacing both key competitors and the category average," Mark A. Clouse, president and CEO of Campbell Soup Company, said in a March 2021 earnings call. "Our research indicates more than 30 percent of consumers are cooking more with soups since the start of the pandemic," he added, noting that so-called "quick scratch cooking" has taken off since the pandemic and looks set to continue.
Lee is mindful that marketing in 2021 is informed by data. In fact, she has observed that we are drowning in data but insists the key to success is to use it strategically. "In today's data-rich world, a key step is in getting very clear about what we know and what we need to learn," she says. "This space is dynamic and ever-changing so it can't be a static approach."

From Science major to CMO
Lee should know. She is a scientist by training, having graduated Magna Cum Laude in Chemical Engineering from Cornell University. Thereafter, she followed a non-traditional CMO career path. She started her professional life as a process engineer, and subsequently a products research manager, at P&G. She moved into consumer insights at General Mills and then spent a decade at Mondelēz, where she managed key portfolios — such as Ritz, Triscuit and Wheat Thins — for the CPG multinational. Following that, she worked at Ipsos where she helped transform the company's global research products, which was a deep dive into the power of data, she says. "Data is no longer limited to a few. It's almost become accessible to all, or a commodity. It's more what you do with that data," she adds.
Another formative experience happened during her Mondelēz years, in 2011, when Lee took on her first marketing role. It proved the most difficult professional challenge of her career, but one that reaffirmed her faith in teamwork. She was hand-picked to launch the gum category in China for Kraft Foods (now Mondelēz), leading a team of 20 people. It was a high-risk, high-reward white space launch for the company, trying to establish a foothold in the second-largest chewing gum market in the world, all in 18 months. No doubt it helped that Lee could speak Mandarin as well as English to her Shanghai-based team. The mission was a great success for the company, which saw 10 percent market share captured in less than three months. For Lee, the personal takeaway was that passion and clarity could galvanize a local marketing team, some of whom had little experience with such a bold endeavor. "It's about tapping into what people are capable of versus what they've already demonstrated," she says.
As CMO for Campbell, Lee has embraced her responsibilities as a team leader. She compares her role to that of an orchestra conductor, which requires a balance of intuition with technical precision, a mix of the creative right brain function with the more analytical left brain. As it applies to marketing, Lee says, "if you just understand what the problem is, and you're able to articulate it, then you absolutely can creatively problem-solve to an answer. In this role, you've got to believe it because that is half the job: to bring others along."
If 2020 was the year of the comfort-food comeback, 2021 is proving a new challenge for packaged goods companies as pandemic-era dining gives way to eating out again. For Campbell — whose brands also include Prego pasta sauce, Pepperidge Farm cookies and Cape Cod potato chips — to win in soup remains a focus of the company's strategy. A brand refresh is underway — its first redesign in 50 years — to appeal to new generations of consumers. Lee is bullish that the iconic Campbell's brand can grow and remain relevant. "It's problem-solving, especially for brands that have endured for a long time," she says.
Hacking the soup
While the pandemic has encouraged brands such as Campbell's to embrace more data-driven agility, it also resulted in a change much closer to home. In the midst of the pandemic during quarantine, Lee got a call from her mother in Houston, where she'd grown up. She told her daughter that they'd just bought a case of Campbell's chicken noodle soup from Costco. Lee was stunned to hear this from her soup-making mom, who explained that she bought it to support her daughter. "So, what do you think?" asked Lee. Her mom admitted that she and dad — who are both in their seventies — loved it. But on further investigation it turned out her parents had essentially "hacked the soup," says Lee, by adding more vegetables, chicken and flavoring it with Asian spices. Lee had to laugh at their creativity. "They went all in and bought a whole case of it," she says. "It just shows that you don't have to grow up with it to really bring it into your life."
Subscribe to The Current newsletter