Clean rooms, CTV, and other hot topics from Advertising Week New York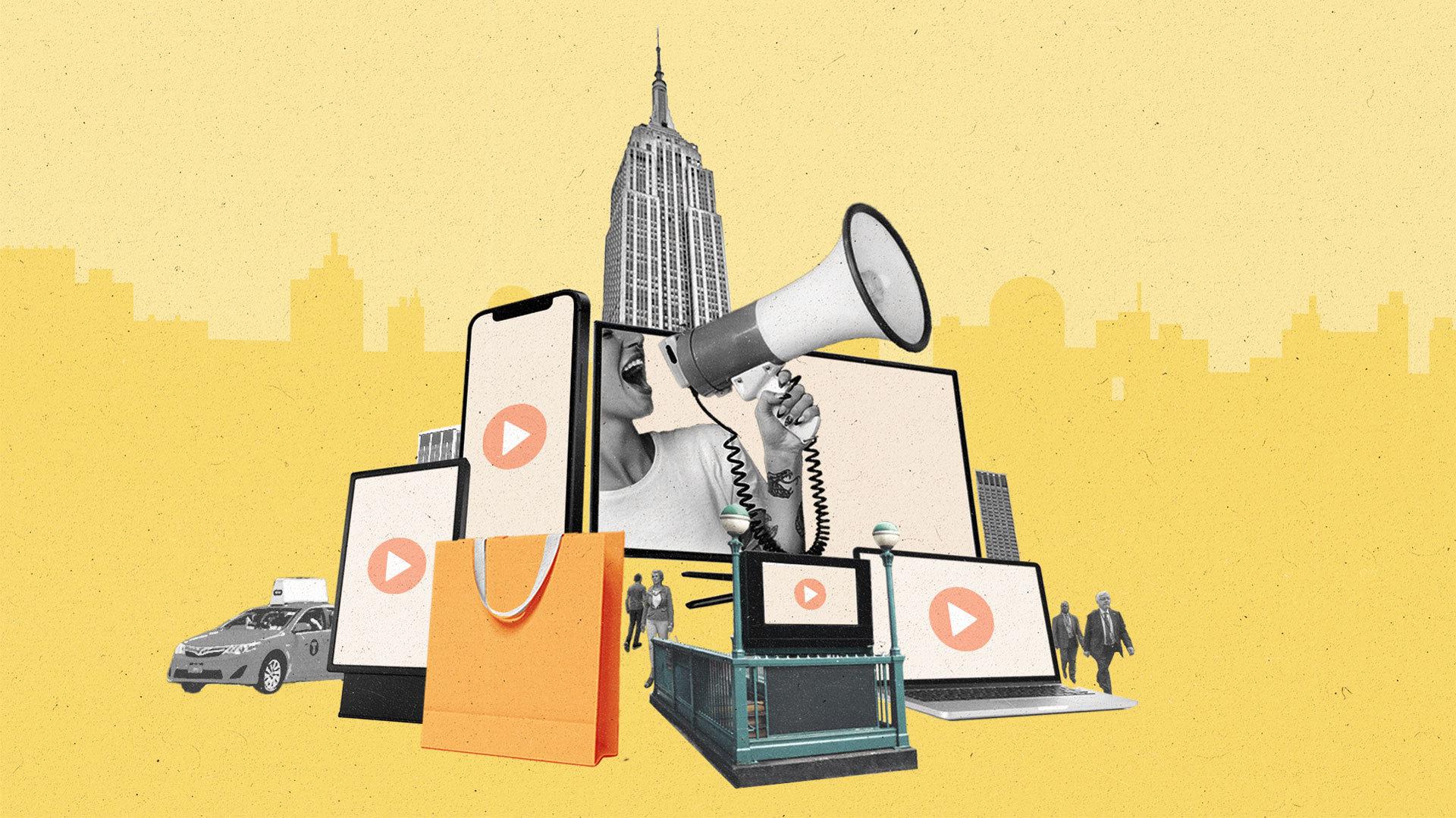 For anyone attending this year's Advertising Week New York, it was clear that the industry was excited about meeting up in-person once again. More than 10,000 people were expected at the industry's annual showcase, located this year on Manhattan's Lower East Side. And indeed, the three-level Market Line space overflowed with throngs of marketers and advertisers exhibiting a pre-pandemic buzz.
Attendees were eager to discuss everything from a possible recession to the latest streaming sensation, amid banter about some loud, hot conference rooms and the long lines for aqua frescas. Meanwhile, in the YouTube Lounge, advertisers took the opportunity to grab real Google cookies, as opposed to the less popular third-party variety.
And, like all Advertising Weeks, there were definitely a few key topics that caught attendees' attention. This time around, three major themes emerged across panels, meetings, and sessions: connected TV, clean rooms, and retail media.
Connected TV
As the connected TV space matures, it seems like every brand wants in. Disney's streaming growth, for instance, is affecting how future marketing partnerships will be tied to its content. Disney has historically been focused on doing promotional licensing only around new content launching on Disney+, but will now be broadening its scope to existing content across its various properties. That includes FOX and Marvel, explained Mindy Hamilton, senior VP of global partnerships and marketing at The Walt Disney Company and Marvel Studios, speaking on a panel during Advertising Week.
"[While] streaming promotional licensing...has been centered around something new, today we can have an always-on strategy," said Hamilton, referring to Disney's deep library of content. "We now have a broader toy box to play with."

Still, with all the opportunity and excitement around connected TV, there's plenty of questions regarding how measurement will evolve.
"If you're looking at [CTV] like a baseball game, we're at the bottom of the first inning. From a capabilities standpoint, we're still all the way in the beginning," said Evan Barocas, senior director of digital media at T-Mobile, speaking on a panel called: "Buying CTV: The Power of Decisioning and Data on Premium Video." What additions do advertisers want? Carolyn Han, senior manager of digital media and audience strategy at Nestle, wants to see more show-level transparency and better insights overall.
Clean rooms
Data clean rooms were also a hot topic this year, even if not everyone understands how they work. As third-party cookies are expected to crumble and consumer privacy regulations evolve, the conversation has turned to how to ensure all data is being handled safely and accurately. Clean rooms — secure environments for brands and DSPs to store and share anonymized user data — are having a moment.
Publishers like NBCUniversal and Disney, and media agencies like Horizon Media have integrated clean rooms into their data handling operations. It's the interoperability of those clean rooms that really matters, according to Laura McElhinney, chief data officer at Horizon Media, speaking on day two of Advertising Week. Horizon Media, which works with brands like Hershey, Lionsgate, and Kohl's, now has two clean rooms that can connect with major clean room operators like InfoSum, LiveRamp, and Snowflake. "You have every publisher wanting to create their own clean room, which is fine, but then how do you connect all those clean rooms together?" posed McElhinney.
During a panel called "Moving Beyond the Hype: How Data Clean Rooms are Powering Media Today," Brian Lesser, CEO of InfoSum, was enthusiastic that more walled gardens may begin to participate in clean rooms — pointing to Google's launching of PAIRs last week — giving brands and publishers better access to data. "I think other walled gardens will come along," said Lesser. "The walls are getting higher, but there are portals opening up."
Retail media
Retail media also loomed large at the conference this year. Nearly every stage and space was sponsored by a retail giant, including Target's media company Roundel, Albertsons, eBay, and Amazon. And it didn't stop there. Multiple panels were dedicated to one of the industry's hottest topics.
In one panel, Forrester senior analyst Nikhil Lai said that the research company estimates that $40 billion was spent on retail media this year, a 39 percent increase from last year. Lai predicts the category will hit $85 billion by 2026. While trade and shopper marketing dollars are moving into the sector, Lai also noted that advertisers are diverting dollars from their search and social buckets.
Advertising Week also immediately followed the news of the Kroger and Albertsons merger, which could upend the retail media sector with a combined customer base of 85 million households. Kristi Argyilan, senior VP at Albertsons, joined Evan Hovorka, head of products and innovation at Albertsons, on a panel titled "How Retail Data is Making the Best Marketers Even Better" to talk transparent data, the benefit of the open web, and the upside of being late to the retail media game.
"The advantage of being a late player is nobody really cares about ROAS anymore," said Argyilan. "We're leaning into incrementality. Shopper marketing and brand marketing are all coming together." Hovorka added, "We know where the good partnerships are, so we have been able to skip a lot of that friction."