Christmas in October? Why retailers are offering holiday deals earlier than ever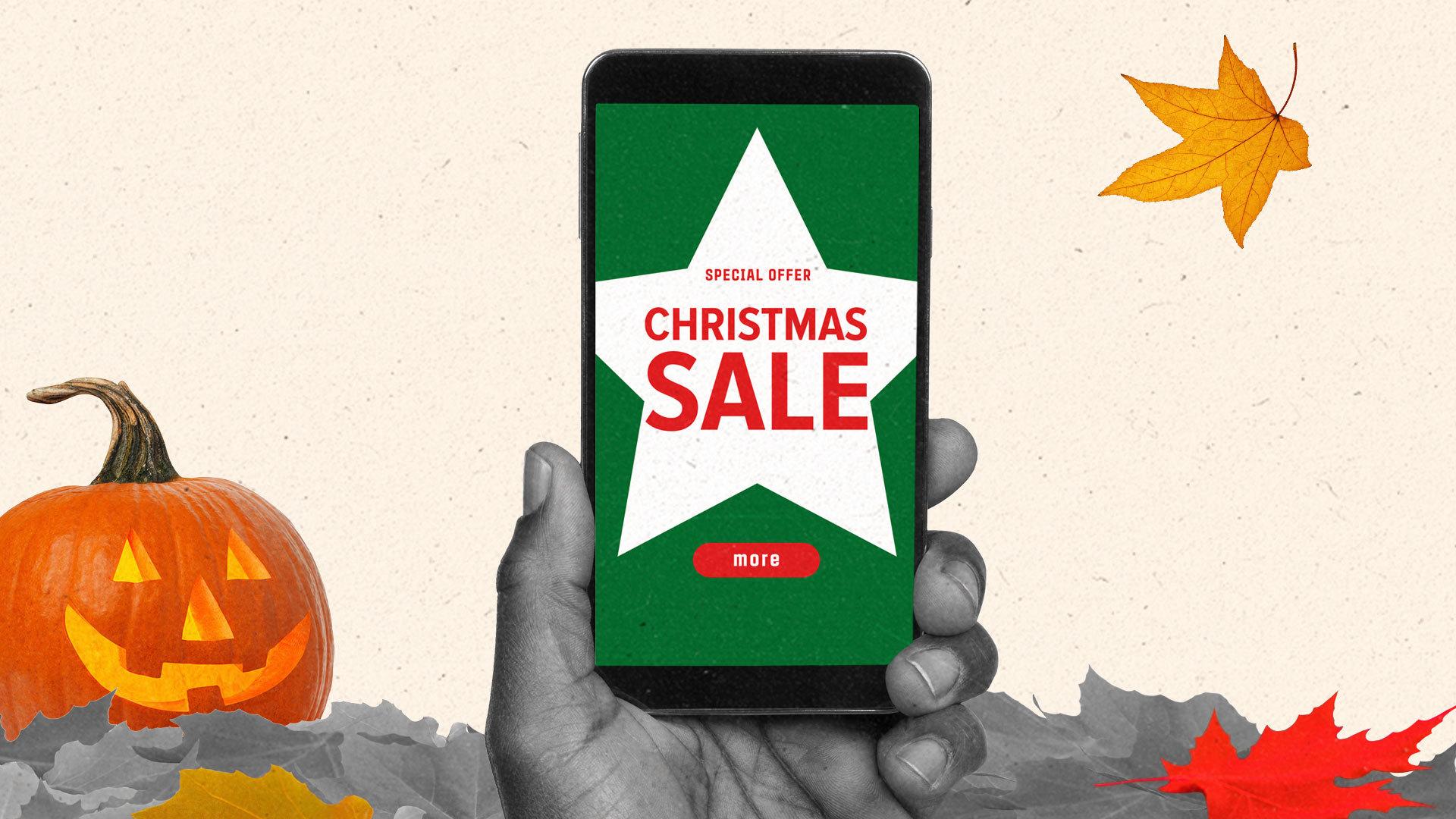 'Tis the season to be nimble.
This year retailers are planning their festive season playbook early, with heavy emphasis on being more strategic than ever. With consumption on an upswing, retailers and brands are looking to engage shoppers with more timely digital campaigns, driven by a need to be more responsive to consumer sentiment as well as potential disruptions to the supply chain.
Sixty percent of marketers say their digital holiday marketing budgets have increased from 2020 to 2021, according to a shopper marketing study conducted by The Trade Desk and Material+ Research. Meanwhile, only 23 percent of in-store marketing budgets have increased from last year.
This makes sense, says Katherine Cullen, the senior director of industry and consumer insights for the National Retail Federation. "Rather than just a single brand strategy for the whole season, we're seeing a lot more flexibility in terms of what's working and what's not," Cullen tells The Current. "Some consumers are worried about finding items that they need, so what we're seeing from retailers, in a really proactive sense, is an attempt to get ahead of this."

More than 36 percent of consumers say they plan to start this year's holiday shopping earlier than they typically do, according to a survey by the NRF. Retailers are responding to the more fluid shopping environment, which has been supercharged by the adoption of ecommerce in the last 18 months. On Monday, Amazon announced limited-time gift-worthy deals on its site. Other big-box retailers are also jumping in early: Target, for instance, announced a three-day shopping event in October to allow consumers "a head start checking off their holiday lists."
Industry analysts anticipate strong consumer spending for the upcoming holiday season, as pandemic restrictions ease in the U.S. and around the world, according to Deloitte's annual holiday retail forecast. Ecommerce will continue to play a central role with holiday sales expected to grow between 11 to 15 percent, compared to the 2020 season. (Ecommerce sales between November 2020 and January 2021 grew almost 35 percent totaling $189 billion).
And it's not just U.S. marketers who are prepping early for a surge in holiday spending. In India, MMA, GroupM and Amazon Advertising have teamed up to launch a festive season playbook ahead of Diwali — a widely-celebrated "festival of lights" — this year. It captures insights around consumer sentiment and marketer expectations, pointing out that "digital channels will be crucial" across the consumer journey, which has become more complex and non-linear.
Inevitably, savvy marketers want to communicate and engage with consumers across those digital channels. And it's not just the expected younger consumers who are doing their holiday shopping online. The pandemic proved that consumers of all ages were willing to adopt mobile and digital ways of shopping, whether that be a shoppable ad on Instagram or TikTok, or buy online and pick up in-store purchase, says the NRF's Cullen. "So, there's a lot more focus from retail marketers on expanding what they do to make sure they are meeting consumers on the channels that make sense for them," she adds.
Each week, The Current gives you a rundown of the biggest stories and latest trends from the world of data-driven marketing, including topics like Connected TV and the future of identity — all delivered directly to your inbox.