From 3D baseball strikezones for TV, to digital advertising UX – Meet Christine Anderson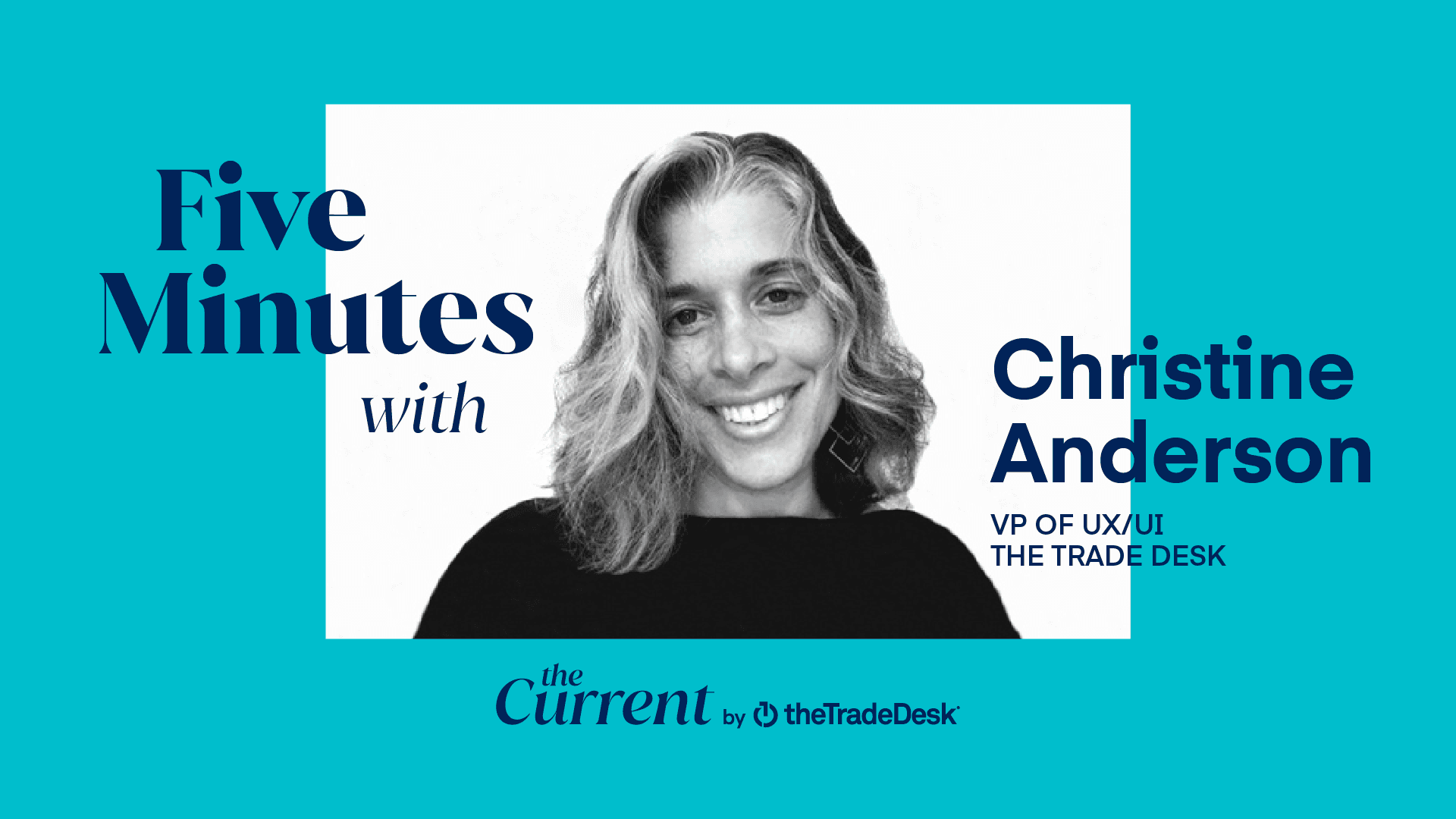 How a pioneering female sports tech innovator is reimagining the ad tech experience
Christine Anderson knows the power of beautiful visualizations.
Before she joined The Trade Desk, she deployed her expertise as a UX innovator creating advanced data visualizations and digital applications for live sporting events. As the head of creative and digital media at Sportvision (now Sports Media Technology) — the company best known for creating the yellow "First-and-Ten" line during live broadcasts of NFL games — Anderson found many ways to tell stories in sport using augmented reality and big data: a real-time calculation on the probability of a player making a kick; a 3D map over a baseball hitter's strike zone; virtual flags tracking Nascar drivers. The idea, Anderson tells The Current, was always "to help people see what they can't see that is most critical to understanding and enjoying the sport" — adding these more complex data storylines, keeping it simple and entertaining without distracting from the sport.
That concept was fundamental to the development of Solimar, The Trade Desk's revamped demand-side platform that launched on July 7. As The Trade Desk's VP of UX/UI, Anderson led a team of designers, researchers and writers to create a new interface for traders, designed to be "as simple as it is sophisticated," she says. "We leaned into our trademark sophistication that lets you dial into the specific details you need to make your campaigns successful while at the same time dramatically simplifying the UX. All of your actions — from the basic to the most sophisticated — are in one place, in our innovative new action toolbar."
As a product and creative executive with 20 years of experience leading UX for major brands, Anderson was able to draw on a wide range of cultures, devices and industries. She worked on the first version of Microsoft's Xbox gaming console, developing gesture-based responses. She also worked with Amazon helping develop personality expression for AIs like Alexa. For example, how should Alexa respond if someone says, "Alexa, I love you!" or "What's playing at the movies?" She learned that there are a finite number of questions a person is willing to ask to get the response they're looking for.
Anderson's work on Alexa informed an important concept of Solimar. "We had this real vision that Solimar would be a dialogue with the users. It asks you what you're trying to do (e.g., drive conversion, spending x budget) and it gives you its best ideas how to do it (e.g., run on these channels; consider these audiences)," she says. "It makes doing the right thing easy, putting the most common actions like onboarding data and channel diversification one or two clicks away, and making the potentially wrong action harder, four clicks away."
From a behavioral perspective, Anderson was keen to understand what traders wanted and that in turn helped tune the UI product design. She did a lot of listening and encouraged her team to do the same. "We interviewed a lot of traders to understand, what is it they're really discussing with each other when looking to make improvements? How do you know, for example, the problem with a campaign not spending is with your frequency setting?" she says. "What questions do we need to ask to help guide them in the right direction? Solimar's UI listens to what you want (such as your campaign's main objective) and presents just those options that make the most sense (such as KPIs that go best for conversion) , eliminating confusion and giving you a better chance to hit your goals."
When Anderson talks about Solimar she's keen to draw attention to the deep bench of expertise on her team, many who hail from the world's foremost media and tech companies, including Blizzard Entertainment, Samsung Worldwide, Apple, Amazon Innovations, Google, Verizon, Hulu, Axa, and others. "These guys know how to bring it," she adds.
With such a pedigree, it's no surprise that Solimar nods to design paradigms drawn from some familiar and engaging consumer products, blending them in novel new ways: toolbars similar to the Office suite that group and consolidate actions in one place; interactive visualizations like those that are found in the New York Times to focus attention on areas of interest; playful tools, toggles and health meters that nod to popular games and TV experiences. "These are things that make users feel good in a game, and it makes them feel just as good in a software product," says Anderson.
Anderson's career as an innovator is exemplary in another way, too. After two decades working in the world of technology (not to mention sports tech), traditionally a space dominated by men, Anderson is a role model for younger women. Early on, she admits, she just wanted to blend in. But as she became more senior in her career, she has embraced a leadership role around women's initiatives, organizing networking and community events. She also serves as a mentor for women and girls, participating in Girls Who Code and DigiGirlz and most recently fostering a pre-teen youth in her home. She's also a leader at the Trade Desk, serving as executive sponsor for its women's participation in the Grace Hopper conference and helping to plan for new apprenticeship and sponsorship programs aimed both at training young women in tech and promoting more senior women leaders from within. "I have two teenage daughters and I want them to see that women can do anything," she says. Still, she admits, there's much work to be done. Getting more girls to major in math and science would be a good start. Helping organizations recognize, nurture and promote the unique values women bring to the table is another.