Advertisers stand with Ukraine as 'the world that brands now occupy is a much more open and honest one'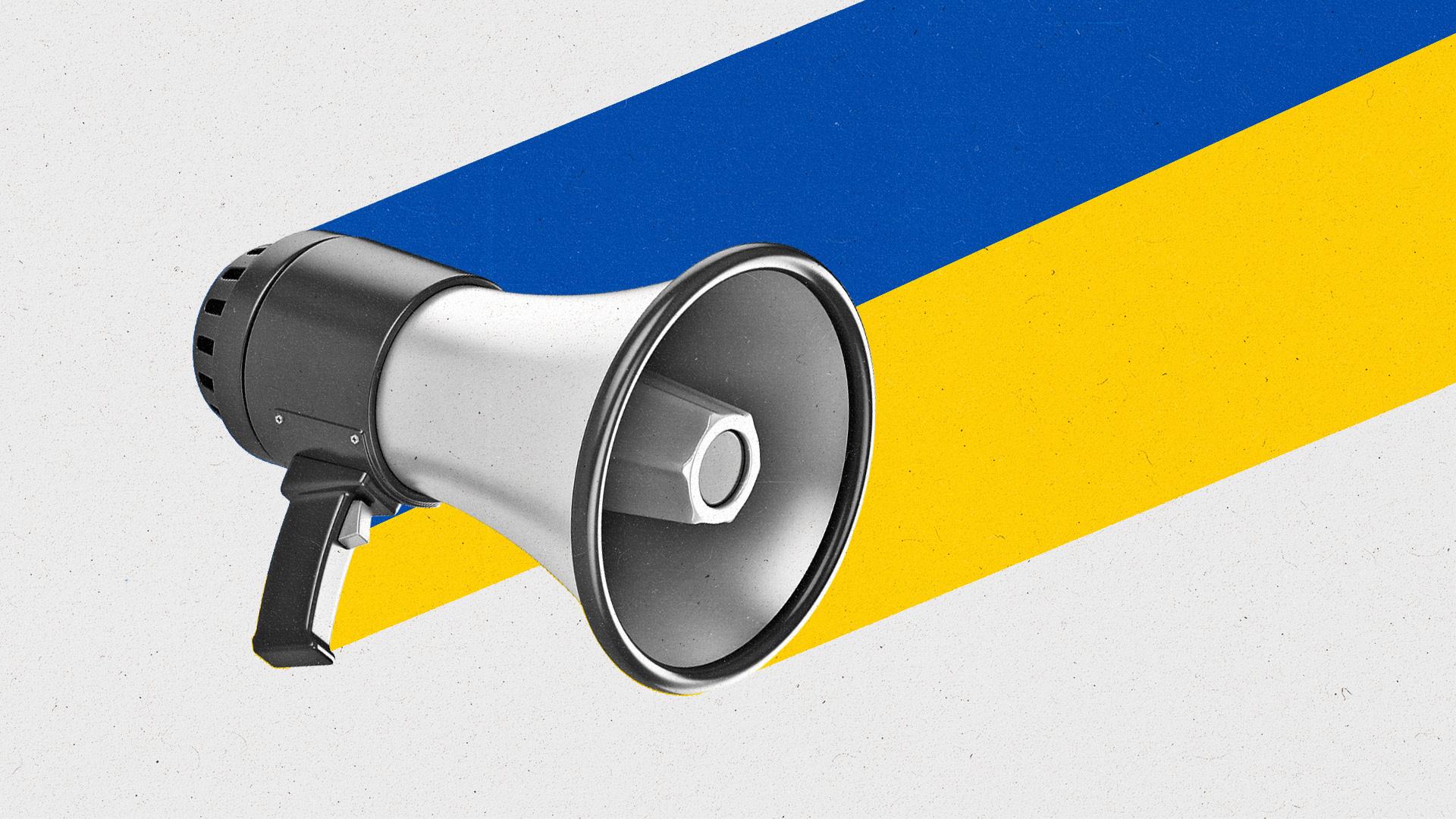 It didn't take brands and agencies long to publicly display their support for Ukraine following Russia's invasion against its neighboring country just two weeks ago. Some companies are either suspending or ending their operations in Russia, while some brands are changing the name of their products to distance themselves from the country.
The moves come as Western companies reevaluate their business ties in Russia. And their support isn't falling on deaf ears: Brands supporting Ukraine are widely favored by U.S. consumers, with 71 percent saying they "strongly agree" that companies should stop selling products or offering services in Russia, according to a recent Civic Science report that polled more than 3,500 people.
"The world that brands now occupy is a much more open and honest one than it was over 10 years ago," Danielle Wiley, founder and CEO at Sway Group, tells The Current. "For pretty much all of modern history, brands stayed out of the political fray. But it's a new world now. And there is an expectation now that brands should have a point of view, while showing support for important causes."
When brands should — or shouldn't — act
Wiley says brands should look to their organizational values to guide them when deciding how to align with what's happening in the world. She points to ice cream maker Ben & Jerry's as a strong example of how brands can clearly spell out their values to consumers, as well as why they advocate for any given issue.
"If a brand has a connection to Ukraine or to Russia, or if the conflict impacts an area that is aligned with a brand's mission and values, I think it is absolutely appropriate to speak up or otherwise take action," she says. "However, if there is no clear connection, speaking up can be a misfire that highlights those times when a brand chose to remain silent."
In one example, Wiley says a brand that did not speak up about social justice issues such as Black Live Matter, but was very vocal about the conflict in Ukraine, then "consumers may make an assumption that the brand doesn't support BLM," she says. "Their silence would be a statement in and of itself."
Brands should speak up if there's a connection to the issue, adds Wiley, but should think twice if no connections exist. "If there is no connection, they are obviously free to speak up, but should do so with the knowledge that it could shed a negative light on all of the times they remained silent," she says.
How companies are responding
P&G, the world's largest advertiser, said Tuesday that it is discontinuing "all new capital investments in Russia" while also "suspending all media, advertising, and promotional activity." Additionally, the company is "significantly" reducing its product portfolio in Russia, adding that it will continue to provide basic health, hygiene and personal care items needed "by the many Russian families who depend on them in their daily lives." 
The world's largest restaurant chain, McDonald's, said late Tuesday that it's pausing operations throughout Russia. The country is responsible for about nine percent of McDonalds' global revenue. The Golden Arches will continue to pay its Russian employees, but says "it's impossible to predict when we might be able to reopen our restaurants in Russia." Starbucks followed suit shortly after McDonald's announcement, stating it would suspend operations in the country.
Some brands have been forced to rethink names for their products, while others are clarifying where their products are made. Diageo-owned Smirnoff, for example, recently tweeted that its vodka is "Proudly made in America." Others, like Stolichnaya — which is made in Latvia — has rebranded its vodka as "Stoli" in an effort "to punctuate its separation from Russia." 
In the fashion world, brands ranging from Adidas to Valentino are making donations or halting operations in Russia. Puma, for instance, has kept its stores open but said it is stopping deliveries to Russia. It is also offering housing and financial assistance to its nearly 400 employees based in Ukraine. Nike has taken similar measures, as the shoemaker said online and app purchases will be unavailable in Russia. 
Holding companies have also stepped up and Publicis Groupe was among the first to respond. The company's charismatic CEO, Arthur Sadoun, said that all the holding company's 350 Ukraine-based employees would have their salaries guaranteed for the rest of 2022. The company is also aiding with housing or medical needs. WPP said it will cease operating in Russia, where it employs roughly 1,400 people. "We deeply regret the impact of this decision on our Russian colleagues. We will provide support to them and work closely with our clients and partners as we discontinue our activities in the country," the company said in a statement. Accenture made a similar move with its Russian offices, adding that it would also donate $5 million toward relief efforts in Ukraine. 
On the tech front, companies such as Microsoft, Netflix, Apple, Google, and Meta have partially or completely ceased products or services in the country. Others, like Airbnb, are offering housing assistance to Ukrainian refugees. Users are also booking stays in Ukraine with no intention of staying (Airbnb said it's waiving all fees). 
Events have also taken centerstage. SXSW, which began taking place earlier this week, is donating money toward Ukraine relief efforts. Meanwhile, organizers of the Cannes International Festival of Creativity — the Oscars of the advertising world — said it will not accept submissions or delegations from Russian organizations. "Despite our desire to celebrate creativity from wherever it comes, we have made the decision not to accept submissions or delegations from Russian organizations into Cannes Lions or its associated awards programs," organizers said in a blog post.
Each week, The Current gives you a rundown of the biggest stories and latest trends from the world of data-driven marketing, including topics like Connected TV and the future of identity — all delivered directly to your inbox.