2022 Predictions: What industry experts expect in the new year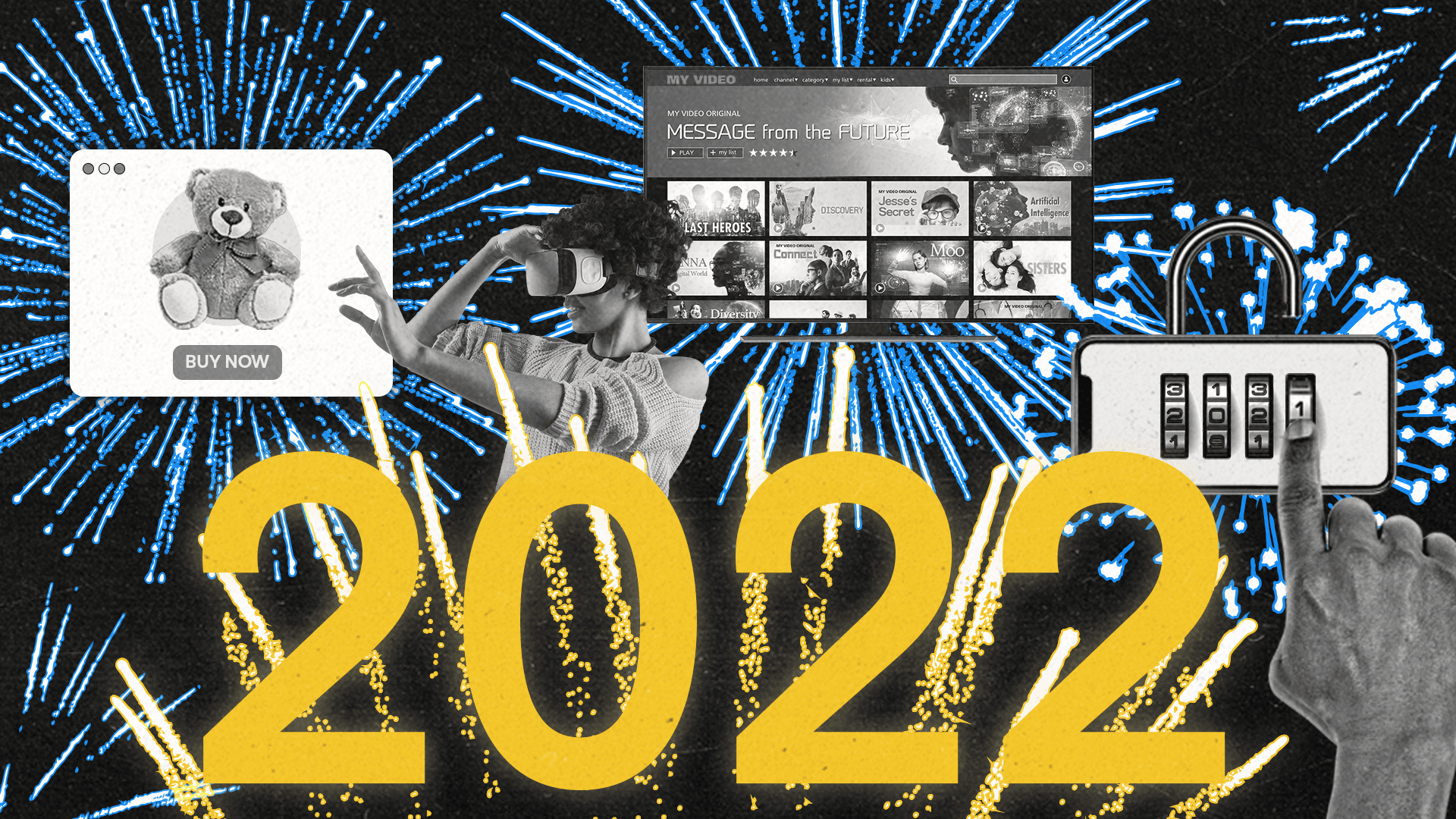 Thankfully, it's finally time to move on from 2021. For marketers and advertisers, the past year was tumultuous, to say the least. The second year of an ongoing pandemic brought with it supply chain issues, further social unrest and the "great resignation," all as brands, agencies and publishers continue to grapple with the eventual loss of cookies.
For many, 2022 is already looking much brighter. We asked industry experts to weigh in on what they predict the new year will bring across some of the most pressing topics the industry is facing — developing a new identity solution, the rise of retail media, the growth of CTV, and emerging trends and technologies that will shape consumer purchasing behavior.
On identity:
Phil Duffield, Vice President, The Trade Desk U.K.
"A lot of the conversation around identity in 2021 focused on cookies. The bottom line is that cookies are an archaic technology that were never intended to do the work they do today. It's now time to move the conversation on. 2022 is the year we need to come together as an industry and get identity right, once and for all, if we are to protect the future of the open internet. For marketers, the ability to accurately measure across different channels has never been more important."
John Nardone, President, Mediaocean
"2022 will see mass adoption for creative automation and personalization tools inside walled gardens and across open web and CTV environments. Too many brands rely on native tools made available by each publisher and platform when they could be harnessing independent technology that deploys across channels while optimizing to marketer goals instead of media yield. 2022 is the year brands and their agency partners take back control."
Lauren Adams, VP, Implementation, Division-D
"2022 will prove the defining year for ad tech companies — those who prioritize privacy safe solutions now will be poised for success, while those who don't could fall too far behind to catch up. As a growing number of advertisers test cookie-less strategies in 2022, they'll look to premium OTT supply as a proxy for quality inventory. Publishers with distinct audiences and simple-to-execute deal ID and PG (programmatic guaranteed) offerings stand to benefit and grow."
Ben Hovaness, SVP, Marketplace Intelligence, Omnicom Media Group North America
"In 2022, continuing changes to the identity space aren't merely a possibility — they are a certainty. We are expecting that Chrome will start broadcasting FLoCs for the first time since the origin trial ended, meaning that advertisers will be able to run in-market tests to see how well buying systems adapt to the identity change. We also anticipate that UID 2.0 adoption with gain momentum as publishers feel a sense of increased urgency as they get closer to the end of cookies."
On retail media:
Paulo Claussen, Sr. Director Loyalty, Michaels
"Loyalty will continue to be a critical strategic imperative to support business growth as it enables first-party data activation, provides value to customers throughout their lifecycle, helps with channel integration, and it is the force behind personalization to ultimately create brand love and advocacy."
Anjali Iyer, Director Insights, Strategy and Analytics, Marriott International
"COVID has accelerated adoption of digital technology and enhancements in technology across several industries. It has resulted in notable changes in consumer preferences and elevated their expectations on receiving relevant and customized experiences. Simply put, they expect that brands know what they want based on their preferences and data collection. These consumers will naturally gravitate towards brands that recognize their need and deliver experiences seamlessly."
Mike Feldman, VP, Head of Commerce and Retail Media, Dentsu:
"With the continued capability explosion and rise of emerging retail media networks, we expect retail media to continue the trend of the last few years and maintain more than 25 percent year-over-year growth. We see this taking the form of new entrants to the retail media landscape, new capabilities including more Retail DSP and PMP self-service opportunities, and more spend within some of the existing top players based on improved performance as well as additional brand dollars being spent through the platforms."
Adam Muscott, Senior Vice President, BAM Strategy
"The relationship between brands and retailers has dramatically changed. Retailers have shifted from being (simply) the place where products are purchased to also being a media partner. This means satisfying the needs of different players within both the marketing and retail organizations. Media budgets are being shifted to retail outlets to meet the requirements that are being placed in front of shopper marketing and buyer teams. Brands now have to show that they are investing in promoting themselves on or to retail platforms using advertising dollars. Furthermore, as brands continue to go direct to consumer, how do they delicately balance out the need to promote their store all the while not destroying relationships with the retailers?"
On CTV:
Tejinder Gill, General Manager, The Trade Desk India
"Today, Connected TV is like a trojan horse that is quietly but surely taking brands, agencies, publishers, and consumers from a digital-also mindset to a digital-first one. In 2022 and beyond, we can expect the shift from linear television to CTV to be far more significant than the digital transformation of any other content channels. As television has traditionally accounted for a huge percentage of the advertising spend, this transformation is one to watch in the new age of digital media. With CTV, brands can leverage the reach and the power of the open internet to reach younger consumers and cord cutters and link their CTV investment to business outcomes."
Karen Benson, EVP, Director of Integrated Media, Deutsch NY
"CTV currently presents such a rich opportunity in terms of marrying both the rich sight, sound, and motion experience of linear TV combined with the enhanced targeting capabilities we've come to rely on digitally. And with the impending demise of the cookie, CTV presents an even greater opportunity as we expect contextual targeting to make a comeback – with the increasing scale in CTV we can also leverage the channel to lean into the content consumers are hungry for."
Ashley Gordon, Group Media Director, Dagger
"The definition of TV has evolved. Consumers may not identify with CTV or linear platforms specifically, but they do identify with their favorite content and line up their subscriptions to match. They are flocking to buzz-worthy programming from the likes of Netflix, HBO Max, and Hulu, creating subcultures that drive social conversation and push them into the mainstream. Brands and advertisers are following suit to reach those consumers across CTV utilizing robust targeting and leveraging cost efficiencies (when compared to linear TV). Our prediction is that the exponential growth in CTV consumption that we saw during the pandemic will continue trending positively well into 2022 and beyond."
On emerging trends:
Andy Littlewood, Chief Knowledge Officer, Droga5 New York
"Take one look at the last round of earnings calls from major media and tech companies and you can see the rising tide of the metaverse. Still an embryonic idea, 2022 will see the development of the platforms (VR/AR) that will drive the metaverse. Expect to see more brands experiment across these new technology-driven canvases."
Sinan Dagli, Executive Creative Director, BSSP
"I believe we will see more branded entertainment in the form of long-form content and, with the emergence of VR and Metaverse, immersive storytelling in VR and 360 experiences. Finally, with the additional agility gained working remotely during COVID, we will see creative work responding to the culture at lightning speed."
John Terrana, EVP of Media, VaynerMedia
"I think 2022 is going to be the year that brands get serious about building community. And communities can take many forms—launching a Discord, leaning in further to Facebook groups, an SMS or text platform, an NFT project, or even building in the metaverse. Building community is an incredibly valuable opportunity for brands to own and form deeper relationships with customers and over the course of the next 12 months, you're going to start to hear metrics like 'return on community.' This is going to be a big push, that means brands have to act and engage differently and build valuable experiences that keep customers engaged. But the returns—both short and long term—can be massive."
Toni Wallace, Co-Head of Global Music Brand Partnerships, UTA
"A major area of growth we will see in 2022 is the rise of co-owned brands with big advertisers and musicians. Historically big brands would often not invest in these companies until they were proven. Artists in many cases had to incubate these on their own, work through third parties, or relaunch challenger brands that big brands then purchased once they reached a certain threshold in the marketplace. Now, the opportunity cost is becoming much too high for big brands not to be a part of this from the beginning. Musicians also want to have more long-term equity in the brand partnerships they are participating in."
Each week, The Current gives you a rundown of the biggest stories and latest trends from the world of data-driven marketing, including topics like Connected TV and the future of identity — all delivered directly to your inbox.