Why virtual catwalks and NFTs are all the rage as NYFW returns in person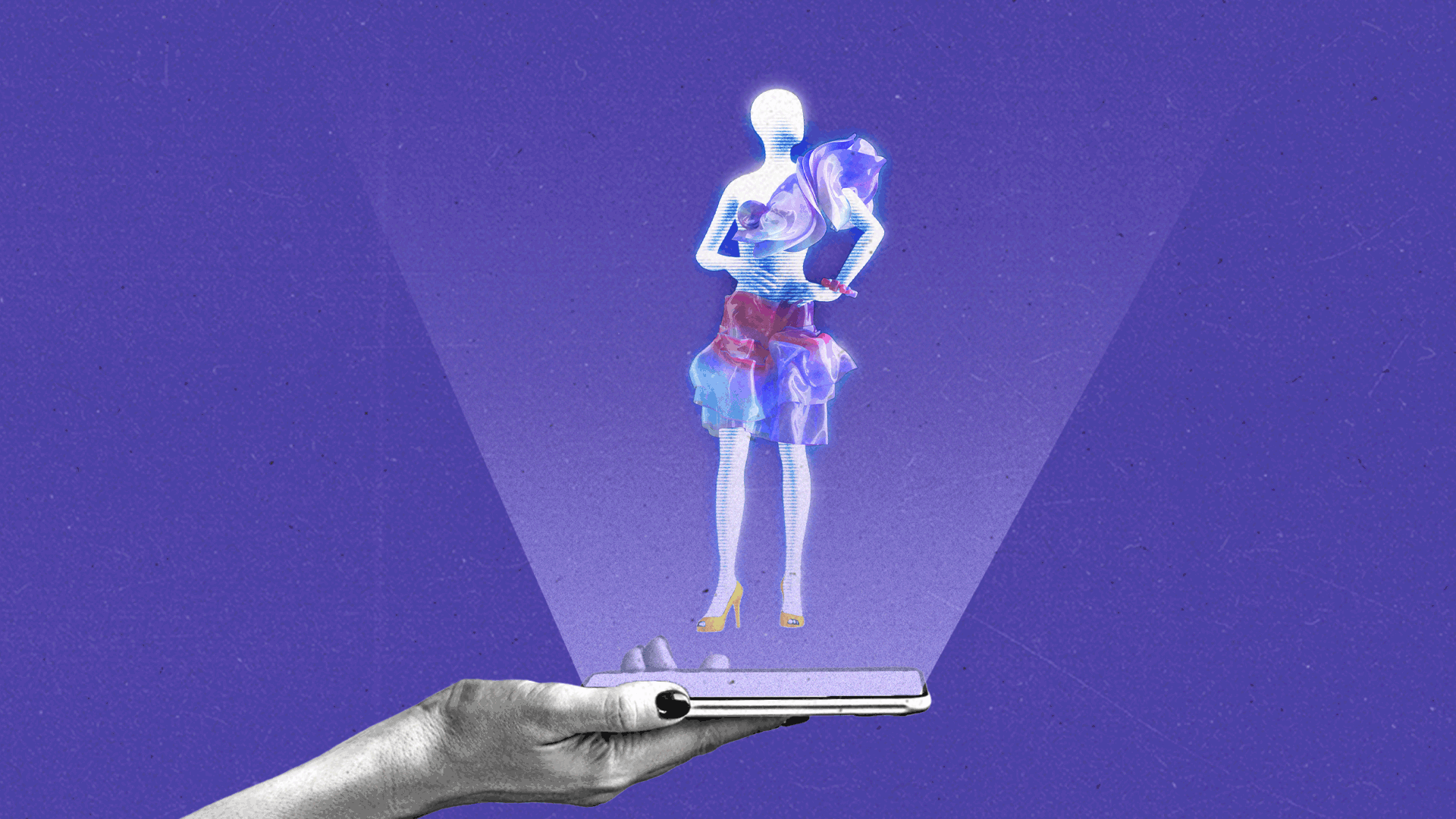 As rain drizzled down on Tommy Hilfiger's New York Fashion Week (NYFW) show this week, the colorful, preppy models walking the runway to the beat of Travis Barker's drums were mirrored by their dry avatar twins in the metaverse game Roblox, projected above them on large screens at Brooklyn's Skyline Drive-In. Players livestreaming the "See Now, Buy Now" show on Roblox could also purchase any clothing items immediately in their digitalized versions.
The innovative runway was a perfect representation of the merging of digital and physical worlds in the fashion industry as brands seek to enhance their e-commerce capabilities, keep their physical stores alive, and reach new, younger audiences. Virtual experiences were seemingly everywhere for NYFW's return to an in-person event after two years of pandemic-fueled virtual shows. Fashion brands — from Puma to Alo Yoga — made headlines by launching metaverse-based non-fungible tokens (NFTs) and Web3 digital showrooms for fans. NYFW's official sponsor, Australian financial technology company Afterpay, also partnered with five designers to launch NFT keys that consumers can use to unlock exclusive products and experiences.
"Commerce is evolving — whether it's driving people to a dot-com, whether it's driving people to an app, whether it's adding new payment types," said Natalie McGrath, VP of marketing at Afterpay, on a panel called "Navigating the New Phygital Age of Fashion and Art" during NYFW. "The evolution of commerce is happening, and the consumer wants that. I think we will continue to see innovation. This is just the beginning of a three- to ten-year journey into this new world."
Indeed, as much as NFTs and metaverse experiences are forms of experimental digital marketing, fashion brands are also looking at such innovations to grow their e-commerce revenue streams and keep young consumers captivated as their purchase power grows.
On the panel, Michelle J. Reeves, co-founder and CEO at fashion NFT marketplace MAVION, describes MAVION's work on an upcoming October launch for new Rebecca Minkoff NFTs as an omnichannel marketing approach that will not only make the brand money, but the consumer investing in the exclusive NFTs will benefit as well. Fans who purchase an NFT of a Rebecca Minkoff bag will help design that bag, receive the actual physical item, and then continue to receive invitations to future Rebecca Minkoff shows, previews, and special perks like gift cards. Meanwhile, the worth of that NFT could continue to go up, keeping them invested in the brand in multiple ways, said Reeves.
"You are now part-owner of the brand. You are now part of that inner sanctuary of the Minkoff fashion world," said Reeves. "Never mind that that bag is a digital collectible driving revenue as it's sold in the metaverse. It's about putting fashion to work for you, and to work with brands that align on this vision of wanting to reward consumers with utilities that they care about."

Tommy Hilfiger, Rebecca Minkoff, and other brands making waves with NFTs continue to lean into selling NFTs that represent real products that consumers can use in real life and in the digital realm, rather than purely digital wearables, says Justin Banon, co-founder of decentralized network Boson Protocol, which previously worked with Tommy Hilfiger to sell its physical products through NFTs for Decentraland's first Metaverse Fashion Week last March. Fashion brands are also looking into working with companies like Boson Protocol to see royalties on secondary sales of NFTs once they are sold after the initial purchase.
"This pairing of digital and physical is revolutionary and has the potential to change commerce as we know it today," Banon tells The Current. "Brands are increasingly creating not only omnichannel but omniverse strategies — and all of these channels are becoming part of a wider integrated, coherent strategy for brands to adopt."
Another benefit to selling digital items like NFTs is the opportunity for marketers to gather first-party data. "The critical action that companies are hyperfocused on now more than ever is prioritizing owned data collection," Sarah Engel, president of agency January Digital, which works with brands like Cariuma and David's Bridal, tells The Current. "Through NFT communities and metaverse experiences, marketers immediately gain access to additional customer data while driving further engagement and loyalty with current and new customers."