What is Singles' Day and why are savvy marketers paying attention?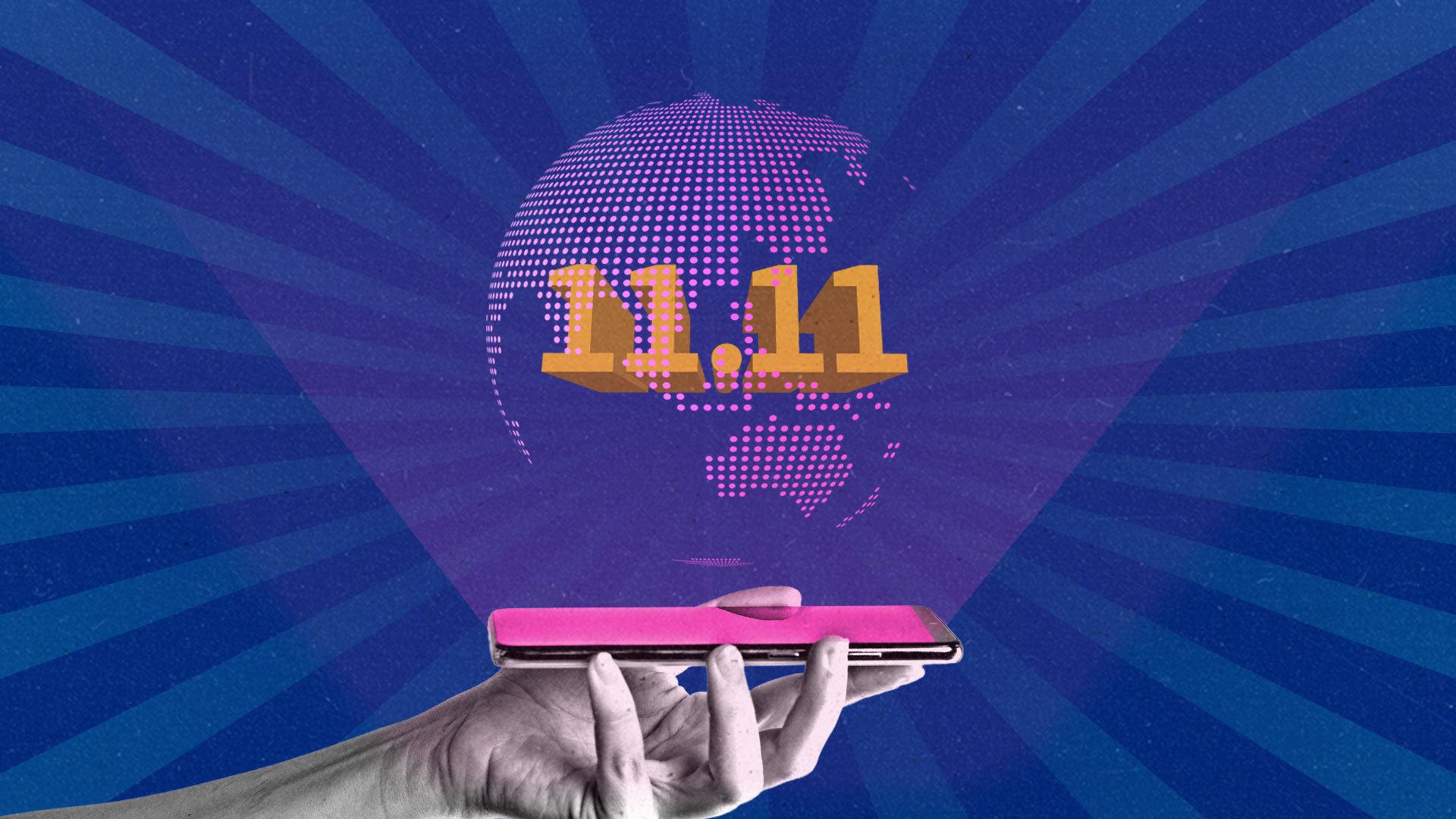 The holiday provides marketers with massive scale to unlock new customers
Move over Black Friday, Singles' Day is here. Also known as Double 11 or Bachelors' Day, it has become the largest single shopping event in the world, about 2.5 times larger than U.S. counterparts Black Friday and Cyber Monday combined. Falling on November 11 every year, the holiday — celebrated by unmarried people in China, who treat themselves to presents — originated on college campuses and has since grown into a popular livestream ecommerce festival. It's a cultural movement that's catching on in other countries, too.
For global marketers, this emerging global phenomenon marks a chance to get their brands in front of new audiences, thanks to the sheer scale and reach of the event. On top of that, livestream shopping offers brands the ability to garner more key insights into what ultimately propels shoppers to purchase from their online carts.
"This annual event has now gained a multibillion shopping status, tempting brands from across the world to make the most of this day," says Balaji Santhanam, associate partner, consumer goods, retail and logistics and Infosys Consulting, which advises major brands in the Americas, Asia Pacific and Europe.
While experts predict the holiday will continue to grow in prominence in the Americas and Europe, Singles' Day is already operating on a massive scale for brands in Asia, especially in China and Southeast Asia, where it has grown into multiple day events on 9.9, 10.10 and 12.12. Last year, as the world largely remained on Covid lockdowns, Alibaba and fellow ecommerce giant JD.com both set new records of $115 billion in sales during their Singles' Day shopping events, with 583,000 orders per second placed. More than 800 million consumers took part, of which 200 million were Gen Zers.
Entertainment shopping
For shoppers celebrating being single, the ecommerce day has become synonymous with finding good deals online and discovering new brands and products across technology, fashion, household and even auto. Beyond shopping, audiences turn to it as simply another form of entertainment, says Jason Goldberg, chief commerce strategy officer at holding company Publicis.
"[Viewers] may buy stuff they didn't even want or need, in exchange for the [entertainment] value they get," Goldberg tells The Current.
That entertainment value turns even more cautious shoppers into impulse buyers. The Trade Desk's 2021 Indonesia Online Shopping Festivals Trends Report revealed insights into online shoppers in Indonesia—where 82 percent of consumers shop online at least once a month. The study found that out of 2,181 adults surveyed, 64 percent identified as "planners" who thought through their purchases ahead of time and still, nearly two in three said they spent more during online shopping festivals.
Why marketers should care
The massive scale of the holiday presents opportunities for brands to reach new and diverse audiences with the potential to gather more shopper insights. According to The Trade Desk's 2021 Indonesia Online Shopping Festivals Trends Report, 56 percent of consumers are interested in learning about new brands during major ecommerce sales events.
"Online shopping festivals present both a challenge and an opportunity for marketers. With one in two consumers interested in learning about new brands during this time, modern marketers should look beyond last-mile marketing and focus on driving brand fundamentals to retain existing customers who may not be brand loyal," says Florencia Eka, country manager of The Trade Desk in Indonesia. "At the same time, marketers who are consistently investing in brand awareness efforts may win new customers from competitors."
Santhanam says that brands looking to make an impact during Singles' Day should increase their digital marketing spend, drive customer loyalty through market segmentation and personalization and introduce livestreaming experiences. Online shoppers can also be reached on CTV. Forty-eight percent of frequent online shoppers in Indonesia said they learn about deals and promotions from CTV ads.
Brands want in
Gradually, the holiday is becoming a worldwide celebration. Every year, more western brands like Macy's, Mercedes and others participate or launch their own shopping holidays, looking to replicate the success in the Asian market. Of the 250,000 brands that partook in Alibaba's 2020 Singles' Day event, 31,000 were from overseas, Alibaba President Michael Evans told CNBC. "A China strategy and a digital strategy is going to be critical in the post-pandemic world," Evans said.
Inspired, brands are also experimenting with their own live shopping events, not only to drive sales but to gain first-party consumer data, says Goldberg. Brands like Amazon, Walmart and Nordstrom have experimented with hosting their own livestreaming shopping events on their websites or in partnership with social platforms like TikTok.
The event also continues to align with the expanding holiday season. This year, with U.S. retailers facing bottleneck supply chains thanks to the pandemic, many retailers have started their holiday marketing early with data and digital marketing playing larger roles in their strategies. Target, Amazon and Apple, for example, introduced October shopping events not outwardly promoted as Singles' Day events, but are taking advantage of the same time period.
"With the current supply chain disruption and delays with bringing back supply into the west, this is a massive opportunity for U.S. brands to get in the game and experiment," says Santhanam. "Most brands are trying to get one step ahead and start the holiday season earlier."