The IAB Playfronts has arrived. Here's why marketers should level up their gaming strategy.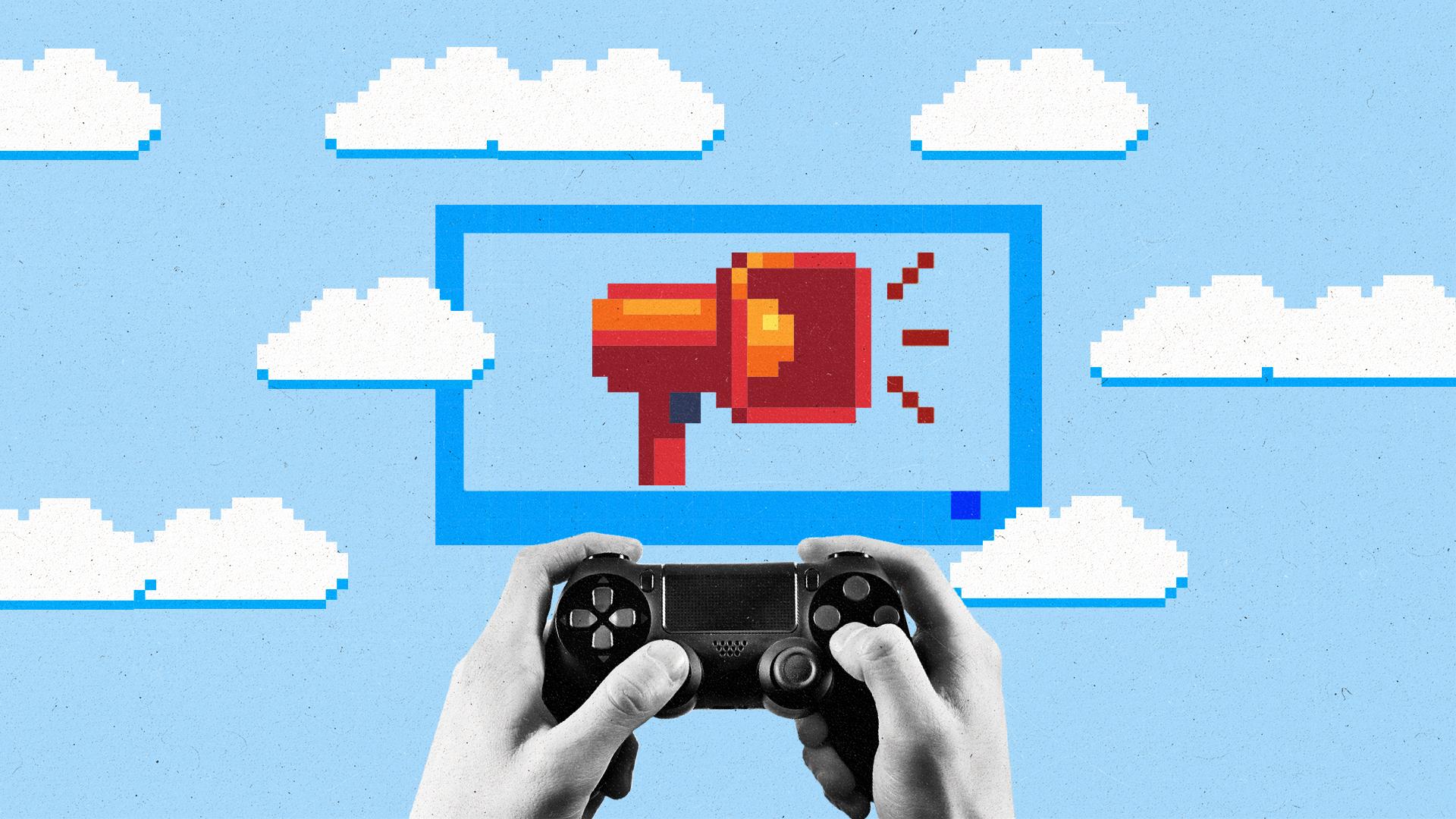 Over 3 billion gamers are expected to spend a staggering $220 billion on games in the next two years.
The Interactive Advertising Bureau wants advertisers to level up their marketing game. The IAB Playfronts, set to kick off on April 5 in New York City, is a brand-new event catering to brands and agencies looking to reach the surging, but often misunderstood and undervalued, gamer audience.
The in-person event will resemble the IAB's more familiar annual dog-and-pony shows where ad buyers mingle with presenters and are cajoled with presentations, on-site activations, and networking opportunities. The full-day event will feature some of the industry's largest players, such as game developers Activision Blizzard, Riot Games, and Niantic; platforms Twitch and Meta; and ad tech companies Anzu and Frameplay.
"It's a great signal to the industry that it is a marketplace that warrants its own space," Zoe Soon, the IAB's experience center VP and host of the Playfronts, tells The Current. "Gaming is becoming more than just this isolated thing that people do on a console, it's permeating everyday life. It's becoming a language and part of social life. If you don't have any gaming strategy, you are going to have an incomplete brand presence with consumers."
3 billion strong
Gaming may be overlooked by some brands or advertisers, but a quick glance at some figures will likely make them think twice. The global gaming sector comprises over 3 billion gamers, a group expected to spend up to $220 billion on games by 2024, according to gaming analytics platform Newzoo's latest research, "Global Games Market Report." Consumers' appetite for gaming is greater than their desire for other entertainment like TV and movies. In the U.S. alone, consumers spent $60 billion on video games in 2021—twice as much as the $29 billion they spent on streaming movies and TV.
"Over the course of the last several years, there has been a steady shift from television viewership to gaming that is scalable, significant, and here to stay," says Cary Tilds, chief strategy and operations officer at gaming ad tech company Frameplay, a presenter at the Playfronts that works with brands like Progressive, Microsoft, and Disney+.
Gamers are a diverse audience—the stale stereotype of a gamer being a 17-year-old boy playing in his mother's basement is simply wrong, says Tilds. In the U.S., for instance, women account for 45 percent of gamers and the average age of a gamer is 31, according to Entertainment Software Association's Essential Facts.

There's also a large Gen Z (between nine and 24 years old) audience for the category, something Soon, the IAB exec, believes marketers should pay special attention to. According to a 2021 Newzoo report, 81 percent of Gen Zers play games, spending an average of 7 hours and 20 minutes on the activity per week, the highest out of any age category. "[Gen Zers] are going to grow up and become the decision makers and the household spenders," she says. "And if you're not in gaming, I don't how you reach that audience at scale."
Advertisers have gradually increased their ad spending in the sector. In 2021, video game advertising totaled $421 million, up 17 percent year-over-year, according to Media Radar. As it turns out, two-thirds of gamers would welcome more advertising in their games, with seven in 10 gamers feeling positive or neutral towards in-game advertising, per a recent Anzu report of the U.K. market.
Battling misconceptions
"There are several misconceptions around advertising in the gaming space, and many of these stem from the old ways and bad practices that traditionally ruled the roost when it came to advertising in games," says Yaniv Rozencweig, VP of programmatic at Anzu, which works with brands like Vodafone, 7-Eleven, and PepsiCo., to integrate advertising into popular games and gaming platforms like Roblox and serve programmatic ads across mobile, PC, and console.
One major misconception is that ads within games are disruptive. Today, rather than web banner or mobile banner ads, companies like Anzu and Frameplay work with brands or game developers to place and purchase intrinsic, realistic game ads or custom experiences—ads that are not disruptive to the game experience. Imagine playing a game and seeing an ad on a roadside billboard, sports stadium, or the side of a building, just like they would appear in real life. In Saber Interactive's Dakar Desert Rally game, for example, brands worked with Anzu to sponsor races or place their logos and colors on vehicles, garages, and racers' outfits.
"Intrinsic advertising spaces inside games provide a premium space for brands to connect to gamers without disrupting their experience," says Tilds. "Gamers are fun. Brands should tailor creatives to the gaming audience to create a 'that's cool' connection."
Another reason advertisers have taken pause in the past is around measurement. It's something that has come a long way, with marketers now able to measure viewability, impressions, and brand impact. The IAB is developing new in-game advertising standards to replace its current guidelines, and many ad tech companies in the gaming space now use a variety of measurement partners such as Oracle Moat, Innovid, and SambaTV.
There is also a push to properly measure 3D gaming environments, especially when it comes to viewability. It's another layer when a person is moving around within a game and their viewpoints change often and dramatically. Anzu uses a ray-casting algorithm where rays go across the game's screens to recognize all branded content at any given time, for example, and Frameplay uses different calculations to determine skew, lighting, ratio, and obstruction.
The future in the cloud
A major topic for Playfronts presenters, and the gaming sector overall, is cloud-based gaming. With 90 percent of the world's 3 billion gamers playing on a mobile device—compared to 1.4 billion on PCs and 0.9 billion on consoles—as well as the swelling interest in VR and metaverse environments, gaming experts point to the future of gaming as taking place in the cloud, where gamers would pay a subscription to stream games just as they would stream TV shows and movies on Netflix or Hulu. Major players in the space include Microsoft, Sony, Shadow, and Nividia, and already it's predicted that cloud gaming could represent up to half of all 5G data by 2022.
With more platforms moving into the cloud and offering games through a subscription (see Netflix's foray into gaming) or the potential for adding free, ad-supported options, there will be more opportunities to reach audience segments who have historically been unreachable by marketers, Natrian Maxwell, general manager of emerging markets at The Trade Desk tells The Current. "Cloud based gaming removes the largest obstacle preventing a massive global adoption of the channel—initial cost to participate," he says.
What's more, cloud-based gaming can further provide marketers with ways to better scale and measure their advertising, which Maxwell describes as a "game changer." "Combing global scale with individual logins, cloud-based gaming brings the big screen experience of CTV with the measurability of display."

Each week, The Current gives you a rundown of the biggest stories and latest trends from the world of data-driven marketing, including topics like Connected TV and the future of identity — all delivered directly to your inbox.