Pinning its future on innovation — How Albertsons is rethinking retail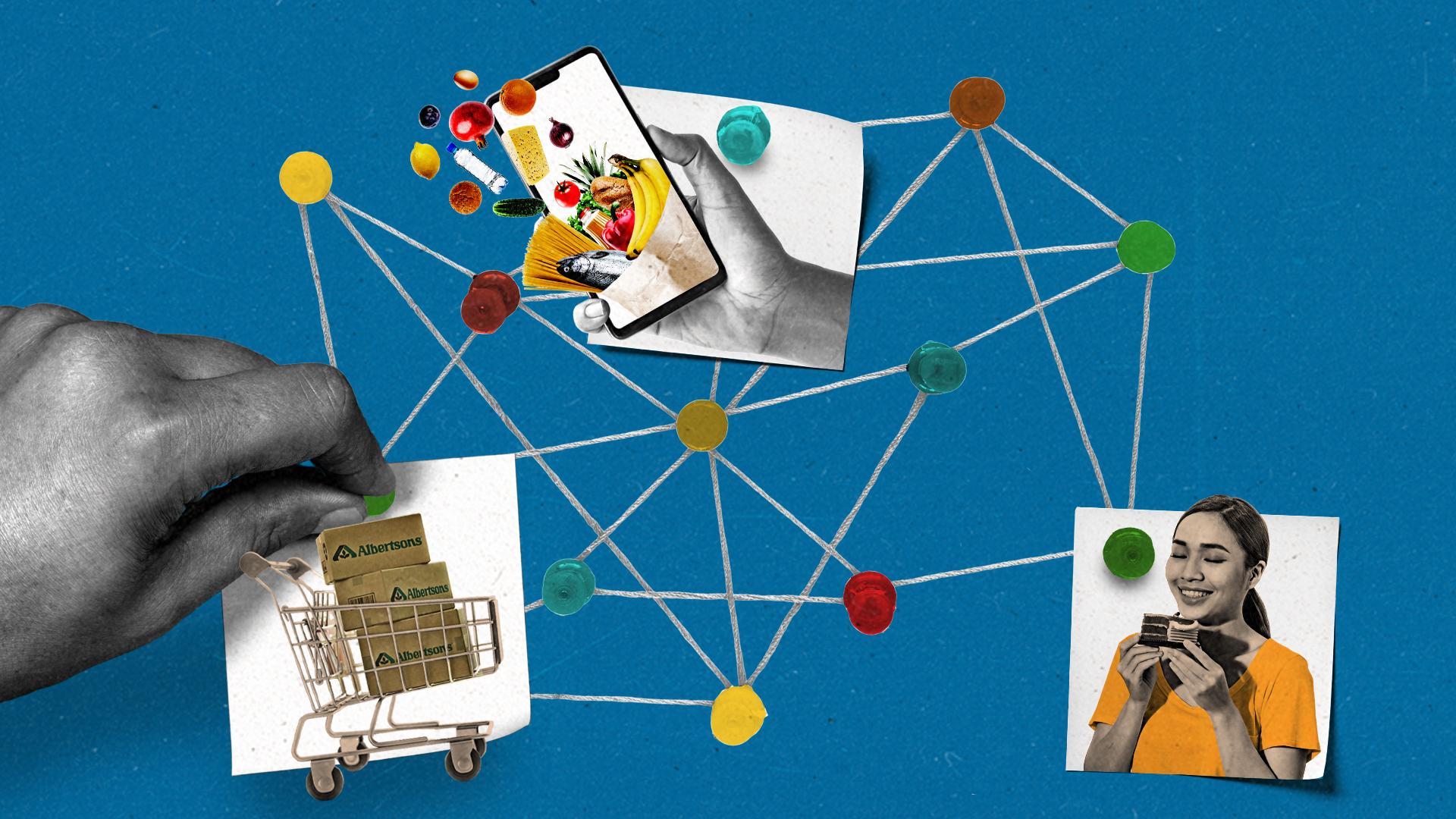 The grocery giant is incorporating shoppable videos, recipes and creator content into its ecommerce strategy
Grocery giant Albertsons Companies, which operates 2,270 U.S. stores (including Safeway and Jewel-Osco), is embracing innovative new digital activations as it aims to bridge the divide between ecommerce and physical shopping.
This week, Albertsons announced a new partnership with startup Firework that will allow the brand to create shoppable TikTok-like short-form and livestream videos on its websites and apps. In addition, it announced a new multi-year partnership with Pinterest around food discovery and meal prep with shoppable recipes, as well as tapping its own employees to get creative on the platform.
Albertsons is pursuing a new multi-faceted digital strategy, following its ecommerce subscription service that launched in August. Its embrace of digital is indicative of the ever-evolving world of retail, which continues to push toward data-driven campaigns to better understand the end consumer and streamline the transition to ecommerce. Retailers like Walmart, Target and CVS are continuing to embrace ecommerce, even becoming their own advertising and media entities, a shift that has accelerated due to the pandemic keeping people at home and on their devices. This Fall, Walmart will launch its own demand-side platform that will allow brands to leverage their own first-party data against the retail giant's own trove of shopper data.
"Albertsons Companies wants to create experiences for shoppers regardless of whether they shop online or in-store," says Jon Fahrner, senior director of marketing innovation at Albertsons Companies. "Collecting data from partnerships like this helps us build food experiences relevant to every individual."
"Now customers are starting in one place and ending in another place," Usman Huayun, vice president of digital marketing at Albertsons told TechCrunch this week. "There is also an increased value of having a good digital experience that closely mirrors what people experience in the store, where there is selection, fulfillment—you can buy it right then — and you can ask an associate for advice."
The Firework shoppable videos allow Albertsons to tell a story about its products — such as how to pick the best fruit or the best method for grocery storage — at the same time as use them as a marketing vehicle and a window into consumer behavior. The partnership with Pinterest, meanwhile, aims to help consumers discover food items available at Albertsons and increase interaction with the brand.
Through a new meal planning API, shoppers will be able to connect their Pinterest account to the Albertsons app and then see all the recipe pins they've saved from the social platform. They will be able to choose the ingredients from their pins and add them to their virtual shopping basket. The software will also use artificial intelligence to make breakfast, lunch or dinner suggestions based on saved searches, and shopping history. Albertsons also intends to create online "shoppable tablescapes" on Pinterest to inspire shoppers with different recipes.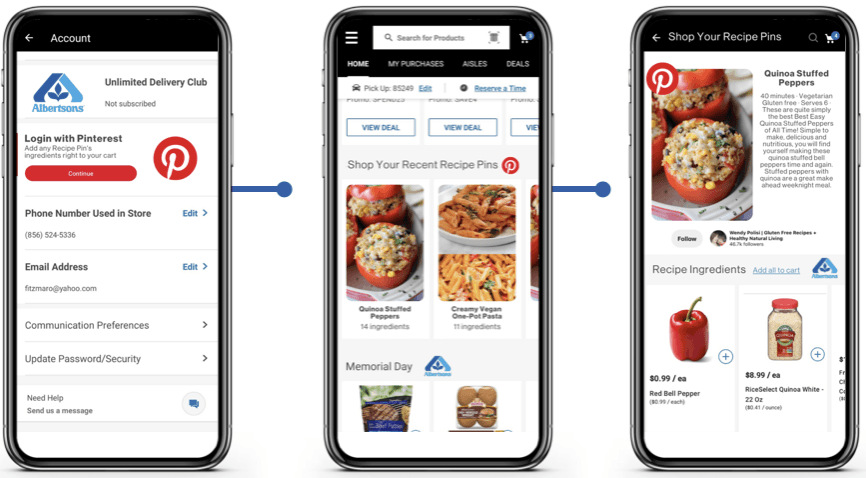 Pinterest tells The Current that 93 percent of food and beverage Pinners who post every week use the platform to discover products, whether it's an air fryer meal or a recipe for whipped lemonade, two searches currently trending on the platform.
In another trend seen across retail, Albertsons will look to its own employees, which number 300,000 consumer-facing associates across the U.S., to build out its creator presence on Pinterest. It's starting by turning 20 of them, including an expert meat griller, a certified sommelier and a mother who is a master of meal prepping, into Pinterest creators. By tapping into Pinterest search trends, Albertsons hopes to position itself as not only a grocer, but a source of meal inspiration.
With all digital initiatives, understanding consumer behavior is the key. The more time and effort customers spend perusing the shoppable content, digital recipes and creator content, the more Albertsons can learn about their intent and see what content drove them to purchase.
"Albertson's forward-looking use of Pinterest only solidifies the critical role that online grocery inspiration will continue to play in the consumer journey," Jon Kaplan, Pinterest chief revenue officer, said in a statement.