How luxury brands like Bulgari and Genesis use drone advertising to dazzle savvy Chinese consumers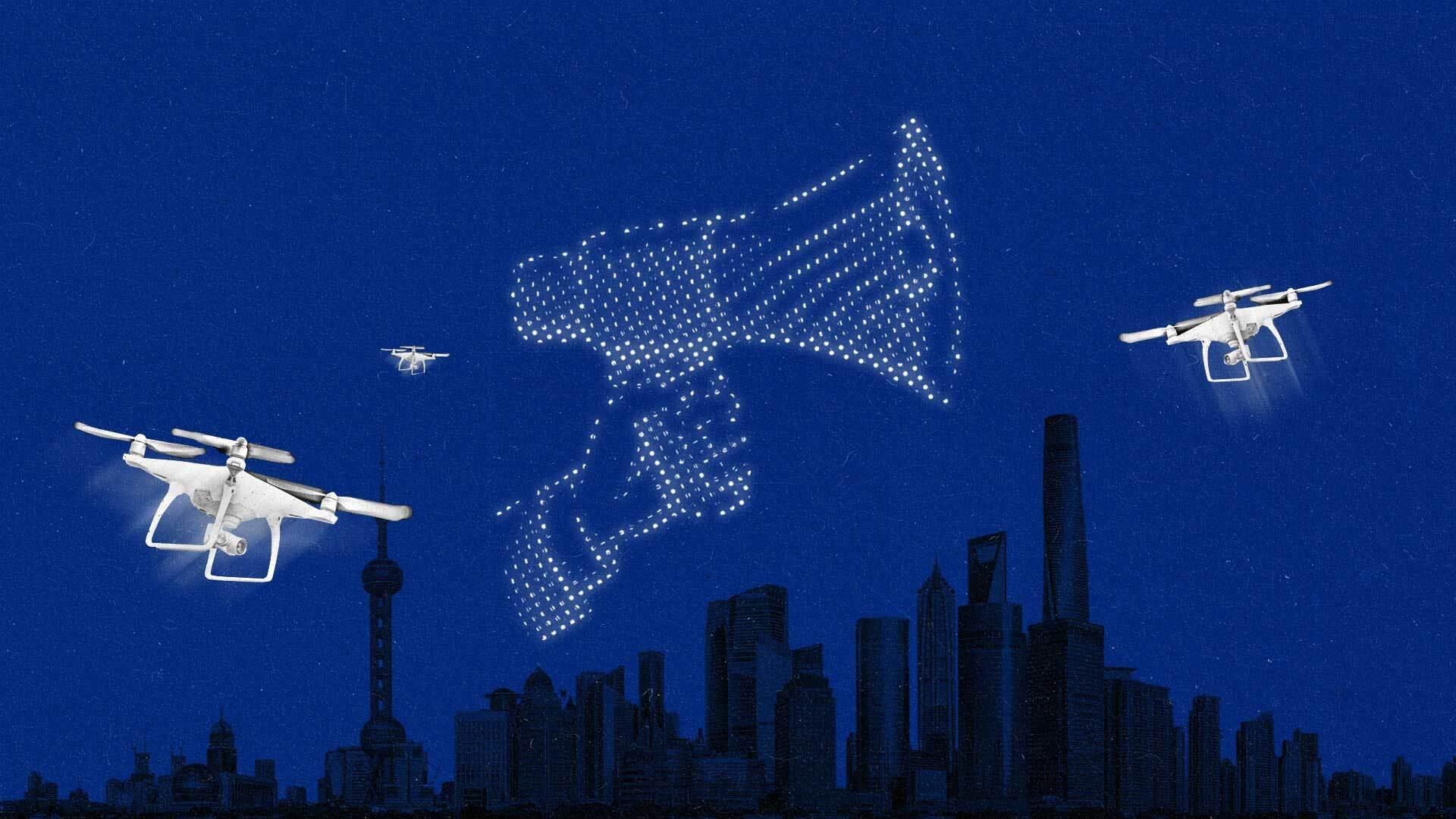 In China's highly competitive market, "thinking outside the box" is more than a suggestion for marketers — it's a requirement. Chinese consumers are known to be tech-savvy and open to innovation, which means brands are trying new and inventive ways to capture their attention.
At the heart of this exploration, one innovation is taking flight: drone advertising. A serious upgrade to traditional out-of-home (OOH) billboards, "dronevertising" summons thousands of drones to perform a choreographed light show customized to the key messages or products of a brand campaign.
"Drones provide the 'wow factor' when launching a new product, standing out with the buzz and hype around new technology," Nora Nasser, client director at Spark Foundry Australia, tells The Current.
The tech is taking off in other countries, too, including UAE's Dubai, the U.S., and Australia. Versace saw positive campaign results when it launched its live-entertainment campaign for the perfume brand's new Dylan Purple 'Endless Summer' fragrance.
"Content generation and amplification were key to broadcasting this unforgettable experience," Jessica Charlesworth, director of business and marketing, Prestige Brands Australia, tells The Current. "The launch has broken all targets and is one of the most successful fragrance launches in Australia to date."
Nasser adds that with so many products and brands for consumers to choose from, finding a clear space to launch a new product can be incredibly challenging, and this presents an enticing opportunity for brands.

Attracting a younger audience with innovation
Drone marketing could breathe new life into a brand's identity and help maintain relevance with younger audiences, particularly with Chinese Gen Z, who are looking for innovation and luxury goods, and are the wealthiest customer generation to ever enter the market.
Creating visual spectacles with the latest technologies in advertising sends a potent message to consumers about the brands' "innovation, trendiness, and forward-thinking approach," according to Hanyu Liu, project manager at Daxue Consulting China. He adds that luxury and fashion brands are currently leading in the utilization of drone advertising, but it presents an opportunity for all brands that are seeking "rejuvenation".
"Globally recognized brands such as Hyundai's Genesis, Bulgari, and Bilibili are just some of the big names that have already launched drone advertisements in Shanghai, China," Liu tells The Current.
From a gaming perspective, developer Bilibili did this when it used drones to form a "mysterious" QR code in the sky, sparking curiosity among passersby and prompting them to scan it, explains Liu.
"This approach not only garners attention on social media, generating waves, but also captures large audiences beyond it," he adds.
Promotion of innovative advertising by the Chinese Government
In recent years, China has implemented policies to encourage innovation around advertising to help boost domestic Chinese consumer spending following the COVID-19 outbreak. Experts who spoke to The Current suggest drone advertising is one of the new approaches to come of this government investment.
"It is not uncommon for Chinese industrial policies to show strong favoritism towards segments they feel have strong potential, and the meteoric rise of DJI has certainly put the UAV [unmanned aerial vehicle] market on China's radar," Liu says.
Subscribe to The Current newsletter