How Spotify is revolutionizing podcast ads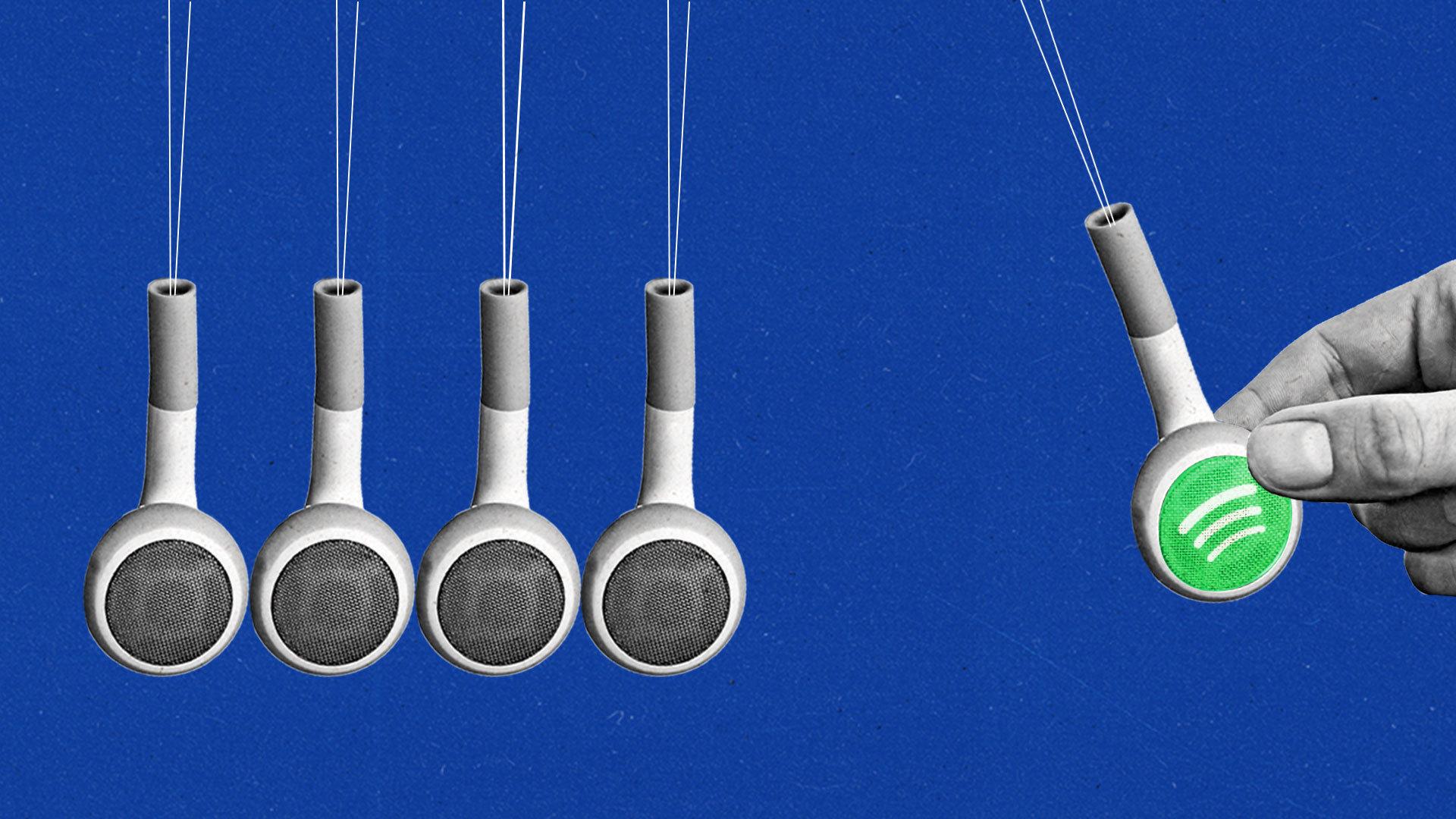 It wasn't that long ago when the extent of advertising on podcasts was the host having to pause their programming to read an ad to listeners. Advertisers had no other choice than to pay a flat rate for a "baked-in" callout per episode. But today, there's a growing slate of ad formats and payment options to reach some of the most tuned-in consumers in the market.
Swedish company Spotify has been at the forefront of this change. The music streaming giant has been revolutionizing podcast advertising with new tech-driven ad innovations for marketers, such as dynamic insertion ads, streaming insertion ads, and call-to-action (CTA) cards. Since its launch in 2008, the platform has grown to 433 million monthly active users — 256 million of whom are served ads — across 183 markets.
Ever since true crime podcast Serial became an overnight sensation in 2014, podcasts have emerged as a popular source of entertainment, education, and insight. Podcasts like The Joe Rogan Experience, Funny Cuz It's True with Elise Myers, and yes, more true crime podcasts like Morbid, have driven U.S. listeners to spend an average time of 45 minutes a day listening to podcasts, according to the Pew Research Center. And listeners have no shortage of options: as of Q2, Spotify has 4.4 million podcasts available for listeners.
And at the rate technology is advancing, it's only getting easier to pinpoint and retarget listeners with the same cadence and measurement capabilities digital marketers are accustomed to in other online channels. That's according to Joel Withrow, group product manager at Spotify, who has helped spearhead several of Spotify's podcast offerings.
"The industry has matured," Withrow tells The Current. "There are now more complex revenue mixes for publishers. Spotify has really disrupted some of the fundamentals of what's possible in podcast advertising and is providing on par digital measurement."
Emerging ad formats
Spotify's first move away from the standard "baked-in" host spots came in 2013 with the introduction of dynamic ad insertion (DAI). These allowed advertisers to target different users and scale ads across several podcast series or episodes. However, DAI ads were still limited to downloaded episodes, there were no visuals involved, and listeners couldn't take any immediate action on an ad. Advertisers could only see geographic location, device, and operating system.
2020 brought the launch of streaming ad insertion (SAI), which Spotify first leaned on for its owned and exclusive podcasts. SAI ads let listeners see what a brand is advertising directly on the app as the ad is playing and how long an ad would play. These ad spots grant advertisers the same kind of insights they are able to generate from other digital ads, such as real-time impressions, unique reach, frequency of listening, and other audience insights via first-party data, such as how many listeners choose to skip ads.
"What we're trying to do is really try to connect as many publishers and advertisers and creators with what we see as a more measurable and insightful ad format," says Withrow. "It happens to be an emerging technology and a different streaming ad experience than what's used in the broader ecosystem on Apple or Overcast, for instance."
More recently in January 2022, Spotify shared its latest ad innovation: call-to-action (CTA) cards. CTA cards appear as an actionable display on an ad, allowing listeners to tap out of their streaming podcast experience to immediately visit the respective advertiser's website.
"Podcast ads have driven outcomes for advertisers for years, so how do we do a better job at understanding that behavior?" says Withrow. "CTA cards are an attempt to take advantage of the latent intent on the part of the consumer who heard this ad and wants to do something about it, and we're trying to create a pathway for them to do so." He adds that the introduction of this new format also speaks to Spotify's desire to measure outcomes after a user returns to the Spotify app, as they can be used to retarget listeners.
Advertisers have been all ears. In Spotify's Q2 earnings, the company's ad revenue had ballooned to $360 million, representing 31 percent year-over-year growth.

Acquisitions and growth
That growth also has to do with some key acquisitions and investments in ad tech and podcast creators over the years, according to Withrow.
Indeed, Spotify has been on an acquisition tear. In 2020, the platform acquired ad tech company Megaphone for $235 million, where Withrow was formerly director of product. Megaphone helps advertisers with tools for podcast hosting and ad-insertion. In 2019, Spotify also acquired podcast networks Gimlet Media and podcast creator platform Anchor for a reported $340 million to help podcasters create, record, and manage their own shows. These acquisitions helped form the creation of the Spotify Audience Network, which matches podcast creators directly with advertisers, and its Spotify Ad Studio, which allows advertisers to manage campaigns themselves. Spotify is also evaluating a potential programmatic offering so advertisers can buy ads via real-time bidding, says Withrow.
Brand safety initiatives have also become even more of a priority in recent years as podcast content has multiplied on the platform. Spotify is currently working with Integral Ad Science to establish a brand safety framework for podcasts, and has worked with the Global Alliance for Responsible Media (GARM) to create guidelines and work toward transparency.
But Spotify's growth in the podcast space isn't done yet, says Withrow. New podcasts series are also being announced all the time — just last week the CIA announced its first podcast, and Kim Kardashian will soon have her own true crime podcast on the platform. The Spotify brand is growing as well with its latest announcement that the platform is branching out into audiobooks.
"We are trying to pioneer a different stand in the podcast ecosystem," says Withrow. "Now when we reach out to clients, both music and podcasts are an important part of our offering."