Advertising and the future of the web – Jeff Green announces Solimar, and makes the case for the open internet.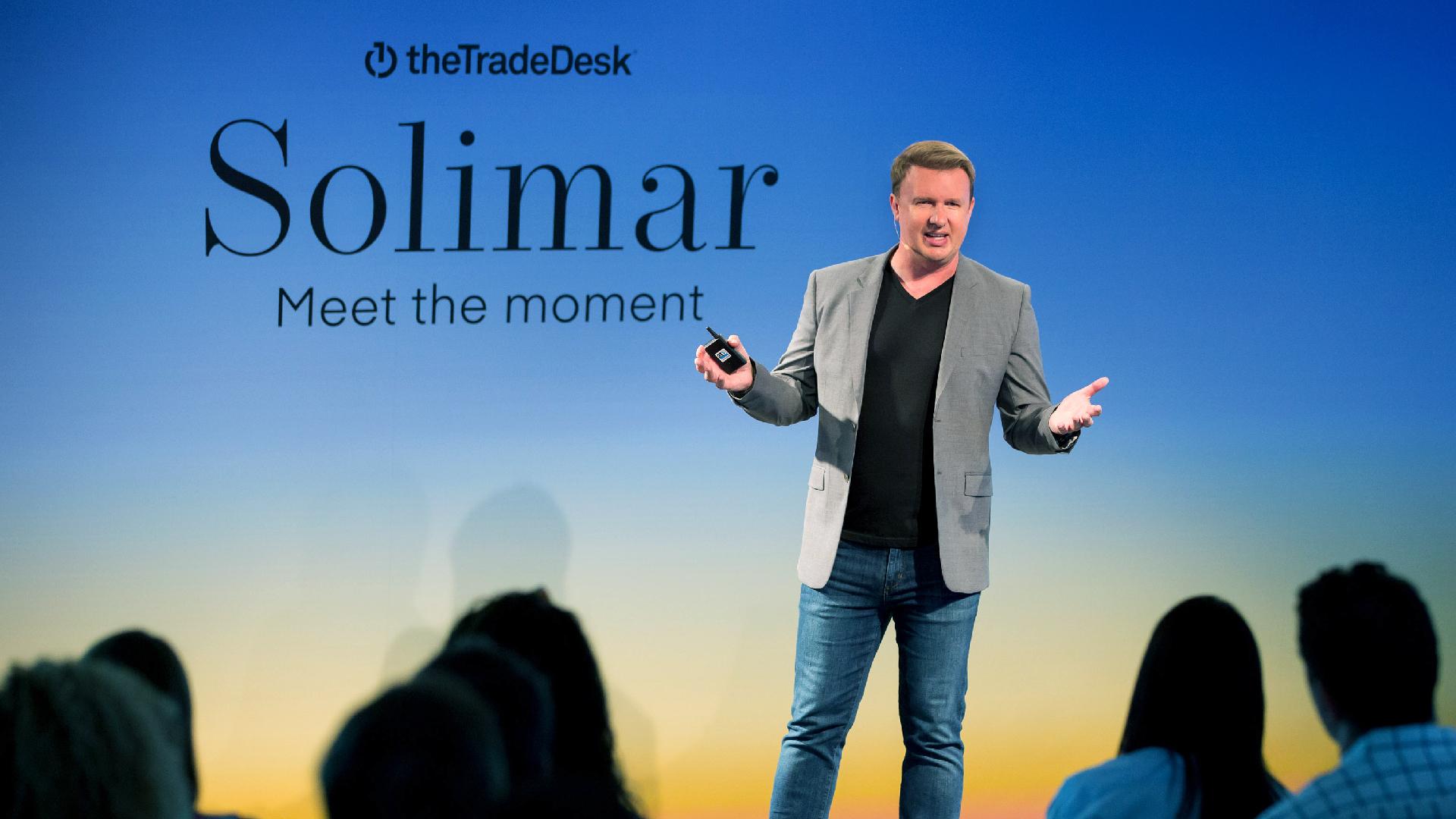 Jeff Green, cofounder and CEO of The Trade Desk, announced Wednesday that the company has built "the most advanced DSP ever created for the open internet."
Green made his remarks at a live event in New York City where he introduced Solimar, which is the largest product launch in The Trade Desk's 12-year history. To hear Green tell it, marketers are grappling with seismic changes on numerous fronts, which include data privacy, identity and radical shifts in consumer behavior. Although challenging, the hurdles present an opportunity for the industry to improve digital advertising capabilities, while also reimagining the potential of the open internet, said Green. 
"This is a critical and beautiful moment because it will define the future of the internet forever," he said. "We're shining a light on all these opportunities through a single, easy-to-use platform. Solimar is how marketers 'meet this moment.'" 
Named after a small beach near the company's headquarters in Ventura, California, Solimar is a massive rethink of The Trade Desk's demand-side platform, one that bolsters strategy, performance and measurement capabilities. The company's revamped DSP is a goal-focused media planning and buying platform made with the singular objective of helping marketers achieve their business goals. At its core, Solimar is intended to empower advertisers by equipping them with more deliberate data-driven and measurement tools. "It's a reinvention of goals-based buying," Green said. 

Solimar also leans on The Trade Desk's AI capabilities to simplify how marketers set multi-level business goals so they can better optimize their campaigns and tie back ad spend to business outcomes. "What we found is that we're often asking marketers to make decisions that they don't need to," Green said. "If we're extremely confident in the numbers, we can make that decision on your behalf, with full transparency as to why and how it was made."
That's an especially appealing feature for marketers, Kolin Kleveno, senior VP of addressable media at independent marketing agency Tinuiti, tells The Current. "Third-party cookies are being deprecated and device IDs are being obliterated," Kleveno said, adding that Solimar's ability to measure ad spend across disparate channels such as display, CTV and digital audio will serve as welcomed news for advertisers. "Marketers operating in this new normal need to understand how their ad dollars are performing holistically." 
Significantly, Solimar enables marketers to onboard their valuable CRM data, leveraging identity innovations such as Unified ID. 2.0. Solimar connects this first-party data to pseudonymized data, such as data generated by UID2. This allows brands to find new customers who share the same characteristics as their most loyal consumers. "Data onboarding is the best it's ever been in the history of the internet," said Green. 
Doing so allows brands to drive relevant advertising in a way that is highly sensitive to rapidly evolving consumer concerns regarding privacy, Green told Jim Cramer on CNBC's Mad Money on Wednesday. UID2 puts the consumer in the driver's seat regarding how their data is used.

The concepts behind Solimar served as welcome news for many marketers, in an environment where digital advertising is facing dramatic changes.
Much is at stake, said Green, including journalism. "We need to make sure we're controlling our destiny," Joy Robins, chief revenue officer of the Washington Post, said during the event. "If we do nothing, we give our ad revenue stream to the walled gardens."