Marketing Strategy
2023 predictions: What 11 marketers expect in the new year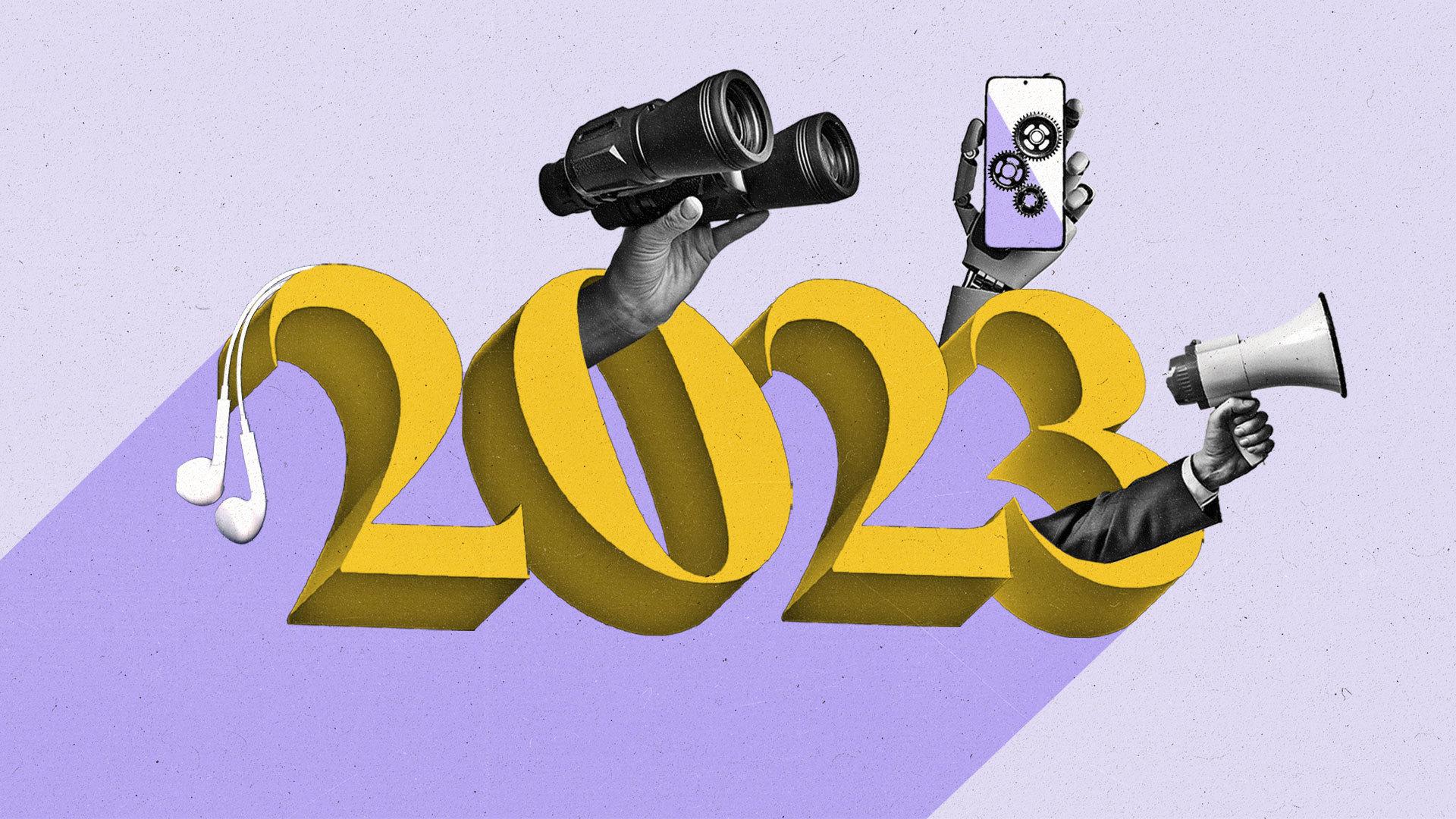 For many, 2022 was a year of extraordinary change and restructuring. Netflix introduced ads (finally), Disney+ did the same, retail media became a hot topic, companies brought employees back to the office, the U.S. midterms saw record ad spend, the World Cup won advertisers huge audiences, and Google saw more privacy lawsuits than ever before.
Now that the year is ending, 2023 emerges as a question mark. Many marketers are weighing high inflation levels, a possible recession, and the adoption of new identity solutions with the anticipated eventual loss of cookies.
The Current spoke with 11 executives from brands like Pernod Ricard, Hyundai, and Walgreens about their biggest predictions for the year ahead. Here's what they had to say about preparing for connected TV (CTV), Web3, and everything in between.
On the looming recession:
Pam Forbus, chief marketing officer, Pernod Ricard
"As the outlook for global economic growth slows down and companies implement cost-cutting measures, data will be critical for any marketing team trying to convince CEOs and CFOs to continue to invest in marketing. Companies will need to embed a systemic capability to measure, assess, and continuously make decisions that improve the return on marketing spend. In 2023, the key will be translating insights for CEOs and CFOs, linking credible, data-driven decisions and activities to conversion acceleration, growth, and most importantly, financial return. As we prove returns and growth is realized, more investment is made. It's a virtuous cycle."
Angela Zepeda, chief marketing officer, Hyundai Motor America
"I think NFTs and the metaverse are still going to be around. With all that's happening in the world, I think consumers are looking for that next connection with brands. Just doing transactions with consumers is not going to be enough. Consumers are tired and there's a lot of stress. We're in some sort of a recession depending on where you live in the world and consumers are looking for real support and empathy. That's what is going to be next on the line for marketers to deliver to consumers. What that looks like and where we deliver it…I think we're just figuring that out."
Aron North, chief marketing officer, Mint Mobile
"What you're going to see in 2023 is a real need for people to operate better with less. And if you can do that, you should get more. We invested heavily in the pandemic. We did not retreat spend. We grew like crazy because we weren't afraid to invest. And creative problem-solving combined with accountability can help marketers grow in what they're doing. I hope that people are doing that next year because quite frankly, it makes it more fun when you've got high accountability and creativity at the helm."
David Cohen, chief executive officer, Interactive Advertising Bureau
"The new era of privacy and addressability has been taking shape for a while, but 2023 brings it into hard focus as we stare down the barrel of five state privacy laws. With the continued deprecation of third-party identifiers, the explosion of retail media, the rise of the creator economy, continued growth of CTV, and emerging Web3 channels, we are looking forward to next year. Obviously, there is some macroeconomic uncertainty on the minds of industry leaders, but our guidance is that this is no time to pull back. Be thoughtful and strategic in developing your plans — growth is yours for the taking. Plan smart, execute brilliantly, and measure the impact of every dollar."
Mary O'Brien, programmatic director, PMG
"Savvy brands will take lessons from history by spending into a recession, getting a competitive cost advantage while fueling long-term brand growth. Many brands will reduce budgets and lower forecasts because of economic uncertainty and inflationary concerns, with some pulling back — to their detriment — on upper-funnel awareness spending. The resulting decreased competition will benefit those who stay the course. They'll have a unique opportunity to test into cookieless solutions ahead of Chrome's cookie deprecation in the second half of 2024 — assuming it doesn't get pushed back again."
On retail media:
Luke Kigel, vice president of Walgreens integrated media and head of Walgreens Advertising Group
"2023 is the year retail media comes of age. We will see legacy silos that are based on functions, like shopper versus brand marketing, break down further and cohesive integrated teams form. Retailers will play an increasingly critical role as the focus shifts to delivering great and relevant experiences to real people, not 'shoppers' or 'consumers.' Brands that can understand and deliver against the notion that retail media equals media will be well positioned for success in 2023."
On CTV:
Kim Kelleher, chief commercial officer, AMC 
"I've been in the industry for 30 years and I've seen what digital innovation and technology can do to tried-and-true traditional distributions and mediums. While it is secular and history repeats itself again and again, it also changes and evolves. Content is king. If you are making quality, fantastic, awesome, juicy content, the viewer will find you and the dollars will follow. And I know that sounds really elementary, but at the end of the day, I feel like we can all get very swept up in a data-led world. I still think that quality begets quality and great content will always win."  
Mark Rotblat, chief revenue officer, Tubi 
"There's going to be some seismic shifts in how the big players do business. You've seen some of the consolidation over the last year, year and a half. There's probably going to be more of that as the costs of producing content need to really map to the value of the channels in which they're being produced. For a long time, it made sense to do the things that cost $10 million per episode. A lot of that is getting called into question, so how does the media landscape address that? One is to really be more rigorous in the businesses they operate. In some cases that just means more mindfulness about the content that's being produced."
On emerging technology:
Christopher Neff, global head of emerging experiences, Anomaly
"Both Web3 and generative artificial intelligence (AI) have a lot of gray areas that need color; with clarity comes less volatility. Much like the bear market and reset for Web3, I believe generative AI will go through a moment of intense tension around use, ownership, and royalties. Brands want to play with these tools and creators already are, but there is a gap in use and tension around infringement. As for Web3, we know too well about the lack of regulation for exchanges and the conversation around tokens classified as securities. Builders will keep building and holders will keep holding but without regulation, we simply can't find the floor and create the momentum for the bull run of 2024."
Jason Prance, vice president of strategy, SCS
"If history has taught us anything, it's that humans are pretty terrible at making predictions one to two years out. Artificial intelligence, on the other hand, will likely be writing about this topic more accurately next year and taking more control of how ad dollars are being spent. Meanwhile, humans will begin to take back some control by focusing on the things they do best: creative and innovation that complements the best AI we can leverage."
David Sonderman, chief creative officer, The Shipyard
"2023 will bring excitement and confusion around AI-powered creativity. As the next new creative toolset (think Photoshop before there was Photoshop, or the wheel before there was one), the ability to generate compelling copy and art from text prompts, and new mashups with video and animation AI provide a whole new experimental platform for creativity. Isn't that what creativity is all about? Trying new things? Challenging old beliefs? Some human still has to imagine what they want to create. Remember, AI doesn't stand for "artificial imaginations." We will quickly realize that human minds still rule — and that AI is an empowering new platform for the most imaginative ones in the industry."