Cyber Monday, Black Friday see sales dip, but early holiday shopping captures all-time highs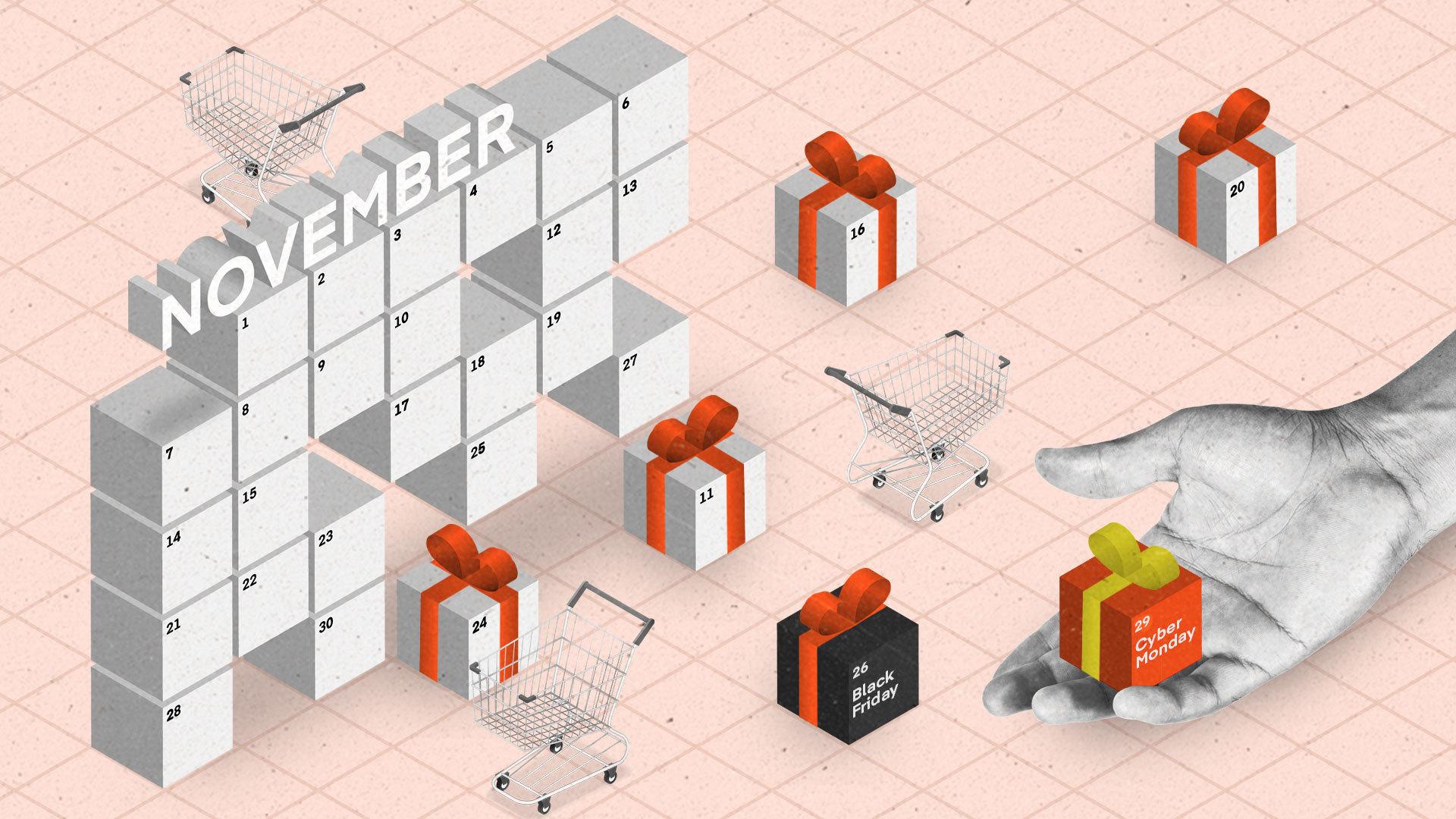 Adobe finds online holiday sales reach a new milestone
For the first time, both Cyber Monday and Black Friday saw a dip in online consumer spending since Adobe Analytics first started reporting ecommerce sales in 2012. Still, despite the individual holiday lows, online shopping for the season has hit a new milestone, signifying that consumers are spending more, across a lengthier period.    
From November 1 to November 29, consumers spent $110 billion online, a 12 percent increase compared to the same period last year, according to Adobe, which analyzes over one trillion visits to U.S. retail sites over 18 product categories. The first 22 days of November saw more than $3 billion in online sales. In 2020, only nine days reached the same level. Adobe says this increased online shopping activity proves that ecommerce is "becoming a more ubiquitous daily activity."    
At this rate, Adobe predicts the regular holiday season (from November 1 to December 31—not accounting for early shopping) will hit $207 billion — a 10 percent year-over-year increase — and a new record.     
"With early deals in October, consumers were not waiting around for discounts on big shopping days like Cyber Monday and Black Friday," said Taylor Schreiner, director of Adobe Digital Insights in a statement. "This was further fueled by growing awareness of supply chain challenges and product availability. It spread out ecommerce spending across the months of October and November, putting us on track for a season that still will break online shopping records."  
Major shopping holidays seem to have lost some of their appeal with retailers offering deals in October — earlier than ever — to account for disruptions in the supply chain as Americans began spending again after a lull due to the pandemic. Indeed, more than 36 percent of consumers said they planned to start holiday shopping earlier than usual, found a National Retail Federation survey in October. 
This year, consumers spent $10.7 billion on Cyber Monday (November 29), a number which is down 1.4 percent year-over-year (roughly $100 million) from the $10.8 billion consumers spent last year. Regardless, the holiday remains the biggest online shopping day of the year — in its peak hours (11 pm-12am ET/8pm-9pm PT), consumers spent $12 million a minute, according to Adobe data. Black Friday (November 26) saw a similar decline in online sales. Consumers spent $8.9 billion online, 1.3 percent less than the $9 billion in 2020.
Adobe found that consumers are spending more this year despite their shopping carts jumping several percentage points due to online inflation, continuing the 17-month trend of rising online prices. Consumers' final balances were up by 19 percent in November. Top sellers included toys (Hot Wheels, Nerf, and Baby Alive); video games ("Just Dance 2022," "Mario Party Superstars," and "Spider Man: Miles Morales"); electronics (AirPods, Apple Watches and Nintendo Switch).
The prevalence of out-of-stock messages has also not hampered sales, despite rising by 285 percent over pre-pandemic levels two seasons ago in November 2020. Adobe found that curbside pickup, browsing on mobile phones and Buy Now Pay Later services were popular this year.
"Consumer spending has remained resilient as many accumulated substantial savings during the pandemic, and the stock market and real estate values continue to rise," Jonathan Abraham, CEO of social ecommerce platform Joyned. "Add that to a lack of travel and social options, and ecommerce became a primary source of entertainment as social shopping enabled brands to recreate the social aspect of shopping online."
Each week, The Current gives you a rundown of the biggest stories and latest trends from the world of data-driven marketing, including topics like Connected TV and the future of identity — all delivered directly to your inbox.